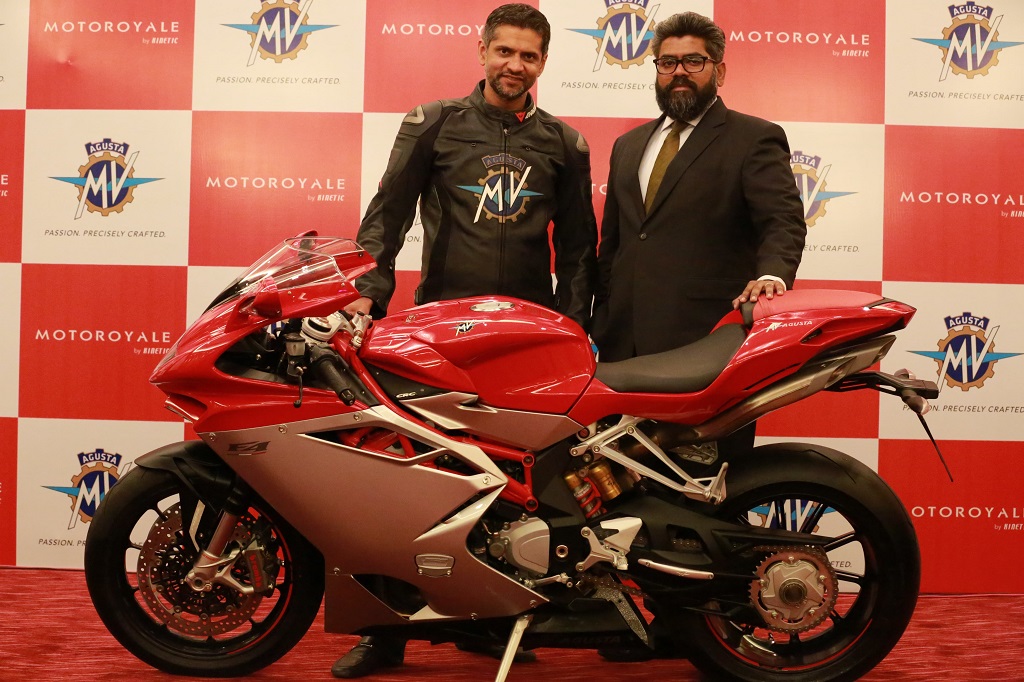 Unveils its first range of superbikes: the F4,F3 and Brutale 1090
Opens its first dealership in Pune. Bikes available through exclusive 'Motoroyale' showrooms
Pune, May 11th, 2016.MV Agusta, the legendary Italian company known for the world's most premium high-performance superbikes, today announced its official entry into India via an exclusive partnership with Pune's automobile major, the Kinetic Group. The company unveiled its first range of superbikes − the F4, F3 and Brutale 1090 −which will now be available at its first 'Motoroyale' dealership in Pune. The company will operate as MV Agusta India Pvt. Ltd.
Commenting on the launch, Mr.Ajinkya Firodia, Managing Director of MV Agusta India Pvt. Ltd., said, "We are excited to partner with an illustrious brand like MV Agusta to bring their iconic bikes into the country. For any biking enthusiast, MV Agusta motorcycles are the stuff dreams are made of, as they offer an unparalleled blend of power, performance and handling. The iconic styling and peerless riding dynamics of these machines underline MV Agusta's tagline of Passion Precisely Crafted."
"We will be marketing these superbikes through our exclusive 'Motoroyale' showrooms. It is a new chain of superbike showrooms, which will make some of the best bikes in the world accessible to motorcycle enthusiasts in India," he added.
Mr. Judah Immanuel Sangaran, FarEast Country Manager, MV Agusta Motor S.p.A, said, "This is the perfect time for us to enter India, as we are witnessing a surge in demand for premium motorcycles. We offer biking aficionados best-in-class superbikes that boast exquisite designs by the renowned Massimo Tamburini as well as superior cutting-edge technology. MV Agusta motorcycles guarantee a riding experience that's second to none."
Following Pune, Motoroyale dealerships will soon be inaugurated in Ahmedabad, Bangalore, Chennai, Delhi and Mumbai. Motoroyale showrooms will focus on sales, service, spares and after sales support for MV Agusta customers in India. MV Agusta India Pvt. Ltd. has the exclusive distribution rights for all MV Agusta motorcycles in India, Bangladesh and Sri Lanka.
Founded in 1945, MV Agusta brings with it a legacy of making exceptional superbikes. MV Agusta machines are considered the holy grail of high-performance motorcycling, as it sets the standards in terms of design, finesse and performance. MV Agusta also has a strategic tie-up with Mercedes–AMG GmbH for co-marketing of their products. The two brands− which are icons of speed, sportiness and high performance, both on two and four wheels –will work together closely for marketing and branding of their products. Mercedes–AMG has a 25 per cent stake in MV Agusta. Motoroyale will also market all bikes from the MV Agusta- Mercedes-AMG collaboration.
Bookings are open and can be made via www.motoroyale.in
Range information:
 About MV Agusta F4:
The MV Agusta F4, which was originally designed by the legendary Italian motorcycle designer, Massimo Tamburini, has often been hailed as the best-looking superbike in the world by the motorcycle press in Europe, the US and Japan. The bike is powered by a 998cc four-cylinder engine, which produces an immense 195 horsepower and equally impressive 111Nm of torque.
The MV Agusta F4 is priced at Rs. 26.87 lakh (ex-showroom Pune) and is available in Red/silver/matt black & White ice pearl/matt black colour/s.
About MV Agusta F4 RR
The F4 RR is the top-end version of the F4 series. The F4 RR has high-performance motorcycling history in its blood and is the epitome of emotion, performance, speed and incomparable design. It boasts of an inertial control platform with lean angle sensor, a redefined riding position, full Ride-By-Wire, Öhlins electronic suspension and steering damper as well as GP-spec titanium con rods. Its 998cc four-cylinder engine develops 201 horsepower and boasts a top speed of 297.5 km/hr.
The MV Agusta F4 RR is priced at Rs. 35.71 lakh (ex-showroom Pune) and is available in White ice pearl/metal black carbon & Avio grey/black carbon color/s.
About MV Agusta F3
The F3 800 is the class-leader in the supersports segment. Its styling mirrors that of its elder sibling, the legendary F4, which was designed by the great Massimo Tamburini. And the bike is powered by an advanced 800cc 3-cylinder engine, that provides exhilarating power and performance. In terms of safety, too, the F3 800 is extremely well equipped, with ABS, 8-stage traction control and multiple riding modes for tailor-made power delivery characteristics.
The MV Agusta F3 is priced at Rs 16.78 lakh (ex-showroom Pune) and is available in Matt metallic senna black & Pearl ice white/matt avio grey & Red/silver color/s.
 About MV AgustaBrutale 1090
Powered by a 1078cc four-cylinder engine that produces 144 horsepower and 112Nm of torque, the naked Brutale 1090 offers intense acceleration, an intoxicating top speed and overall performance that's simply exhilarating. An even more exciting power configuration of 158 hp is also available.
The MV Agusta Brutale 1090 is priced at Rs 20.10 lakh (ex-showroom Pune) and is available in Matt Black & Matt White color/s.
 About MV AgustaBrutale 1090 RR
The absolute expression of power and riding pleasure, the Brutale1090 RR knows no compromise. A perfect synthesis of design, automotive engineering and performance!! The Brutale 1090 RR is true excellence on two wheels. Its name embodies the essence of a model rooted in motorcycling history, while looking to the future with advanced technological solutions: the motorsports ABS system and advanced inline four-cylinder engine combine safety and total control with emotion and exuberance.
The MV Agusta Brutale 1090 RR is priced at Rs 24.78 lakh (ex-showroom Pune) and is available in Black metallic/avio grey metallic& Graphite metallic/pearl ice white color/s.