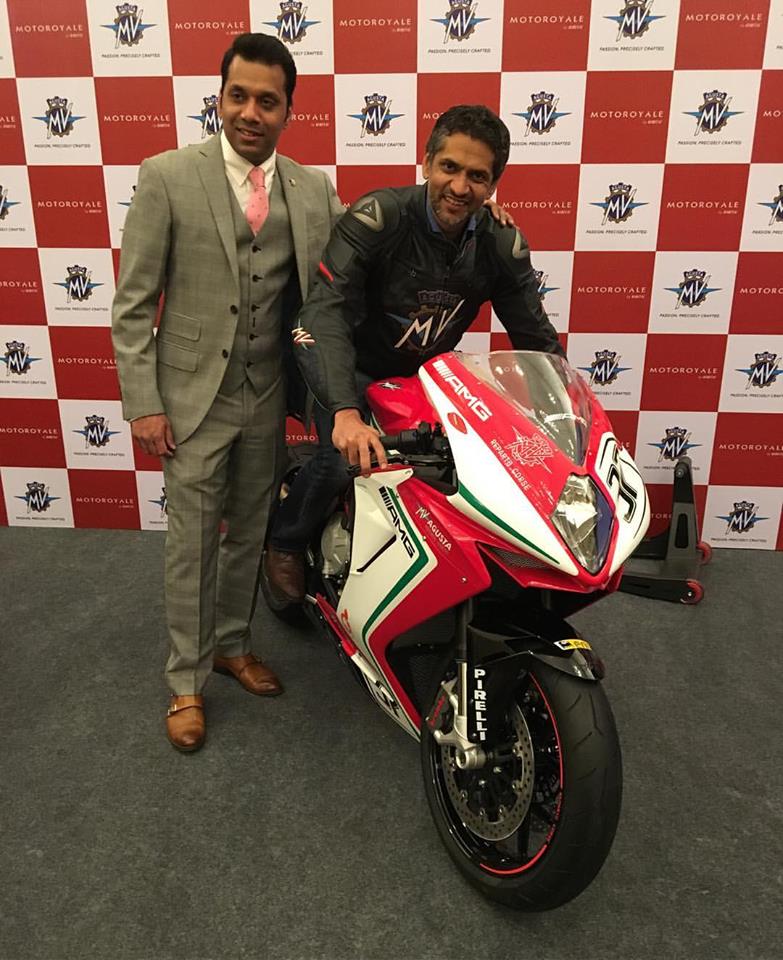 MV Agusta India arrives in South India, Bangalore
MV Agusta is the Italian manufacturer of one of the world's most exotic and premium motorcycles, priced from 16.78L – 40 laks Ex-Showroom
The Motorcycles boast of in line 3 & in line 4 cylinder engines which have up to 200 BHP of power with advanced electronics including 8 level traction control and ABS
MV Agusta has tied up exclusively with the Kinetic Group of Companies to launch their motorcycles in India
MV Agusta Superbikes available through exclusive 'Motoroyale' showroom in Bangalore
Motoroyale's third showroom after Pune and Ahmedabad
World class showroom made as per international standards at Lavelle Road with sales, service and spares suppor
MV Agusta Bengaluru delivers 9 vehicles on Day 1 itself
MV Agusta to launch the limited edition F3 800 RC in India
RC stands for Reparto Corse, and is a racing version of MV Agusta India's highest selling vehicle, the F3
Only 250 Bikes to be manufactured globally; 9 Bikes allocated to MV Agusta India , priced at 19.73 lakhs, ex showroom, Pune
Last assortment manufactured under AMG (high performance brand of Mercedes Benz) branding, making it a collector's edition
Bookings open at dealerships or www.motoroyale.in
MV Agusta India today announced its official entry in South India via an exclusive showroom in Bangalore and also unveiled the limited edition F3 800 RC AMG. The F3 RC is an AMG branded limited edition version of the highly popular model, the F3 – 800.  Out of the 250 vehicles produced in the world, only 9 numbers are allocated for India, making it a collector's edition. The company also displayed its range of superbikes − the F4, F3 and Brutale 1090 −which will now be available at its third 'Motoroyale' dealership in Bengaluru after flourishing showrooms in Pune and Ahmedabad . Motoroyale is Kinetic Group's chain of high-end motorcycle stores with bikes sourced from some of the leading two-wheeler brands in the world.
The showroom will operate as 'MVAgusta Bengaluru' under the 'Friendly Motorcycles' chain.
Mr. Ajinkya Firodia, Managing Director, MV Agusta India Pvt. Ltd., said, "After receiving an overwhelming response for our Pune and Ahmedabad showrooms, we are excited to launch our third showroom in Bengaluru and also unveil our limited edition model; F3 800 RC. MV Agusta is the most premium motorcycle brand in the country and its motorcycles are designed by legends like Massimo Tamburini. Owning a MV is a dream for all bike enthusiasts, and in that sense Bangalore becomes a highly important market for us – being one of the biggest superbiking market in India. To add to this excitement we bring in the last 9 AMG branded F3 800 RC's to India; The F3 800 RC is truly a collector's edition; as it offers not only an unparalleled blend of power, performance and handling, but each motorcycle is autographed by Jules Cluzel and Lorenzo Zanetti; and comes with a co-branding with MV Agusta's partners, AMG (the high performance brand of Mercedes Benz).  Apart from F3, we are proud to show the in line 4 cylinders, the Brutale 1090 & the F4, considered as the most beautiful bike in the world."
Mr. Raghu Chaitanya Nayak, Dealer, MV Agusta Bengaluru said, "We are very happy to open the first Motoroyale dealership In South India.  Our group has immense expertise in automobiles & luxury automobiles, and MV Agusta is the most exotic motorcycle manufacturer in the world.  We take great pride in delivering 9 vehicles on day 1 itself. Coupled with Kinetic's experience, we are all set to make automobile history here and I invite all of you at our world class facility on Lavelle road."
Following Bengaluru, Motoroyale dealerships will soon be inaugurated in Chennai, Delhi and Mumbai. Motoroyale showrooms will focus on sales, service, spares and after sales support for MV Agusta customers in India. MV Agusta India Pvt. Ltd. has the exclusive distribution rights for all MV Agusta motorcycles in India, Bangladesh and Sri Lanka.
About MV Agusta:
Based in Varese, Italy, MV Agusta was found in 1945 and today MVA machines are considered the holy-grail of high-performance motorcycling. With groundbreaking bikes like the F4, which was designed by the legendary Massimo Tamburini, and the Brutale range of naked sports bikes, MV Agusta sets the standards in the world of high-performance superbikes. The Italian company has won multiple titles in 500cc and 350cc road racing world championships, and has also won many races at the Isle of Man TT, the world's toughest road racing circuit.
About MV Agusta India Pvt. Ltd.:
MV Agusta India Pvt Limited. is a part of the Kinetic Group of companies, a pioneering automotive group in India. Kinetic has been in the automotive business since 1972 and is widely known for its innovative products. Kinetic has always been known for introducing advanced technologies in India, and has extensive experience in retail as well in as after-sales service for two-wheelers.
About MV Agusta F3
The F3 800 is the class-leader in the supersports segment. Its styling mirrors that of its elder sibling, the legendary F4, which was designed by the great Massimo Tamburini. And the bike is powered by an advanced 800cc 3-cylinder engine that provides exhilarating power and performance. In terms of safety, too, the F3 800 is extremely well equipped, with ABS, 8-stage traction control and multiple riding modes for tailor-made power delivery characteristics.
The MV Agusta F3 is priced at Rs 16.93 lc (ex-showroom BLR) and is available in Matt metallic senna black & Pearl ice white/matt avio grey & Red/silver color/s.
About MV Agusta Brutale 1090
Powered by a 1078cc four-cylinder engine that produces 144 horsepower and 112Nm of torque, the naked Brutale 1090 offers intense acceleration, an intoxicating top speed and overall performance that's simply exhilarating. An even more exciting power configuration of 158 hp is also available.
The MV Agusta Brutale 1090 is priced at Rs 20.21 lc (ex-showroom BLR) and is available in Matt Black & Matt White color/s.
About MV Agusta F4:
The MV Agusta F4, which was originally designed by the legendary Italian motorcycle designer, Massimo Tamburini, has often been hailed as the best-looking superbike in the world by the motorcycle press in Europe, the US and Japan. The bike is powered by a 998cc four-cylinder engine, which produces an immense 195 horsepower and equally impressive 111Nm of torque.
The MV Agusta F4 is priced at Rs. 26.88 lc (ex-showroom BLR) and is available in Red/silver/matt black & White ice pearl/matt black color/s.
About F3 – 800 RC
The F3 800 is one of the leading motorcycles in the super sports category manufactured by MV Agusta.  The F3 800 RC is produced in a limited edition of 250 bikes globally AMG branded limited edition and has the following features:
In line 3 cylinder
Each bike autographed by Jules Cluzel and Lorenzo Zanetti
Each bike comes with a ID Plaque with a limited edition serial number
Twin tone Red – White decals and painting done as per MV Agusta's racing bikes
Red Trimmed reparto corse special wheel rims with identical exhaust
Single sided swing arm
798cc, 148 bhp (at 13,000 RPM)
Top speed of 269 km/hr
8 level traction control with 4 modes
The MV Agusta F3 800 RC is priced at Rs. 19.73 lc (ex-showroom BLR)
Bookings are open and can be made via www.motoroyale.in