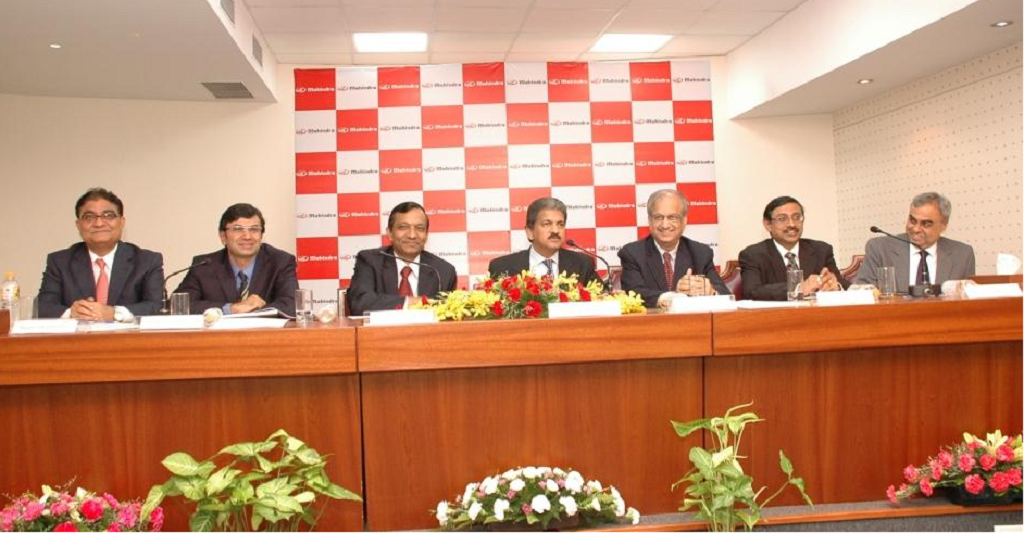 Left to Right: Mr. Rajan Wadhera – Chief Executive – Technology, Product Development & Sourcing (Automotive & Farm Sector), Mr. Rajesh Jejurikar – Chief Executive – Automotive Division, Dr. Pawan Goenka, President, Automotive & Farm Sector, Mr. Anand Mahindra, Vice Chairman & Managing Director, Mahindra Group, Mr. Bharat Doshi, Executive Director & Group CFO, Mr. V.S. Parthasarathy, Group CIO, EVP – Finance and M&A, M&M and Corporate IT, Mr. Pravin Shah, Chief Executive, International Operations, Automotive and Farm Sector at the press conference in Mumbai
Mahindra & Mahindra Ltd. (M&M), India's leading manufacturer of utility vehicles, emerged as the preferred bidder for the acquisition of a majority stake in South Korean SUV maker, Ssangyong Motor Company (SYMC).  The preferred bidder status would require it to enter into a Memorandum of Understanding with SYMC, followed by a detailed due diligence process.
SYMC is a Korean manufacturer of auto and aggregates, with 7 models under 5 brands. The 7 models include 2 large sized sedans, 4 SUVs and 1 MPV. It also has a manufacturing plant for gasoline and diesel engines as well as axles. SYMC is a significant player in the SUV segment in Korea, having recorded 1.3 million SUV sales from 1990 to 2009. It has a strong brand and presence in Europe, Russia, South America, the Middle East, Africa and Asia. Established in 1962, SYMC has more than 1,200 dealers globally. It has R&D manpower strength of around 600 people and modern R&D infrastructure for design, testing and validation.
This strategic acquisition, when concluded, would make Mahindra and SYMC together a force to reckon with in the global SUV space. It is intended that SYMC will continue to function as an independent entity with Korean management.
"Korea is one of the world's leading centres of automotive excellence and Ssangyong brings with it a rich legacy of R&D and innovation. Mahindra and Ssangyong will create synergy, which will make us significant global players," said Mr. Anand Mahindra, Vice Chairman and Managing Director, Mahindra Group.
"Ssanyong has very strong competencies and capabilities in technology. We are committed to leverage this competency by investing in a new Ssangyong product portfolio to gain momentum in global markets," said Dr. Pawan Goenka, President, Automotive and Farm Sector, Mahindra & Mahindra Ltd.
There are strong complementarities between the SYMC and Mahindra portfolio of products, providing an opportunity to create distinct positioning. The wide sales and distribution networks and complementary product lines will provide access to many overseas markets for both companies. There is also an opportunity to introduce a premium portfolio of SUVs in the Indian market, providing a new growth avenue for Ssangyong and further strengthening Mahindra's dominant position.