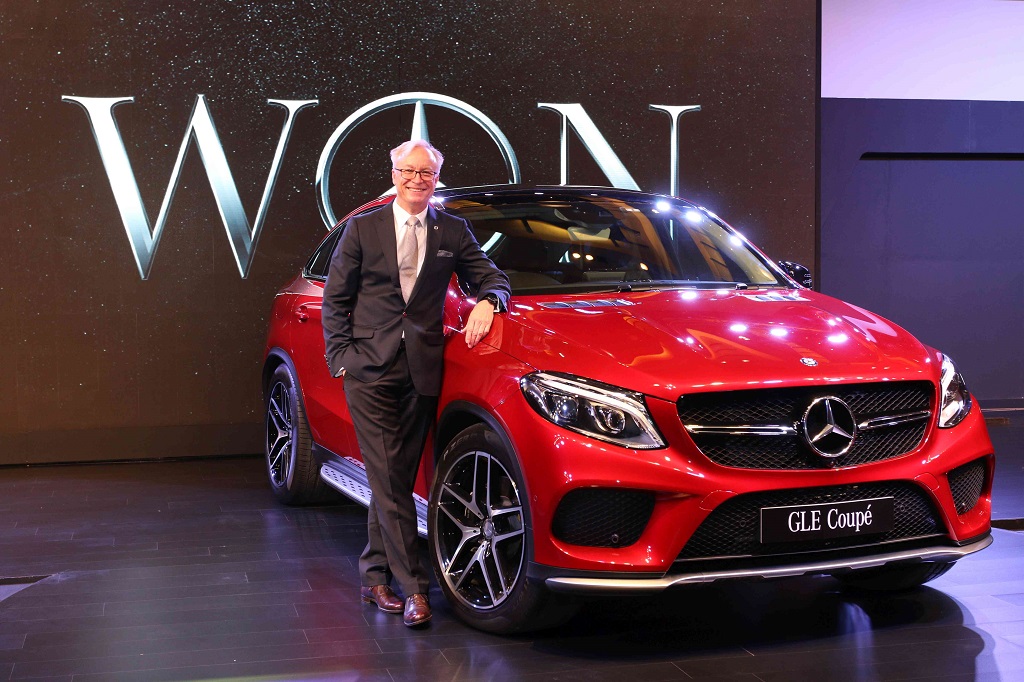 The GLE 450 AMG Coupé is the first Performance SUV Coupé from Mercedes-Benz in India, it's a product without a predecessor
The GLE Coupé combines the emotional, timeless elegance of a coupé with the impressive dynamics of a sports car and the versatility and effortless superiority of the Mercedes-Benz world bestseller GLE
GLE 450 AMG Coupé is a masterpiece of design with smooth contours and sporty appeal
The brute performance is powered by an AMG enhanced 3-litre V6 bi-turbo engine producing 270 kW (367hp) and a torque of 520 Nm
GLE 450 AMG Coupé has a very peppy acceleration and takes a mere 5.7 seconds to sprint 0-100 km/h
With a tuning relatable to Mercedes-AMG high performance vehicles, the SUV boasts of Five AMG Dynamic Select transmission modes including 'Sport Plus' and suspension designed for high driving force
The new GLE 450 AMG Coupé is priced at Rs.86.40 Lakhs (Ex-showroom Mumbai)
The country's leading luxury car maker, Mercedes-Benz India started 2016 with the introduction of a product without a predecessor in its Indian portfolio, the GLE 450 AMG Coupé. This SUV takes dynamism and sportiness to the next level with a first of its kind to be launched in a Coupé version in India. The alluring SUV embodies superlative performance, driving agility and stays true to the legacy of the world renowned performance stable of Mercedes-AMG. The car was launched by Mr. Roland Folger, Managing Director and CEO, Mercedes Benz India in the city today.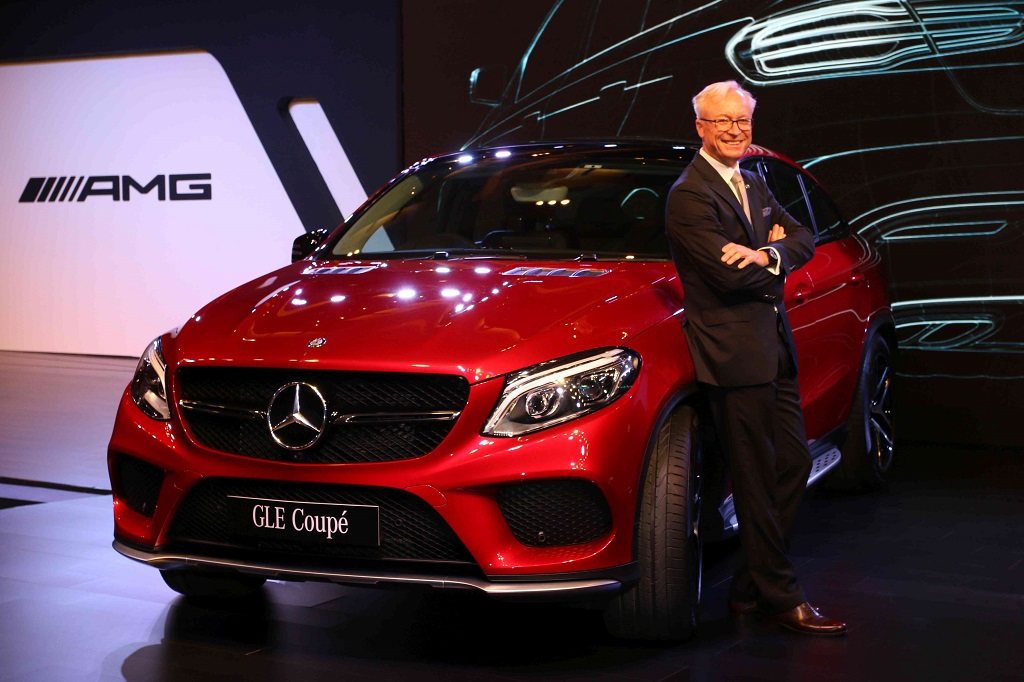 Mr. Roland Folger, Managing Director and CEO, Mercedes Benz India said, "We are glad to kick-start 2016 by introducing a thrilling and powerful product from our global portfolio, the GLE 450 AMG Coupé. At Mercedes-Benz it is our constant endeavour to bring the best products for our discerning Indian customers. The GLE 450 AMG Coupé is a valuable addition to our versatile SUV portfolio in India. This one of a kind performance SUV is sure to delight the customers with its raw power output level, exhaust system, a sleek design with multifarious features and an active sports light system. We believe that these distinctive qualities will fulfil our customers' expectations leaving them spellbound with an unmatched combination of a luxurious and sporty drive experience."
Mr. Roland Folger further commented, "With this launch, we are committed to bring more such exciting products this year redefining luxurious mobility to our existing customer base and creating more such experiences for those who are yet to experience the opulence of Mercedes Benz."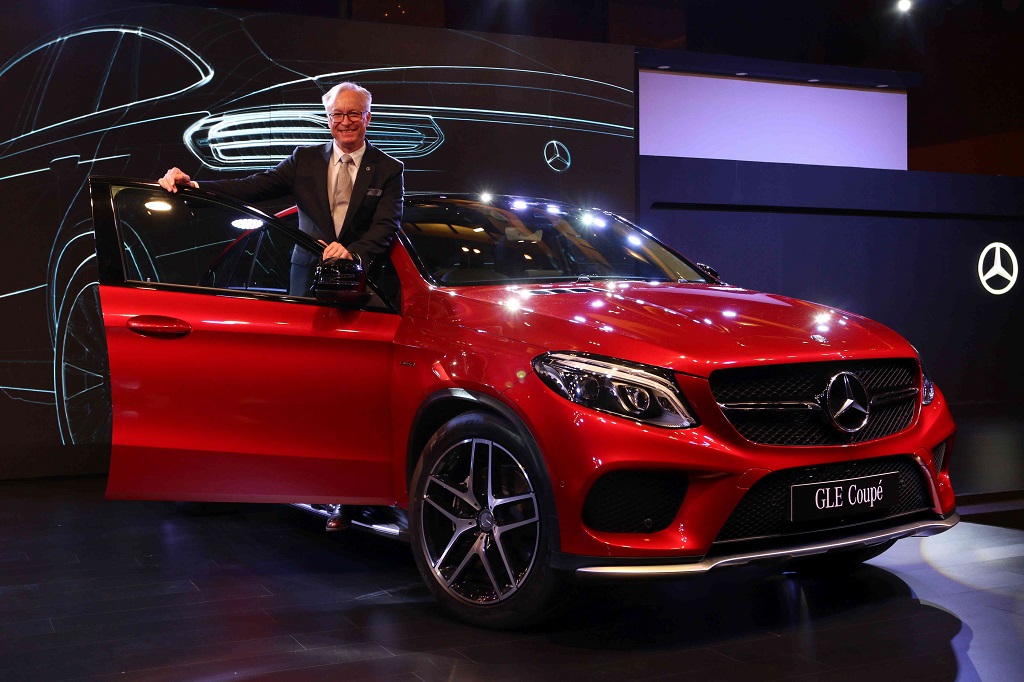 Alluring Design Elements
Exteriors: The iconic front AMG apron, a single louvre front grille, contoured powerdomes, a distinctive underguard and front splitter in chrome finish, blackened beltline and window weatherstrips, AMG spoiler lip in vehicle colour, rear bumper with chrome-look simulated underguard, 21-inch AMG-5 spoke light alloy wheels, painted in black and in a high sheen finish, perforated brake discs; AMG badge in front and black exterior mirrors are some of the designing geniuses of the GLE Coupé. The dynamic SUV Coupé comes with an automatic panoramic sliding sunroof and two chrome-plated AMG tailpipe trim elements with a four-pipe exhaust look. The AMG exteriors amplify high quality performance and sporty attitude. The highlight of the exterior is a combination of black and chrome which brings class and dimension to the performance SUV. The exteriors exhilarate slickness combined with modernity.
Interiors: The interiors are particularly designed with a 3-spoke multifunction sports steering wheel in black nappa leather with flattened bottom, sports seats for driver and front passenger with sports brushed stainless steel sports pedals with rubber studs and embroidered "AMG" lettering on the 'AMG' floor mats. The GLE 450 AMG Coupé has an instrument cluster with dials in checkered flag look and offers an ambient lighting package with 3 colors and 5-stage dimming options for the desired lighting mood. The dynamic SUV Coupé comes with an infotainment system that is equipped with a high-resolution media display with a 20.3 cm (8 inch) screen.
Performance with an edge The GLE 450 AMG Coupé features a powerful AMG-enhanced 3.0-liter V6 biturbo engine, churning out an output of 270 kW (367 hp) with 520 Nm of Torque. The SUV Coupé sprints from 0-100 km/hr in just 5.7 seconds! The performance SUV Coupé exudes a sporty performance exhaust including backfire sound with a braking System with optimized brake cooling system. The dynamic SUV Coupé comprises the 9G-TRONIC automatic transmission that enables efficiency, comfort and dynamism of an entirely new dimension. Its high efficiency helps to reduce fuel consumption and enhances performance. The reduced intervals between gear shifts lead to faster gear changes and enhanced spontaneity and agility.
Advanced Technology:
Dynamic Select The DYNAMIC SELECT variable control system gives significance and varied characteristics to the five transmission modes of INDIVIDUAL, COMFORT, SLIPPERY, SPORT and SPORT Plus which the driver has the freedom to select using a rotary control on the centre console. DYNAMIC SELECT networks with all control systems, hence, generating a distinctive driving experience. The fifth, namely SPORT Plus transmission mode remains a unique feature for the performance lovers.
Infotainment  Through the COMAND Online system, the driver can control and display navigation, telephone, audio, video, and internet functions, in turn, giving an elegant touch to the interiors, recreating an aura about itself. It also comes with two USB ports and one SD card slot, LINGUATRONIC® voice control system and WLAN hotspot functionality. The intuitively controlled touchpad with multi-touch sensor system recognizes simple gestures, handwriting and even letters and numbers. The dynamic SUV Coupé comes with Mercedes-Benz Apps, taking connectivity to a whole new level. Mercedes-Benz Apps provides convenient access to a wide range of some of the most popular apps and services on the internet.
Safety & Assistance Systems
Active Parking Assist  The SUV Coupé comes with a parking package with 360-degree camera including Active Parking Assist with PARKTRONIC. The 360° camera projects the surroundings on COMAND Online display with guidelines using four networked cameras.
Adaptive airbags and PRE-SAFE® system  The GLE 450 AMG Coupé comes with 6 airbags – adaptive airbags and sidebags for driver and front passenger, windowbags between A, B and C-pillars. The dynamic SUV Coupé is equipped with a preventive occupant protection system as standard. It recognizes critical driving situations and initiates preventive occupant protection measures. The reversible belt tensioners for driver and front passenger seats are activated when a high collision impact/accident is detected.
Crosswind Assist and Attention Assist This is a unique driver assistance system designed to reduce vehicle drift during strong, gusting crosswinds that is active from 80 km/h when driving straight ahead and on slight bends. A visual and audible prompt is generated to alert the driver to take a break when drowsiness is detected. This is active in a speed range from 60 to 200 km/h.
Adaptive Highbeam Assist Plus and Adaptive brake lights  The automatic main beam control is designed for permanent broad illumination of the road surface. It is a feature that selectively obscures the light beam to avoid dazzling traffic ahead or oncoming traffic. Adaptive brake lights is a unique safety feature that flashes red warning signal from the tail lamps when emergency braking is recognized.
Price: The fully loaded GLE 450 AMG Coupé is priced at Rs. 86.40 Lakhs (Ex-showroom)