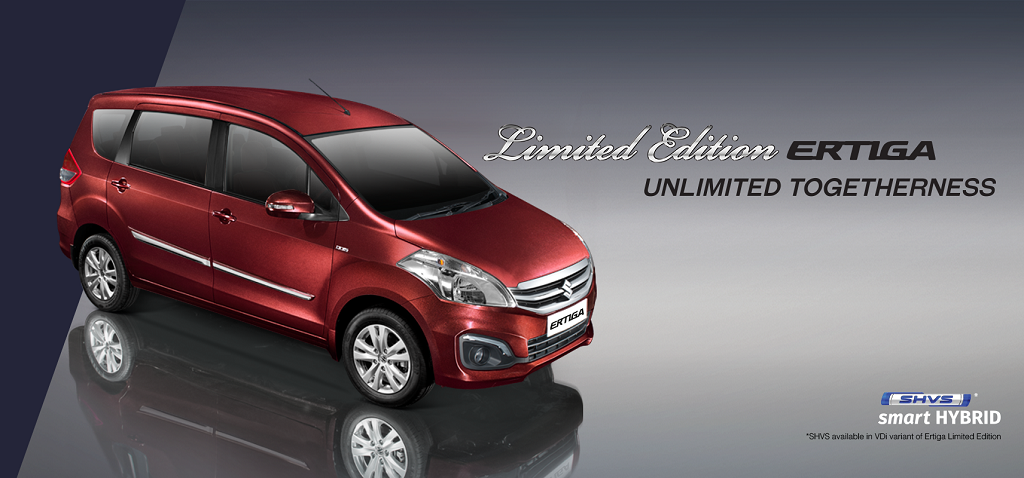 New Delhi, February 15, 2017: Maruti Suzuki India Limited, India's leading passenger vehicle manufacturer, today announced the launch of the Ertiga Limited Edition.
Launched in 2012, over three lakh Ertiga MPV have been sold by the Company till date. Riding on the success of compact design, advanced technology like SHVS, Automatic Transmission, comfort and features, Ertiga is the country's most loved compact MPV.
Ertiga Limited Edition is a blend of style and comfort with tasteful innovation in exteriors and interiors. An all-new body colour, stylish alloy wheels, refreshed wooden finish interior styling kit, premium seat covers and plush interiors with glistening accent finish. All this, combined with advanced VVT engine and outstanding SHVS (Smart Hybrid) diesel technology.
Introducing the Ertiga Limited Edition Mr. R. S. Kalsi, Executive Director Marketing & Sales, Maruti Suzuki India Limited,said, "Ertiga is a complete MPV package which offers space, versatility, technology and convenience. The all-new features of Ertiga Limited Edition highlight the company's focus on building a customer connect through product differentiation while creating delight. Customers have always loved the Ertiga for its elegant style, contemporary looks and flexibility. This Limited Edition will further strengthen brand Ertiga."
This Limited Edition Ertiga will be available only in the VXi and VDi variants in three exciting colours Exquisite Maroon (new), Silky Silver and Superior White.
Ertiga Limited Edition is available in the price range of Rs 7.85 lakh to Rs 8.10 lakh ex-showroom, New Delhi (the ex-showroom price includes the accessory package*)