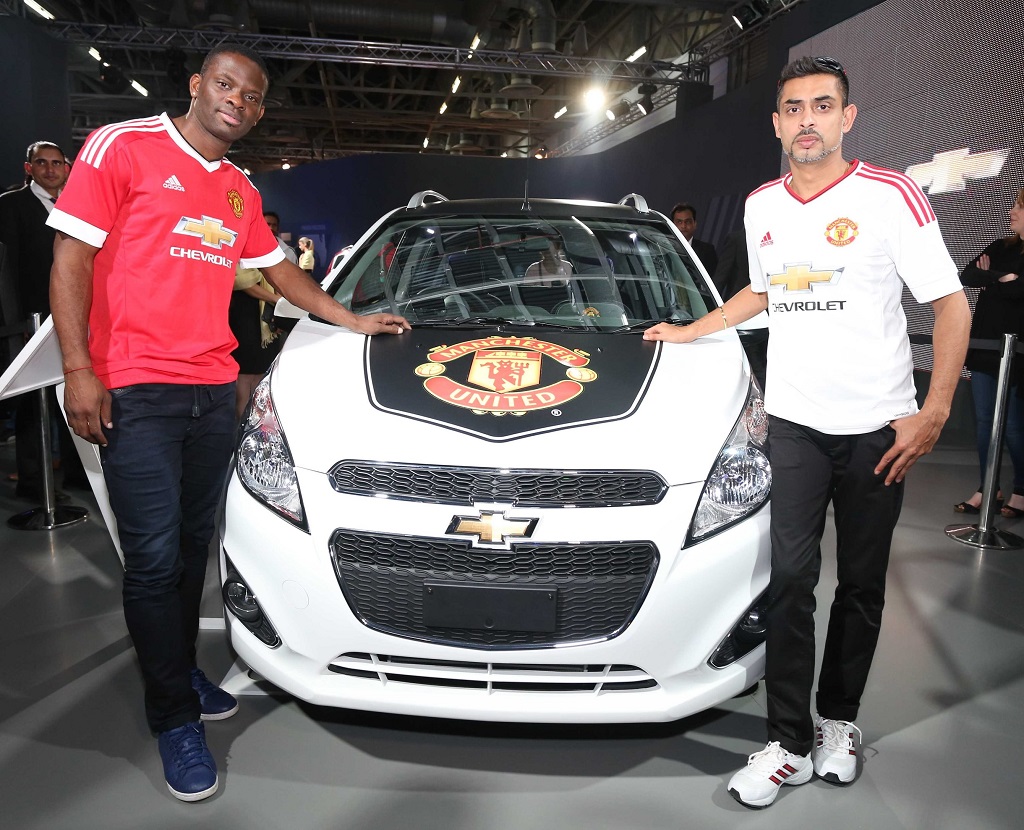 Chevrolet India organizes 'Meet and Greet' with Indian football fans
Manchester United Legend Louis Saha engages with fans and visitors with an exciting virtual football game
30 lucky winners who participated in Chevrolet India's Facebook contest received autographed Chevrolet-branded T-Shirts from Saha
Manchester United Legend Louis Saha today enthralled fans at the Chevrolet Pavilion by engaging in a virtual football game and signing Chevrolet-branded Shirts. His appearance at the Chevrolet Pavilion at the 13th India Auto Expo was highlighted by huge support for the club with fans getting a once-in-a-lifetime opportunity to meet and greet the star footballer.
Earlier this year, Chevrolet India launched a unique digital contest, "Selfie with Legend" on its Facebook page. The winners of the contest were invited to the Chevrolet Pavilion at the Auto Expo in Greater Noida and given the opportunity to meet Manchester United Legend Louis Saha.
"Saha's presence at the Chevrolet Pavilion was a highly anticipated moment for the club's followers in India, and for Chevrolet India," said Jack Uppal, Vice President, Marketing & Customer Experience, General Motors India.  "From the beginning of our partnership with Manchester United more than two years ago, we pledged to bring fans closer to the game.  This unique meet and greet opportunity with Saha further demonstrates our commitment to football in India," he added.
Manchester United Legend Louis Saha, said, "I would like to thank Chevrolet India for giving me this unique opportunity to meet Indian fans. It's great to see that Chevrolet is honouring the club's past and involving our supporters in such an innovative way. I am delighted to see so many enthusiastic fans in India."
Two exciting games at the Chevrolet Pavilion Passabilities and Colorado Co-driver kept the visiting guests engaged through-out.
Passabilities is an exciting game for football lovers that will allow them to don a Manchester United jersey and "play" in a match that will be captured using a custom-designed app. They will be provided a short film of themselves passing the ball to and from members of the team to share with their friends. Each pass goes towards a worthy goal where Chevrolet and One World Play Project will donate 2 million footballs, impacting 60 million kids in over 90 countries across the globe. To learn more, visit: http://chevroletfc-passabilities.com/.
Chevrolet is an official sponsor of One World Play Project, creator of the  One World Futbol—the world's first and only ultra-durable soccer ball that never needs a pump and never goes flat, even when punctured.
Colorado Co-driver is an Oculus Rift Virtual Experience – a 7D technology that will give visitors the opportunity to take a mysterious road trip that places them in the role of co-driver. Their mission will be to navigate the Chevrolet Colorado pickup over rugged terrain through the picturesque mountains of New Zealand.
The unique customer activations continue to enrich Chevrolet's brand value, brand commitment and unique opportunities for all auto and football enthusiasts.
About Chevrolet
Founded zin 1911 in Detroit, Chevrolet is now one of the world's largest car brands, doing business in more than 115 countries and selling more than 4.0 million cars and trucks a year. Chevrolet provides customers with fuel-efficient vehicles that feature engaging performance, design that makes the heart beat, passive and active safety features and easy-to-use technology, all at a value. More information on Chevrolet models can be found at www.chevrolet.com
About Manchester United
Manchester United is one of the most popular and successful sports teams in the world, playing one of the most popular spectator sports on Earth. Through our 138-year heritage, we have won 62 trophies, enabling us to develop the world's leading sports brand and a global community of 659 million followers. Our large, passionate community provides Manchester United with a worldwide platform to generate significant revenue from multiple sources, including sponsorship, merchandising, product licensing, new media & mobile, broadcasting and match day.
About One World Play Project
One World Play Project makes, sells and distributes products and services to enable play around the world, especially for those living in the harshest environments where play is nearly non-existent. The company is a B Corporation, harnessing the power of business for social good. Collaborating with sponsors, organizations and individuals, the company works to support, enable and expand the transformative power of play in all its forms—anywhere and everywhere. To date, One World Play Project has brought the power of play to more than 45 million youth in over 175 countries worldwide.
Official sponsors of One World Play Project include Chevrolet and MallforAfrica. Additionally, One World Play Project is a Global Champion of Designed to Move.
One World Play Project is headquartered in Berkeley, CA with regional offices in Asia, South America and Africa—and distribution centers in Fremont, CA and Voerde, Germany. For more information, visit oneworldplayproject.com or check out our community on Facebook, Twitter, LinkedIn and Instagram.