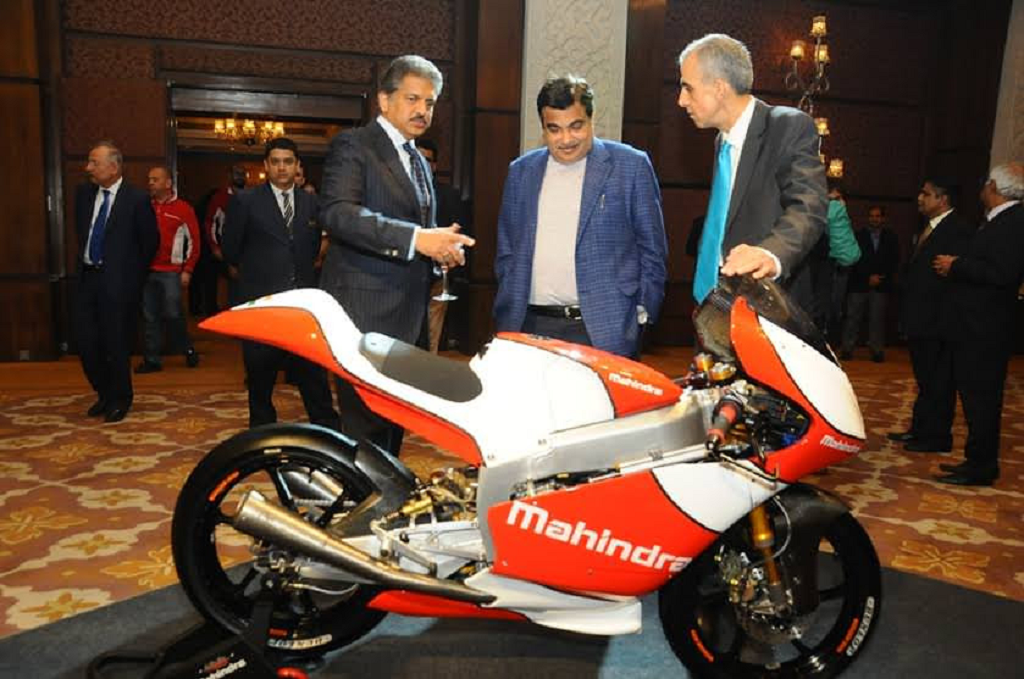 Mahindra & Mahindra Ltd., a part of the US $16.9 billion Mahindra Group, today showcased its automotive sector's complete range of mobility solutions at the 13th edition of Auto Expo 2016. The product display included the unveiling of an XUV Aero – it's all new concept coupe, display of Ssang Yong's best seller, Tivoli as well as the launch of the e2o Sports and the new range of trucks under the new 'BLAZO' brandname.
Present from Mahindra were Anand Mahindra, Chairman, Mahindra Group, PawanGoenka, Executive Director, Mahindra and Mahindra, Pravin Shah, President & Chief Executive (Automotive), Mahindra & Mahindra, RajanWadhera, President & Chief Executive, Truck & Power Train & Head, Mahindra Research Valley, Mahindra & Mahindra, Arvind Mathew, CEO, Mahindra Reva, and Nalin Me
hta, CEO, Mahindra Truck & Bus Division, Mahindra & Mahindra.
Present at the occasion, Anand Mahindra, Chairman, Mahindra Group,said, "Mahindra is constantly striving to push the boundaries of technology and innovation while developing new mobility solutions for a rapidly evolving world. The Auto Expo is the perfect opportunity to showcase our new range of automotive products; and we are particularly proud of the XUV Aero which represents a paradigm shift in our design philosophy. SsangYong's new Tivoli compact SUV, which is a big success in its home market of Korea is the first brand new product from SsangYong post Mahindra's acquisition. Finally, our electric vehicles on display today reflect Mahindra's vision of the Future of Mobility which we believe would lead to the creation of more sustainable urban areas in the future."
Speaking on the occasion, PawanGoenka, Executive Director, Mahindra& Mahindra mentioned, "While being an important platform for us to showcase our product offerings, the Auto Expo also helps us to highlight our offering of 'Accessible Technology' and gauge the aspirations of our customers. We are delighted to showcase our Design Studio which will showcase our design thought process epitomising the Mahindra Rise philosophy of innovative and alternative thinking. Our product offerings at the Auto Expo reflect a true sense of the 'Make in India' philosophy, yet being suitable for global mobility solutions."
 Pravin Shah, President & Chief Executive (Automotive), Mahindra & Mahindra said, "The Auto Expo is an important platform for us to put forth our global face with the best in class Indian solutions. The launch of the XUV Aero today is a significant way forward for us in our design story as it reflects the bold design together with the presence of all futuristic connected technology. Through our product offerings at Mahindra Reva like the e-Verito and the e-Maxximo, we are shifting the paradigm of alternative technology while being committed to a clean and green tomorrow."
 XUV Aero – One for the future!
As the makers of the largest range of Sport Utility Vehicles, Mahindra understands the many facets of what "sporty" means in this new age.At the heart of sport lies endurance and performance. The challenge to maximize one's potential to perform and endure. For performance, speed is the quintessential element. Endurance is about being tough, persistent and boldly conquering new frontiers.
 The Mahindra XUV Aero is all about challenging the mundane and rising to conquer new horizons.The concept epitomizes boldness and performance.  Designed in-house at theMahindra Design Studio in Kandivali, Mumbai, India, the XUV Aero takes the spirit of the cheetah and gives it an urban manifestation of the beast; a coupe cross-over with an aerodynamic silhouette, a butch stance and bold graphics.
 At the heart of this urban beast lies a state of the art powerful engine delivering unmatched thrilling performance and ability to take the XUV Aero onto unchartered territories aided by multiple drive and suspension modes – Race, Off-road, Street and Sport. The high power-density mHawk 210HP engine houses a Next Gen turbo boost delivering high torque and power output. It has advanced combustion system with low pressure EGR adaptability for improved NVH and better fuel efficiency. With 0 to 60 in under 6 seconds, this engine is sure to get spirits soaring to a new high.
 XUV Aero is endowed with all future communication & connectivity technologies. At a time when the world is talking about loss of spirit and thrill of driving cars, about ease of access to cabs, the XUV Areo is designed for the enthusiast, for the sheer pleasure of driving.
 Mahindra's Design Studio – Creating a Benchmark
The Design Studio' at the Mahindra Pavilion is created with an intent to enhance consumer engagement with Mahindra's design thought process for its products. At this unique studio, consumers from all age groups can understand, experience and enjoy how vehicles are designed. It is the epitome of the 'Mahindra Rise' philosophy as it involves innovative and alternative thinking.
This year, the Design Studio showcases the Mahindra XUV Aero. One can discover how the XUV Aero evolved from doodles put on paper, to the actual machine which you can touch and feel. You can experience how it took shape, watch the designers sketch, participate in live automotive sculpting, go on a guided tour of the design process and talk to our designers one-on-one! You can even customize the XUV Aero with the XUV Aero Configurator and solve XUV Aero puzzles.
The studio will also have an interactive section wherein the designers can give tips to students who wish to pursue car design.
SsangYong's best seller Tivoli
On display will be SsangYong Tivoli, a compact SUV launched in January 2015 which offers an attractive experience as "My 1st SUV" to those who want both style and practicality in their cars. Tivoli has dominated the Korean compact SUV market since its launch and has also gained recognition from overseas markets including the Europe. Since Tivoli carries great implications as SYMC's first new model developed since its acquisition by Mahindra, the company invested USD 300 million (including engine development cost) and 42 months to acquire the best product competitiveness among the B-segment vehicles in terms of performance, design, safety and convenience. The high powered and highly fuel efficient Tivoli diesel was recently launched.
The Future of Mobility Solutions – Electric Vehicles
 e2o Sport – The all electric GT from Mahindra
 Mahindra today unveiled it's all electric sports performance car 'e2o sport' at the Auto Expo 2016. The car is a manifestation of Mahindra's leadership in the electric vehicle category in India. It brings together an unbeatable range of 200km with supreme performance of an 80 KW power train. Some unique features of e2o sports are its instant acceleration of 0-60kmph in 4 sec (0-100 kmph in 8 sec) and 384V – high voltage power pack.
 E-Verito
The Mahindra Electric Verito sedan is powered by the latest electric drive train from Mahindra Reva, it is a 100% zero emission, green vehicle. The automatic transmission Mahindra eVerito sedan can be charged at home and can also be quick charged in 2 hours through fast charging (top-end). In one charge, Mahindra eVerito can travel for up to 100 kms based on vehicle loading and can achieve a top speed of 86 kmph. It also comes with ECO drive mode and remote diagnostics which includes real time and immediate assistance no matter where you are.
Supro Electric
The Supro Electric Van is an 8-seater zero-emission mini-van powered by advanced lithium-ion batteries. Capable of covering a distance of 100 kilometers on a single charge, the Supro Electric Van is fully-automatic and can hit an electronically limited top-speed of 50 kilometers per hour. It is suitable for all weather conditions and is built to high standards of safety and reliability. The Supro Electric Van can be a preferred option for first and last mile connectivity for Metro rail and BRTS systems, school vans, corporate employee commuting solutions and can further serve the purpose of campus commuting.
 Arvind Mathew, Chief Executive Officer, Mahindra Reva said"I see electric mobility becoming the norm, even in India. It's not far in the future that electric vehicles will share our roads with more conventional products. At Mahindra, we intend to accelerate that transformation."
Mahindra Trucks – New BLAZO series of HCVs with Fuelsmart Technology
Mahindra today announced the launch of its new HCV truck series, 'BLAZO' with Fuelsmart Technology backed by a superior mileage and service guarantee. The BLAZO series includes haulage, tractor trailer, and tipper vehicles and introduces for the first time, the CRDe engine coupled with multi drive mode features. The Multimode feature will have three modes – Turbo, Heavy and Light, and the driver can switch between these as per the load and road conditions.
The existing range of HCV trucks comprising of TRUXO multi axle trucks, TORRO Tippers and TRACO tractor trailers will continue to be available in its entirety.
Mahindra Trucks also announced a superior mileage guarantee on the BLAZO truck, tipper and tractor trailer series and a 48-hours back-on-road breakdown service guarantee. Popular Bollywood star, Ajay Devgn was announced to be the face of the new campaign for BLAZO series.
RajanWadhera, President & Chief Executive, Truck & Power Train & Head, Mahindra Research Valley, Mahindra & Mahindra said, "It is a proud moment for us as we unveil the BLAZO range today. Together with the unheard of mileage and service guarantees which we have announced, I am sure that we will continue to innovate to provide better value to our customers."
Commercial Vehicles – All about winning
The star attraction in the Commercial Vehicle zone will be Mahindra's new offering in the small commercial vehicle segment, Jeeto. Being the first ever product in its category with a modular range of 8 mini-trucks to cater to the varied needs of the sub 1 tonne load segment customers, Jeeto has been a game changer in last mile distribution with its modular range and an unmatched versatility and superior efficiency to haul goods across different segments. Recently it was also awarded Apollo CV of the Year Award. Present at the stall will be its brand ambassador, Manoj Bajpai. A perfect fit for Jeeto, Manoj is a versatile actor who delivers power packed performance, a true reflection of the spirit of Jeeto.
Mahindra Adventure Zone
At the last edition of the Auto Expo, we unveiled the customised Thar, the Midnight edition. And to follow up this year, we present to you the Mahindra Thar Daybreak. This customized version of the Thar is designed in line with the extreme off road vehicle that is getting popular in the country today. The Thar Daybreak features large 37 inch off-road tyres, custom bumpers &rock sliders , matt grey body panels with day break sunlight red highlights, rally seats, roll over bar, heavy duty electric winch, rear axle differential lock, amongst other things.
 The TUV300 Endurance at the adventure zone has been customized using the body kit for a premium adventure stance. The custom painted premium matte finish in "Lakesoil brown" increases its aspirational value. The body kit comprises of front bumper applique, front grille overlay, front headlight bezel, customized headlights, 17 inch stylish alloys, oversized tyres, roof mounted fog lamp applique amongst other things completing the exterior look. In the interiors, it is every bit a dream vehicle, with body colour coded interiors, lounge sitting, rear seat entertainment, dual tone mood lighting, chiller and premium leather interior.
 Value Added and Customized Commercial Vehicles
Mahindra also showcased some of its value added products in its commercial vehicles portfolio. The commercial vehicle products on display include Jeeto as a refrigerated truck with eutectic technology, Supro Maxi Truck as a mobile cafeteria ,Supro van as a  multi-purpose van and the Double Cabin option of the Imperio as modern crew cab truck. Keeping in mind a solution for every need of the customer, a wide range of applications with specialized transportation requirements are created on our vehicles.
Accessible Technology in Product Offerings
On display will be the New Age XUV500 Automatic Transmission. It is the only SUV in its class to offer a 2nd generation 6-speed automatic transmission with AWD as an option. The all new Automatic Transmission has been sourced for the first time from the leading global supplier, AISIN, Japan. The New Age XUV500 Automatic takes the driving experience to the next level with easy cruising on city roads as well as on challenging terrains.
The TUV300 AMT is the first SUV in India with auto SHIFT (AMT) technology. TheTUV300 AMT gearbox is developed in house by M&M with design expertise from Ricardo, UK. The new Mahindra 5-speed AST transmission represents a significant step forward in transmission technology within the Indian automotive sector.
Mahindra is the first Indian company to have introduced Auto Shift Transmission (AST) to Indian market with completely indigenized design and parts produced within India.
KUV100 (pronounced as KUV '1 double Oh'), the recently launched young compact SUV combines features which are clear proof points of accessible technology – 1st in class (in diesel) Power/ECO Mode and Micro-Hybrid Technology, first in class safety features such as ABS with EBD standard across the range, dual airbags available as an option right from the base variant and ISOFIX mounts for a child seat in the 2nd row.