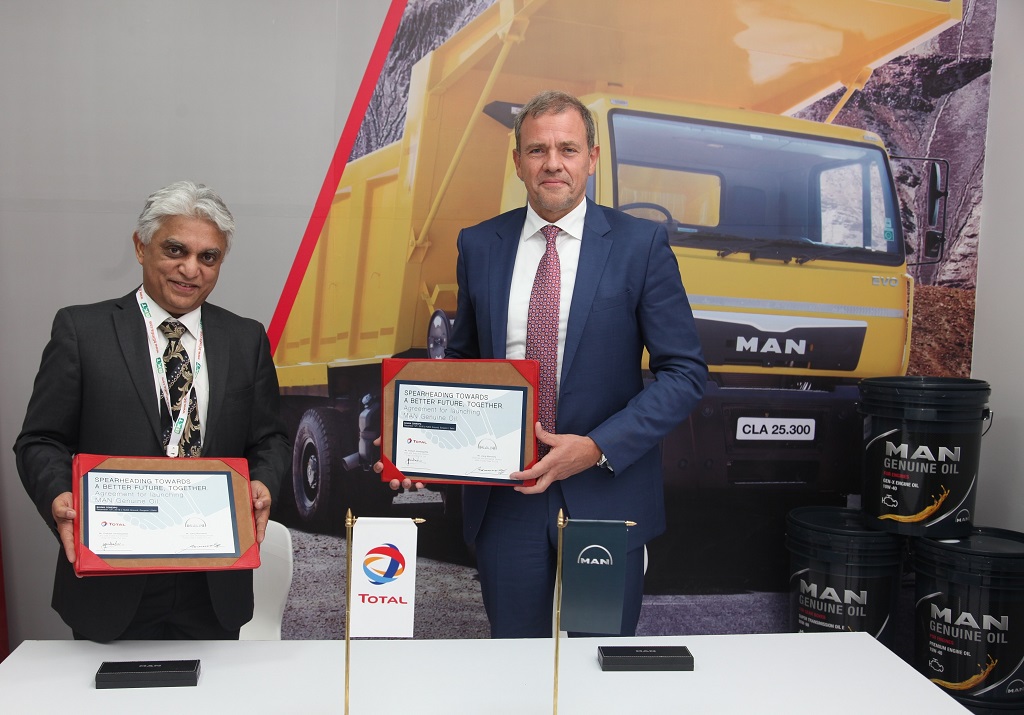 MAN Trucks India and Total OIL India partner for driving growth and innovation
MAN Trucks India Pvt. Ltd.a 100% subsidiary of MAN Truck & Bus AG, Germany, the world's leading manufacturer of trucks and buses and Total Oil India Private Limited (TOIPL),  a subsidiary  of TOTAL S.A. – France, today launched MAN Branded genuine lubricants exclusively for MAN vehicles in the Indian market.
The product range designed to meet the technical specifications laid out by MAN, is a result of close collaboration and partnership between the teams of MAN and Total. The product range includes high performing engine oils, transmission and axle oils for various types of trucks manufactured by MAN Trucks India for both on road and off road applications segment.
This product range is developed by Total in close co-ordination with MAN and they adhere to the strict standards of MAN.  TOIPL will provide the prompt availability of MAN branded lubricants across the country.
Speaking at the launch, Mr. Joerg Mommertz, Chairman & Managing Director, MAN Trucks India said, "We at MAN India are working with Global Partners like Total to provide complete solutions to our Customers.  MAN Trucks has been present in India for the last 10 years now and have pioneered many technologies. We have always worked extensively towards customer satisfaction and at creating a delightful experience for all MAN customers through various Aftersales products. The partnership with Total is one such step forward in this endeavour."
He further expressed, "Through our partnership with Total Lubricants, we at MAN Trucks are committed to providing our customers with superior quality branded lubricants, developed specially for MAN Truck Commercial Vehicles. The partnership will enable MAN Trucks customers to enhance the performance of their vehicles, and contribute to an increased service life and reduced total cost of ownership."
Mr. Prakash Jonnalagadda, CEO and Executive Director of Total India lubes division elaborated: "We are honored and glad to embark on this exciting journey with MAN. Thanks to our experience and expertise in developing customized solutions for our customers, we are fully prepared to meet the expectations and demands of MAN to supply them with required products. This development is an excellent example of collaboration between two teams and demonstrates the Total's philosophy of being close to our customers."
MAN Genuine Oil rounds off the quality package offered by MAN. It demonstrably provides optimal protection for engines, transmissions, drive axles and transfer cases against wear and tear and the build-up of deposits, enhancing performance of the vehicles and lowering the overall cost of operations.
About MAN Trucks India:
MAN Truck & Bus AG, Germany, headquartered in Munich, offers one of the widest and most innovative range of products and services in the commercial vehicle industry.
MAN Trucks India Pvt. Ltd. is a fully owned subsidiary of MAN Truck & Bus AG, Germany. MAN Trucks India in the past 10 years since its inception has positioned itself as a key player on the technology platform by offering high quality and cost effective products. In 2016, MAN Trucks India is celebrating 10 years of its presence in Indian market. Head quartered at Pune, MAN Trucks India has its production facility at Pithampur, Madhya Pradesh from where it has produced over 23000 vehicles for domestic and international markets. With a strong dealership network of more than 60 locations, MAN Trucks provides world class round the clock after sales support to its customers.
About Total 
Total is one of the largest integrated oil and gas companies in the world, with activities in more than 130 countries. It's close to 100,000 employees put their expertise to work in every part of the industry – exploration and production of oil and natural gas, refining and marketing, new energies particularly solar industry, trading, and chemicals. Total is working to help satisfy the global demand for energy, both today and tomorrow.
Total in India
Total Oil India Private Limited (TOIPL) is a subsidiary of TOTAL S.A. – France. Operating since 1993,  TOIPL has multiple business interests in India including Lubricants, LPG, Bitumen, Special Fluids, Additives, etc. and has over 550 employees.