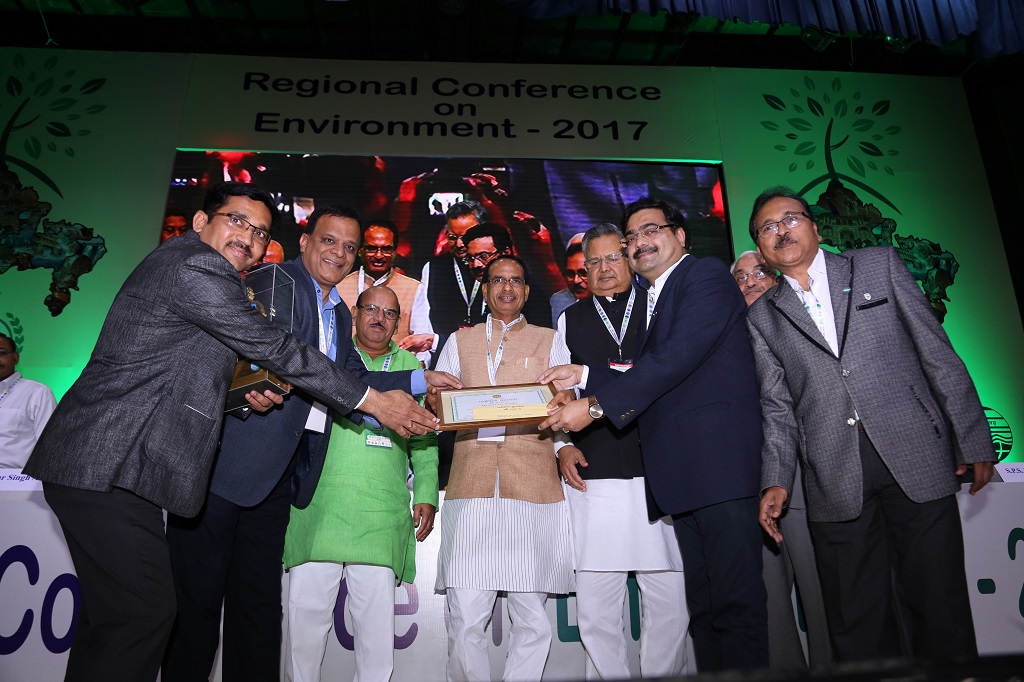 MAN Trucks India, a 100% subsidiary of MAN Truck & Bus AG, Germany, was conferred the Environment Award for its facility in Pithampur, near Indore by the Government of Madhya Pradesh. The Hon'ble Chief Minister of Madhya Pradesh, Shri. Shivraj Singh Chauhan gave the award to Mr. Shrikant Pandit, Head of MAN Trucks' plant in Pithampur at a function organised in Bhopal recently. The Hon'ble Chief Minister of Chhattisgarh, Shri. Raman Singh was present on the occasion.
MAN Trucks' Pithampur facility won this State Level Competition organised by Madhya Pradesh Pollution Control Board. The award comprises a trophy, certificate and cash prize of INR 50,000. This award evaluates all industries for their efforts in continual improvements on air quality, water usage, wastage control, method of handling &disposal of hazardous material, etc. A panel of senior government officials adjudged participating companies on the above aspects, besides on safety, waste control, optimum use of natural resources and employee involvement.
Mr. Joerg Mommertz, Chairman & Managing Director, MAN Trucks India said, "We are happy to receive this honour from the Madhya Pradesh government. At MAN, it is our commitment to preserve the environment, which is part of our Corporate Social Responsibility initiatives. We are focused on our efforts to ensure that our production facility meets all the concerns towards conserving the ecology and make products that address environmental concerns. This approach is reflected in the recognition given by the state government. We will aim to achieve even better results going forward."
The award recognised efforts by the company towards pollution control and environment conservancy during 2014-15. MAN Truck competed in the large scale industry, medium hazardous category. Other participants included players from automotive, pharmaceutical, textiles and cement manufacturing facilities.
About MAN Trucks India
MAN Trucks India Pvt. Ltd. is a fully owned subsidiary of MAN Truck & Bus AG, Germany.The company has its Head Quarters in Pune and state-of-the-art manufacturing facility at Pithampur, Madhya Pradesh. The product range manufactured in this plant include tippers for off-road& construction, haulage for regular & over dimensional cargo, and special application trucks such as fire tenders, garbage compactors, concrete mixers, boom pumps, tip trailers and bulkers. The product range for India is developed at MAN Trucks R&D centre in Pune. The trucks made in India are also exported to African and Asian markets. MAN Trucks offers prompt and efficient support through its network of 64 touch points in India and one each in Bangladesh, Bhutan and Nepal. The company has sold over 25,000 trucks since it started its India operations in 2006.