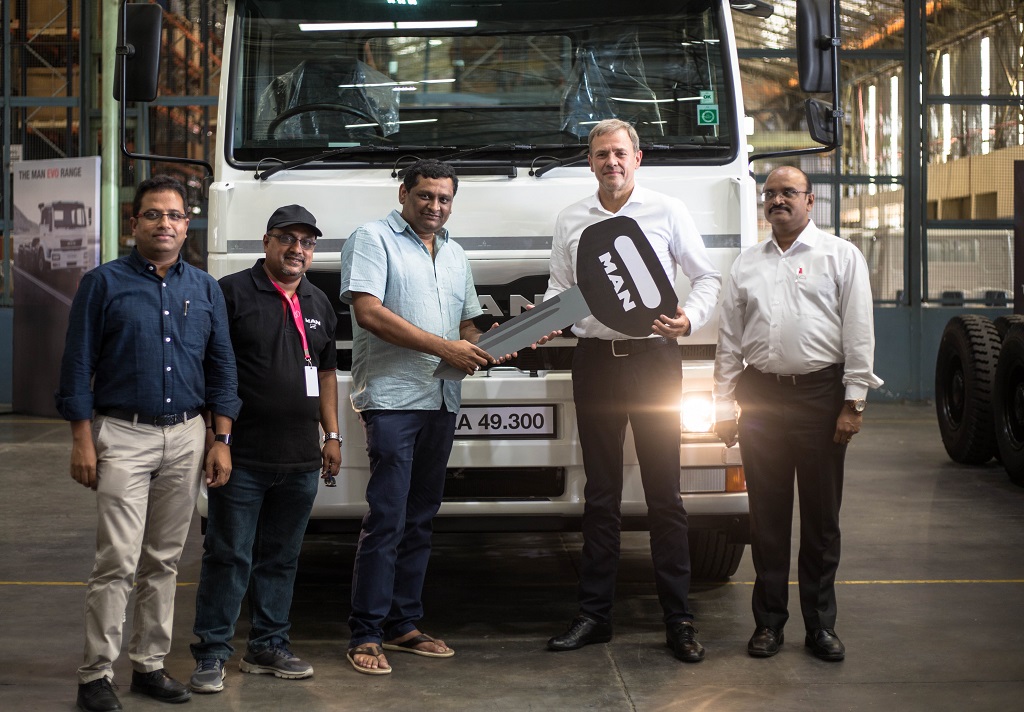 Company crosses important milestone with roll out of 25,001st truck from Pithampur facility
Indore.16th May, 2017: MAN Trucks India, 100% subsidiary of MAN Truck & Bus AG, Germany, rolled out the New CLA EVO range. The initial trucks were delivered to customers recently at an event at the company's facility at Pithampur, Indore. In the process, MAN Trucks also crossed an important milestone in its India journey – over 25,000 vehicles sold in India as well as in export markets. The new range was unveiled at the BAUMA CONEXPO INDIA in December 2016.
The market introduction of the new range also coincides with the BSIV emission norms that came into effect on 1st April, 2017. The series includes tippers, rigids and tractors, besides special application trucks that address diverse customer requirements. These are designed to operate in tough operating conditions with high performance and efficiency levels.
Mr. Joerg Mommertz, Chairman and Managing Director, MAN Trucks India said, "At MAN, it is our endeavour to provide best-in-class solutions for the transport and infrastructure sectors. We have always listened to our customers to understand their changing requirements. The new CLA EVO range is a good example of our ability to develop solutions in India, for India. MAN trucks are seen as a reference for strong performance over long duty cycles. Going forward, we will work towards bringing newer solutions to raise the bar for our customers."
With new benchmarks, the CLA EVO series offers a combination of power, fuel efficiency, world class performance and safety. The trucks are powered by the proven MAN D-0836 common rail engine that delivers 250HP and 300HP based on the application. At the same time it complies with the BSIV emission norms.
Coupled with a well configured driveline, the engine delivers best-in-class fuel efficiency. Extensively tested to global standards and equipped with strong aggregates and a robust chassis frame and suspension, the CLA EVO range meets the highest operating standards under extreme conditions.
"With the implementation of GST, demand for haulage trucks is expected to rise. The MAN long haul trucks can operate up to 20 hours duty cycles, which will benefit operators in terms of faster turnaround. The engines have been been enhanced to deliver more power, while being fuel efficient. Besides the product range, we are also expanding our after sales service network in order to cater to requirements across all key routes and locations," Mr. Mommertz added.
Presenting the New MAN CLA EVO range
The New CLA EVO series comprises tippers, long haul and special application trucks ranging from 16T to 49T.
The trucks are powered by the proven MAN D-0836, turbo charged, inter-cooled engine, that are rated for 250HP and 300HP. Mated with 6- and 9-speed gearboxes, the trucks are adapted for specific operational purposes. The electronically controlled Common Rail system makes the engine reliable and fuel efficient than before, besides being environment friendly.
The crawler gear in long haul trucks helps the engine run within the optimal rpm range, thereby reducing fuel consumption.Strong rigid front axle, hypoid rear axles provide superior traction&gradeability, and unmatched reliability.
The tippers feature MAN's planetary rear axle with hub reduction, which provides high ground clearance and has proven its effectiveness in varying conditions. The inter axle and differential lock imparts superior traction.
The driver environment offers best-in-class ergonomics, visibility and control. The objective is to provide drivers high levels of comfort for significantly reduced fatigue and enhanced safety. The aerodynamic cabin with heat and sound dampeners, and an optional AC helps maximise man and machine performance and productivity. The driver cabs also offer sleeper berths in the long haul trucks.
MAN Aftersales and Service
MAN Trucks India offers service and support to ensure maximum uptime, all the time. MAN Services offers include warranty schemes, annual maintenance contracts, on-site support and 24×7 helpline service.
MAN Services also offer new solutions like lubricants that can improve the engine performance. Along with MAN genuine parts, always recommended to operators, the vehicle life cycle gets a boost – whether it is in engine hours for tippers or kilometres clocked for long haul trucks.
About MAN Trucks India
MAN Trucks India Pvt. Ltd. is a fully owned subsidiary of MAN Truck & Bus AG, Germany. The company has its Head Quarters in Pune and state-of-the-art manufacturing facility at Pithampur, Madhya Pradesh. The product range manufactured in this plant include tippers for off-road& construction, haulage for regular & over dimensional cargo, and special application trucks such as fire tenders, garbage compactors, concrete mixers, boom pumps, tip trailers and bulkers. The product range for India is developed at MAN Trucks R&D centre in Pune. The trucks made in India are also exported to African and Asian markets. MAN Trucks offers prompt and efficient support through its network of 63 touch points in India and one each in Bangladesh, Bhutan and Nepal. The company has sold over 25,000 trucks since it started its India operations in 2006.