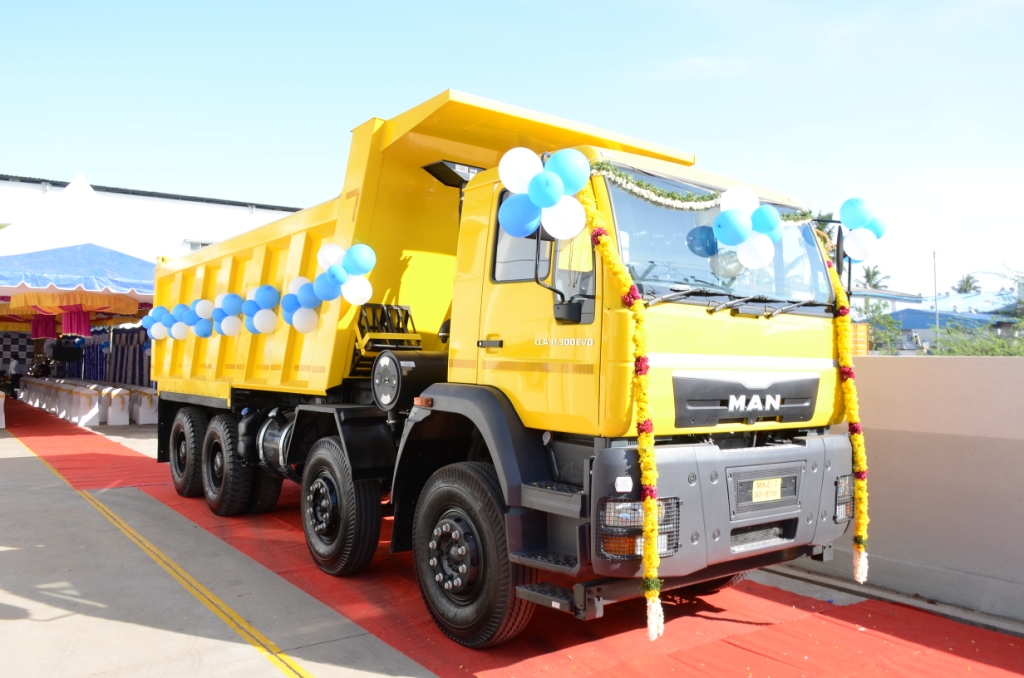 Vijai Earthmoving Equipment becomes dealer partner of MAN
This state-of-the–art facility is the 64thtouch point
Part of MAN's plans to increase dealerships across the country
MAN Trucks India, a 100% subsidiary of MAN Truck & Bus AG, Germany, today inaugurated its 64th dealership at Chennai. Set up by its new partner M/s. Vijai Earthmoving Equipment Pvt. Ltd., this is the fourth dealership inaugurated since January 2017, besides Solapur, Pune and Vijayawada.
MAN is working on its two-pronged strategy for India. This involves network expansion in order to increase sales opportunities and at the same provide service support to all customers. In May this year, MAN crossed the milestone of over 25,000 vehicles rolled out from its Pithampur plant. The New CLA EVO range, launched in December 2016, comprises tippers, long haul and special application trucks ranging from 16T to 49T.
Mr. Joerg Mommertz, Chairman &Managing Director, MAN Trucks India said, "Our India approach has shaped up well over the years, despite challenging market conditions. Now, we have increased the pace of responding to market demands and this new dealership is an example of our efforts. The south region is an important market and with this facility we will be able to improve our reach. I am pleased to welcome on-board Vijai Earthmoving Equipment as our partner and am confident that they will impart the MAN brand experience to all customers."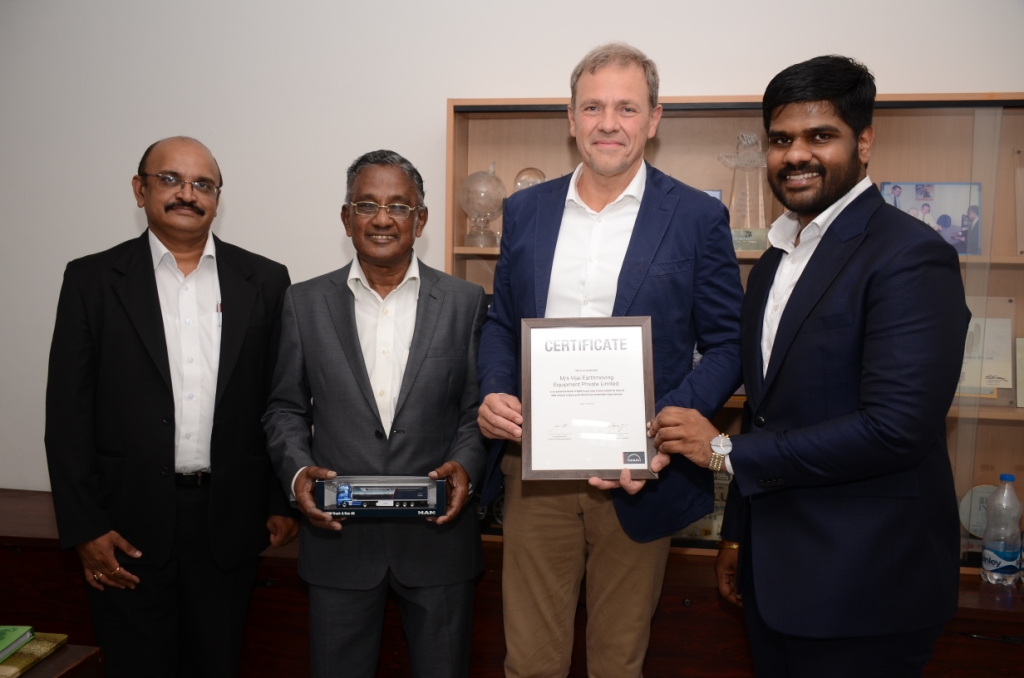 Mr. K Gomathinayagam, Managing Director, Vijai Earthmoving Equipment said: "I am happy to start our association with MAN Trucks. It is our conviction that MAN brand can provide the right solutions to stakeholders. I assure customers of the best of support in terms of sales advisory and aftersales services. We look forward to a long and fruitful partnership with MAN Trucks India."
The new dealership by Vijai Earthmoving Equipment is the 24thlocation in the southern region. The facility will provide sales and aftersales support to all customers. Spread over an area of13,000 sq.ft, it is located close to the Chennai-Bengaluru highway. There are three service bays and a lounge where customers/drivers can wait while their vehicles are being serviced.
The workshop has qualified MAN technicians who can address diverse needs of customers and ensure maximum vehicle uptime. The facility is equipped with high precision tools and advanced diagnostic systems. The dealership will also offer 24×7 roadside assistanceand on-site servicesupport.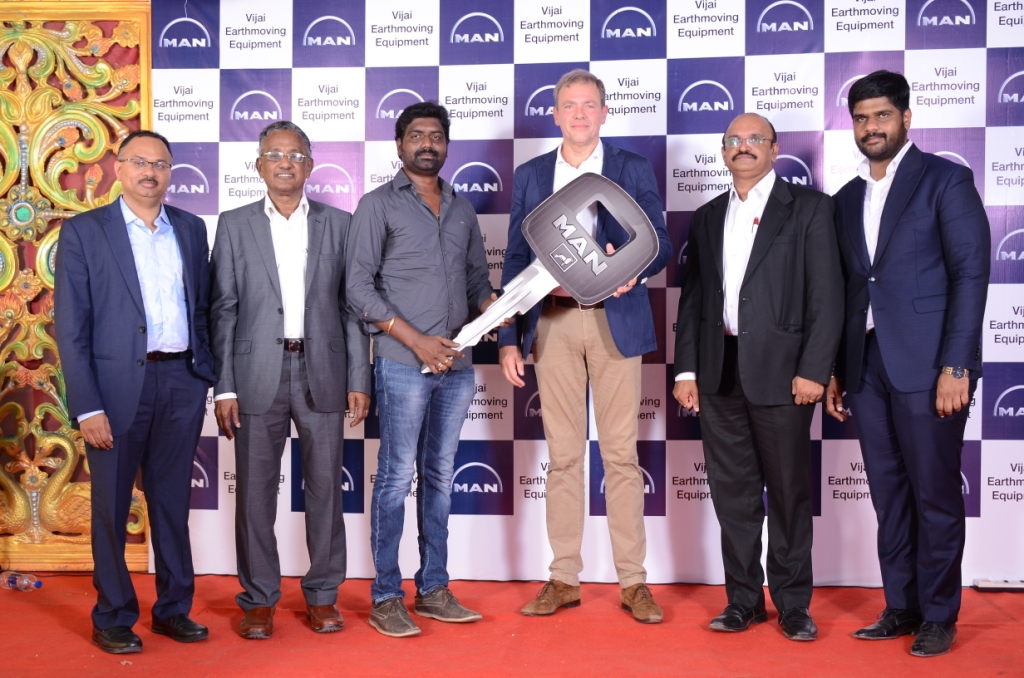 The New MAN CLA EVO range
The New CLA EVO series trucks are powered by the proven MAN D-0836, turbo charged, inter-cooled engine, that is rated for 250HP and 300HP. Mated with 6- and 9-speed gearboxes, the trucks are adapted for specific operational purposes. The electronically-controlled Common Rail system makes the engine high on reliability and fuel efficiency, besides being more environment friendly.
The crawler gear in long haul trucks helps the engine run within the optimal rpm range, thereby reducing fuel consumption. Strong rigid front axle, hypoid rear axles provide superior traction & gradeability, and unmatched reliability.The tippers feature MAN's planetary rear axle with hub reduction, which provides high ground clearance and has proven its effectiveness in varying conditions. The inter axle and differential lock imparts superior traction.
The driver environment offers best-in-class ergonomics, visibility and control. The objective is to provide drivers high levels of comfort for significantly reduced fatigue and enhanced safety. The aerodynamic cabin with heat and sound dampeners and an optional AC helps maximise man and machine performance.
MAN Aftersales and Service
MAN Trucks India offers service and support to ensure maximum uptime, all the time. MAN Services offers include warranty schemes, annual maintenance contracts, on-site support and 24×7 helpline service.
MAN Services also offer new solutions like lubricants that can improve the engine performance. Along with MAN genuine parts, always recommended to operators, the vehicle life cycle gets a boost – whether it is in engine hours for tippers or kilometres clocked for long haul trucks.
About MAN Trucks India
MAN Trucks India Pvt. Ltd. is a fully owned subsidiary of MAN Truck & Bus AG, Germany. The company has its Head Quarters in Pune and state-of-the-art manufacturing facility at Pithampur, Madhya Pradesh. The product range manufactured in this plant include tippers for off-road& construction, haulage for regular & over dimensional cargo, and special application trucks such as fire tenders, garbage compactors, concrete mixers, boom pumps, tip trailers and bulkers. The product range for India is developed at MAN Trucks R&D centre in Pune. The trucks made in India are also exported to African and Asian markets. MAN Trucks offers prompt and efficient support through its network of 64 touch points in India and one each in Bangladesh, Bhutan and Nepal. The company has sold over 25,000 trucks since it started its India operations in 2006.