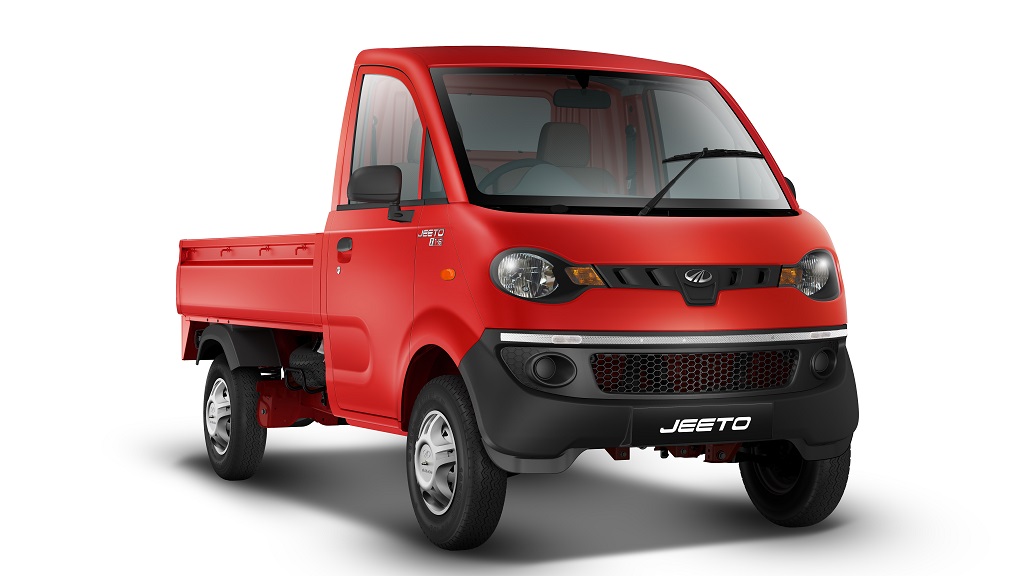 Garners 50,000 happy customers
Registers a 25% growth in FY17 & market share of 22.1%
Delivers 30%* higher profit as compared to competition
Strengthens Mahindra's leadership position in the small commercial vehicles (SCV) segment
Mumbai, June 22, 2017: Mahindra & Mahindra Ltd., a part of the US $19 billion Mahindra Group, today announced that its mini truck, Jeeto, has completed two successful years on Indian roads. To commemorate this milestone, Mahindra is offering customers a special anniversary deal on the Jeeto which includes easy down payment options and accident insurance cover of Rs. 10 lakh.
The Mahindra Jeeto has gained market share of 22.1% in the
Speaking on the occasion Rajan Wadhera, President Automotive Sector, Mahindra & Mahindra Ltd. said "The success of the Jeeto over the past 2 years is a testament to Mahindra's focus on developing customer centric, class leading offerings. A game changer in its category, the Jeeto has created significant disruption in its segment with its modular range of 8 mini trucks which offer a superior customer value proposition. Today, our customers appreciate the Jeeto's promise of higher mileage, higher earning potential and car like comforts. Going forward we will continue to partner with our customers in their endeavour to progress and prosper in life."
The Jeeto has recently evolved in its capabilities with the introduction of DiGiSENSE – a revolutionary technology that has increased the vehicle's connectivity levels. This technology allows owners to access vital information about the Jeeto remotely, improving the vehicle's overall efficiency and productivity. Since its launch, the Jeeto has been a game changer in last mile distribution with its modular range, unmatched versatility and superior efficiency to haul goods across different segments. The Jeeto has been designed for refined performance and delivers fuel efficiency of up to 33.4 km/l. All these, along with strong customer validations have also resulted in the brand receiving the Apollo CV and SCV of the Year Award.
Going beyond the product's performance, the Jeeto is a popular vehicle that features in the Make in Telangana video and has received an excellent response from captive customers. Being highly suited for urban waste management, the Jeeto also bagged an order for 2,000 vehicles from the GHMC (Greater Hyderabad Municipal Corporation). Amazon has also chosen the Jeeto as its preferred vehicle for its two wheeler upgrade program.
About Mahindra
The Mahindra Group is a USD 19 billion federation of companies that enables people to rise through innovative mobility solutions, driving rural prosperity, enhancing urban living, nurturing new businesses and fostering communities. It has a leadership position in utility vehicles, information technology, financial services and vacation ownership in India and is the world's largest tractor company, by volume. It also enjoys a strong presence in agribusiness, components, commercial vehicles, consulting services, energy, industrial equipment, logistics, real estate, steel, aerospace, defence and two wheelers. Headquartered in India, Mahindra employs over 200,000 people across 100 countries.