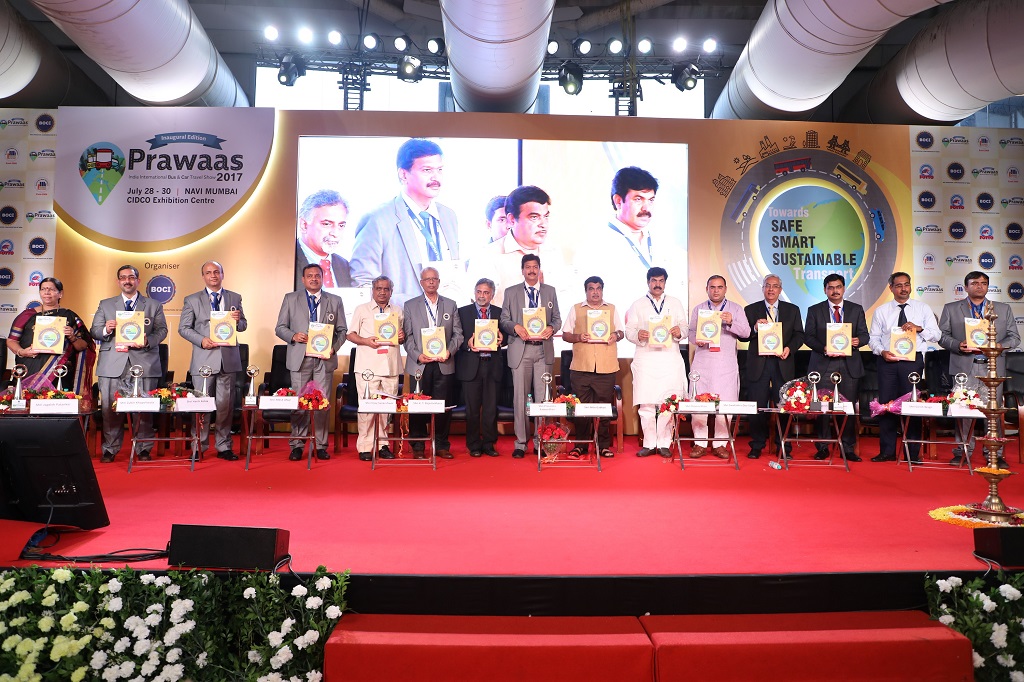 –          Shri Nitin Gadkari, Hon'ble Minister for Transport, Highways and Shipping, Government of India opens the inaugural event
–          Prawaas 2017, will be a 3-day event starting July 28th-30th 2017, bringing together all stakeholders from the Bus and Car operator associations onto a single platform
Mumbai, 28 JULY 2017: Shri Nitin Gadkari, Hon'ble Minister for Transport, Highways and Shipping, Government of India, flagged off the inaugural edition of 'Prawaas 2017', India International Bus and Car Travel Show 2017, which will be held from 28th-30th July 2017 at the CIDCO Exhibition Centre, Vashi, Navi Mumbai, with the theme "Towards Safe, Smart and Sustainable Transport."
Organized by the Bus Operators Confederation of India (BOCI), the event was graced by Shri Yoonus Khan, Hon'ble Minister PWD and Transport Department, Government of Rajasthan, Shri Jaykumar Jitendrasinh Rawal, Hon'ble Minister of Tourism, Government of Maharashtra, Shri Swantantra Dev Singh, Hon'ble Minister of State, Ministry of Transport, Protocol, Energy, Government of UP, Shri K.T. Rajashekhara, Chairman, BOCI, Shri Prasanna Patwardhan, President, BOCI, Shri T. Venkataraman, Senior Vice President, Global Bus, Ashok Leyland, Shri Girish Wagh, Head – Commercial Vehicle Business Unit, Tata Motors Ltd., Shri Akash Passey, Senior Vice President, Business Region International, Volvo Bus Corporation, Sweden, Shri Sunil N. Savla, Director, Mumbai Bus Malak Sanghatana (MBMS), Shri Zubin Khopoliwala, President, Federation of Tourists Taxi Operators (FOTTO), Shri Jagdish Patankar, Executive Chairman, MM Activ Sci-Tech Communications and other industry captains and industry body leaders.
'Prawaas 2017' aims to bring all the stakeholders from the Bus and Car operator associations onto a single platform. The event expects to see the participation of 3000+ Bus Operators, 150+ Leading Exhibitors, 10000+ Business Visitors and 80+ Expert Speakers. For the first time ever, both public and private bus operators are coming together to explore the possibilities of a deeper collaboration involving Public-Private Partnership models. The event will see an International Conference, BUSiness Exhibition, Awards & Celebrations, a Bus & Car Mela, Release of Research Reports, CEO Conclave, Workshops / Master Class and a Policy Makers' Round Table.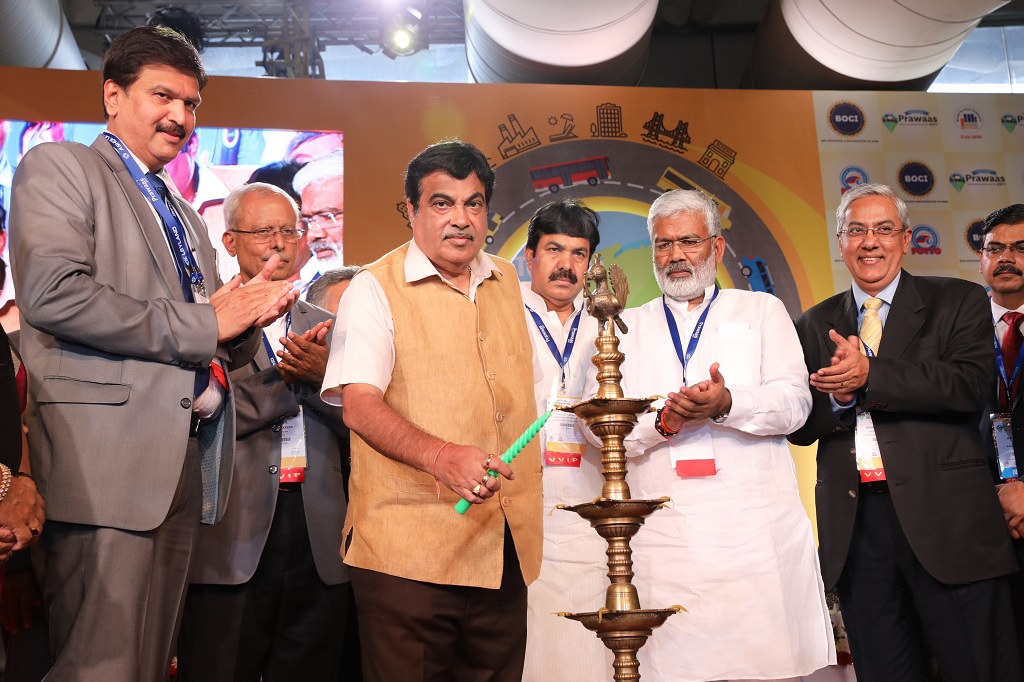 Mr. B N Puri, Director Asian Institute of Transport Development will chair the CEO Conclave with the theme, Futuristic Transportation Solutions Shaping Tomorrow's Public Transport. Mr. Ravi Pandit, Co-founder, Chairman & Group Chief Executive Officer KPIT will present the conclave and have eminent panelists from the industry discuss the usage of innovative technology in the public transportation space
The panel discussion about Creating Uniform Regulatory and Policy Framework for Ease of Doing Business will be chaired by Mr. O.P. Agarwal, Chief Executive Officer WRI India and presented by Mr. Amit Bhatt, Director of Integrated Transport WRI India Sustainable Cities. The panel will include key policy makers and industry leaders, offering their views on the importance of governance and policy-making in enabling and ensuring the right implementation that will benefit industry and citizens alike.
The second day of the conference will also have Mrs. Nupur Gupta, Senior Transport Specialist & Task Team Leader World Bank, chair a session on Developing Innovative PPP Models for Public Transport. Mr. Amit Bhatt, Director of Integrated Transport WRI India Sustainable Cities will present the session. The panel will explore ways to foster a conducive transport ecosystem that is both smart as well sustainable and the importance of the coming together of public and private sectors to make India's cities truly smarter.
One of the key sessions on the concluding day of the conference will address Next Gen Technology in Global Bus Body Standards and Alternative Fuels. The session will be chaired by Mr. A. A. Badusha, Sr. Deputy Director, Homologation Management and Regulations and Vehicle Evaluation Lab, ARAI and presented by Dr. Ajit K. Jindal, Head Engineering, Commercial Vehicle Division Tata Motors Ltd.
Mr. K T Rajashekhara, Chairman, Bus Operators Confederation of India said, "BOCI will closely work with State and Central Governments simplifying regulations and bring in ease of doing business. I am happy to inform that the event has received overwhelming response from industry giants like Ashok Leyland, HDFC Bank, JTAC, Mahindra Group, MG Group, Redbus, Scania, TVS, Veera and Volvo to mention a few. With each edition of Prawaas, we are confident that the support and encouragement will grow by leaps and bounds."
The Bus Operators Confederation of India will also be hosting the Prawaas 2017 Excellence Awards in association with Redbus and Tata Motors. The Awards will be presented across multiple categories covering all aspects of the Bus and Car Operator segment.
Mr. Prasanna Patwardhan, President, Bus Operators Confederation of India said, "The Bus Operators Confederation of India is an apex body comprising State level Federations and District level Bus Operator Associations. It is envisaged as a Network of Networks. BOCI members consist of six segments; Intercity Operators, Intra City Operators, School Bus Operators, Employee Transport Operators, Tour Operators and Maxi Cabs & Taxi Operators. Members of BOCI collectively operate 15 lakh buses on Indian roads which is a pointer towards its significance."
MM Activ Sci-Tech Communications, India's leading event company is curating the Inaugural Edition of Prawaas 2017.
About BOCI
Bus Operators Confederation of India (BOCI) was constituted on 4th February 2016. BOCI is a non-government, not-for-profit, Passenger transport industry-led and managed organization that plays a proactive role in India's development process. The organization promotes, encourages, co-ordinates, safe and secure passenger transport by coach and buses within India and its nearby countries. It acts as interface between thought leaders to enhance efficiency, competitiveness and business opportunities for its members by providing range of specialized services and strategic global linkages. BOCI provides a platform for consensus building and networking on key issues amongst its members. The organization brings in all State associations and Unions under one umbrella to achieve better coordination and confidence by establishing a system of Operator accreditation.