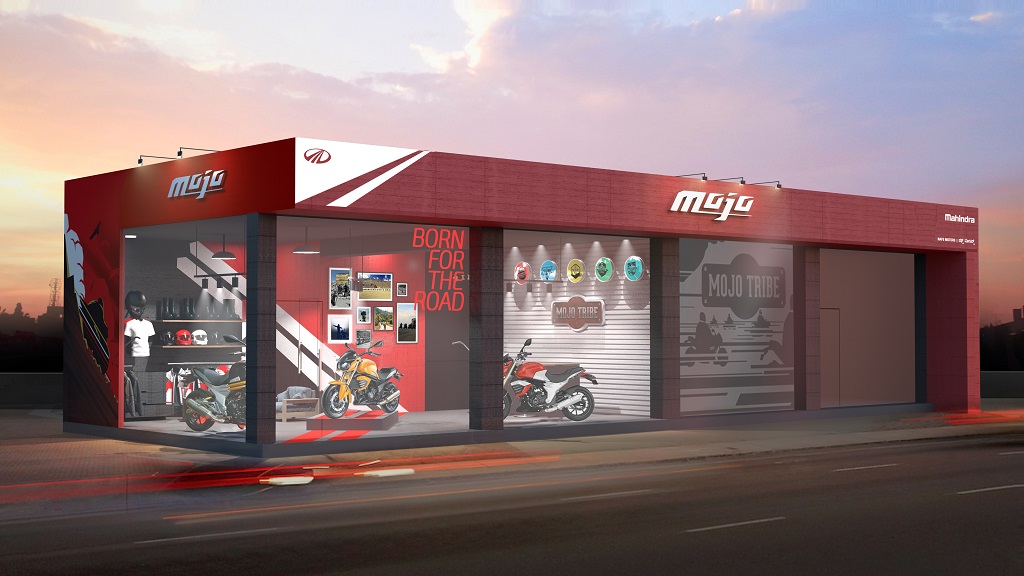 Bengaluru, March 23rd, 2017: Mahindra Two Wheelers, part of the $17.8-billion Mahindra Group, today revealed the sketch of its first MOJO Exclusive dealership. Located in Bengaluru, it is the first-ever brand specific dealership in the two-wheeler segment in India. It is set to open in March 2017, with Mahindra Two Wheelers subsequently planning to open more such MOJO dedicated dealerships across India.
Mr. Naveen Malhotra, Sr. GM – Sales, Marketing & Product Planning, Mahindra Two Wheelers said, "Since its launch, MOJO has helped build a biking culture through its various initiatives. From the vibrant MOJO Tribe chapters which is spread across 30 Indian cities to the Trails of MOJO Tribe which successfully completed four Mega Trails last year – Mountain, Coastal, Jungle & Desert Trail, the brand has come a long way.
We are delighted to come out with the first ever brand specific dealership which has been designed to provide a holistic experience to all bike enthusiasts and also strengthen our presence in the market. We are pleased to reveal the sketch of our first MOJO Exclusive Dealership which will be launched in Bengaluru later this month."
About the MOJO
MOJO was one of the most well received motorcycles of 2015 – 2016 with critics and audiences conferring it 8 awards.
The awards won by Mahindra MOJO include:
"Readers Choice Bike of the Year" at the Zigwheels Awards 2015
"Motorcycle of the Year" at the Motorbeam Readers' Choice Awards 2016
"Bike of the Year: Jury Award" at the BikeDekho.com Awards 2016
"Surprise package of the Year" at the 8th BBC Top Gear Magazine Awards 2015
"Tourer Bike of the Year" at the Gaadiwaadi Readers' Choice Awards 2016
"Mid Segment Sports Bike of Year" at the Flywheel Auto Awards 2016
"Value for Money Bike of the Year" at the Bike India Awards 2016
"India Design Mark (IMARK)" award by the India Design Council in recognition of good design & product excellence in 2016
Visit us at www.mahindraMOJO.com
Facebook: https://www.facebook.com/MahindraMOJO1/
Twitter: https://twitter.com/mahindraMOJO_
Instagram: https://www.instagram.com/mahindraMOJO/
Youtube: Mahindra MOJO
About Mahindra
The Mahindra Group focuses on enabling people to rise through solutions that power mobility, drive rural prosperity, enhance urban lifestyles and increase business efficiency.
A USD 17.8 billion multinational group based in Mumbai, India, Mahindra provides employment opportunities to over 200,000 people in over 100 countries. Mahindra operates in the key industries that drive economic growth, enjoying a leadership position in tractors, utility vehicles, information technology, financial services and vacation ownership. In addition, Mahindra enjoys a strong presence in the agribusiness, aerospace, components, consulting services, defence, energy, industrial equipment, logistics, real estate, retail, steel, commercial vehicles and two wheeler industries.
In 2015, Mahindra & Mahindra was recognized as the Best Company for CSR in India in a study by the Economic Times. In 2014, Mahindra featured on the Forbes Global 2000, a comprehensive listing of the world's largest, most powerful public companies, as measured by revenue, profit, assets and market value. The Mahindra Group also received the Financial Times 'Boldness in Business' Award in the 'Emerging Markets' category in 2013.