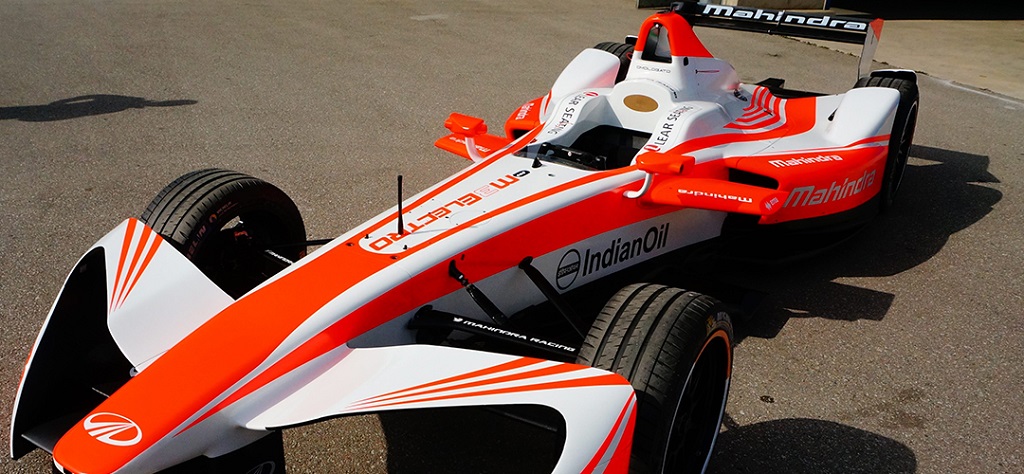 British watch brand Omologato to partner Mahindra Racing Formula E Team from Mexico City ePrix
Omologato will create an exclusive 'Mahindra Racing' chronograph, which team members will wear during race weekends. Timepieces will subsequently be sold through Omologato's website
The Omologato logo will feature on the podium-scoring M3Electro race car, with Omologato clocks featuring prominently in the Mahindra Racing garage.
March 8, 2017, Donington Park: Mahindra Racing today announced a new partnership with Omologato, which sees the British watch brand become an Official Partner of the high-flying Formula E team. With the clock ticking down to round four of the 2016-17 FIA Formula E Championship – the Mexico City ePrix, taking place in three weeks – the announcement of this new motorsport partnership is perfectly timed.
The deal will see the Omologato logo placed on the team's podium-scoring M3Electro race car, with branding above the driver head rest, and on the inside of the rear wing end plate. Omologato clocks will also be prominently displayed inside the Mahindra Racing garage.
In addition, Omologato will have branding on the gloves of team drivers Felix Rosenqvist and Nick Heidfeld, depicting an exclusive Mahindra Racing chronograph that will also be worn by team members during each Formula E race weekend. These timepieces will be available for motorsport fans to purchase through the dedicated Omologato. website – www.omologatowatches.com.
With its strapline 'Motorsport Inspired Timepieces' and its belief that 'everyone should have a watch with a story', Omologato's partnership with Mahindra Racing is an ideal match. The team has already taken two podium finishes in the three races of the season to date, thanks to Heidfeld's third place in Hong Kong and Rosenqvist's third in Marrakesh. The next destination is Mexico where Mahindra Racing will aim to return to the podium.
Dilbagh Gill, Team Principal, Mahindra Racing Formula E Team said, "We are delighted to welcome Omologato into the Mahindra Racing family. The Omologato brand is highly regarded in the motorsport community; we both share the same passion for delivering exciting motor racing and heritage to fans across the globe. We look forward to engaging with fans at Omologato events and having their logo on our cars from the next race in Mexico City."
Shami Kalra, Founder of Omologato added, "We are delighted to become an Official Partner of the Mahindra Racing Formula E Team in one of the world's most forward-thinking sports championships. We welcomed the challenge of designing these special timepieces for the team to take to iconic cities across the globe. One of our aims at Omologato is to give motorsport enthusiasts the chance to immerse themselves in motorsport, through our chronographs and our #ChronosAndCars events. This exciting partnership will give Omologato fans the opportunity to get closer to the Mahindra Racing Formula E Team."