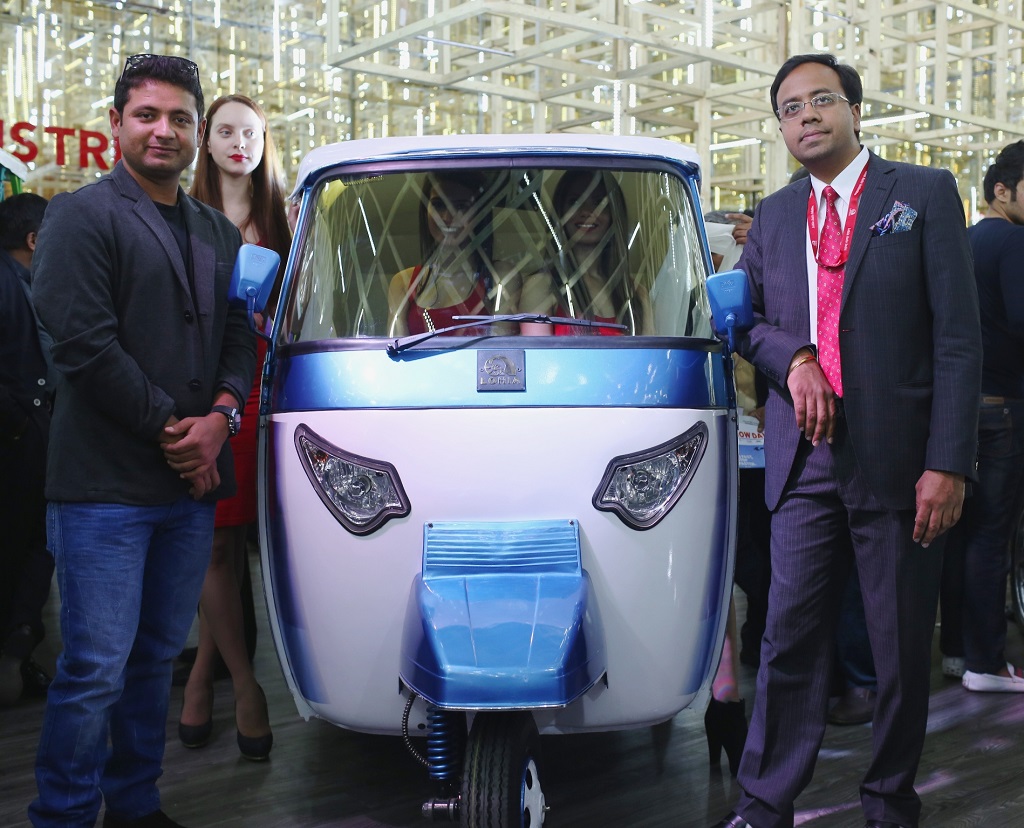 –          Launches India's first lithium ion battery operated electric two wheelers, "Oma Star Li"
–          Launches new range of passenger and cargo e-rickshaws "Narain" & "Narain Lc"
–          Showcases  its  first high speed electric two wheeler 
–          Showcases India's first concept electric three wheeler
New Delhi, 04 Feb 2016: Lohia Auto Industries, the automobile division of Rs. 600 Crore Lohia Global, today launched its new range of innovative and technologically robust electric vehicles at the Auto Expo 2016. The company, which is a pioneer in the electric vehicles segment, also showcased the concept of India's first electric three wheeler at country's largest automobile event. The company is targeting revenue of Rs. 100 crore during the current fiscal.
Present on the occasion, Mr. Ayush Lohia, CEO Lohia Auto Industries said, "With the launch of our new range of e-vehicles, we aim to further boost safety, comfort, convenience and last-mile connectivity for our customers by providing them safe & cost effective transport solutions. At the same time, we aim to do our bit to safeguard the environment and bring down emission of harmful fumes in the country. These new additions to our stable will augment our share in the ever-growing electric vehicle market, which has the potential to emerge as a sound alternative to fossil fuel driven vehicles and create sustainable mobility solutions."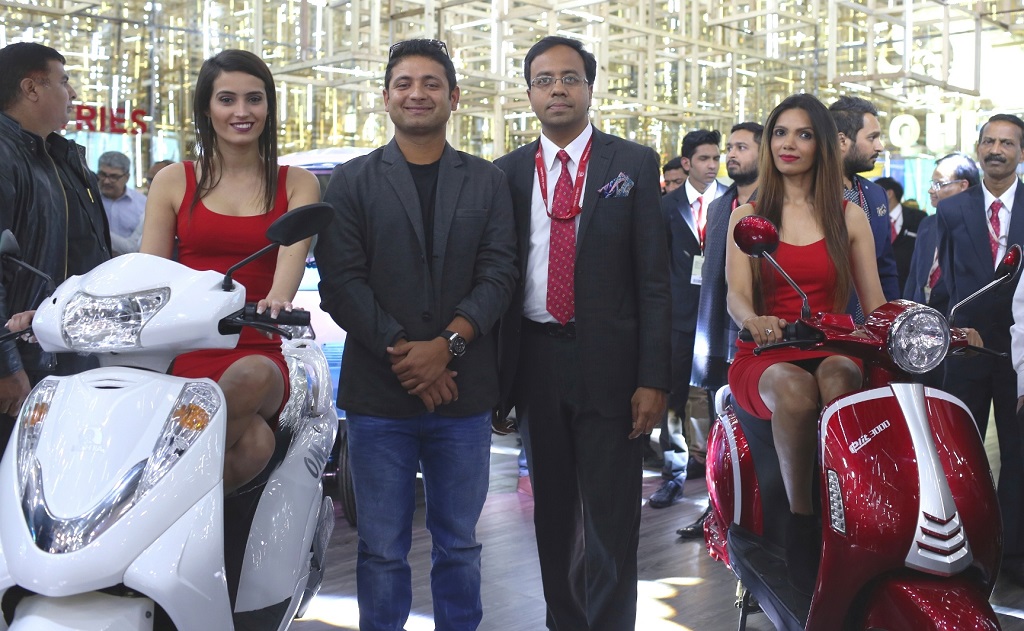 He further added, "We are confident that like our previous vehicles, these technologically advanced electric vehicles will also find a significant market, and generate measurable interest & demand across all prominent regions."
India's first lithium ion battery operated electric two wheeler, "Oma Star Li" is equipped with advanced lithium ion batteries and has a capacity to run at a speed of 25kmpl. It comes with ergonomic seats and alloy wheels for enhanced riding comfort and more stability. Powered with telescopic suspension and refreshed headlamp, Oma Star will be available in four attractive colours such as Fiery Red, Macho Black, Spirited Gray & White. Oma Star Li is priced at Rs INR 49960 (on road price).
Powered by 1,950 watt motor and equipped with higher battery capacity, "Narain" & "Narain Lc" are Eco-Friendly Electric Rickshaws (e-rickshaws) for both passengers and cargo respectively. In addition to the good looks, attractive interiors, custom fittings and exceptional finish, Narain can accommodate four passengers at a time and are completely built in India. These rickshaws are low-maintenance, easy to operate and cost much less than the traditional auto-rickshaws and battery-pulled three-wheelers. Given their large wheel base, heavy & sturdy chassis, these e-rickshaws are stable and can comfortably ply even on sub-standards roads. Lohia Auto has also become the first company to offer 2 years warranty on electric rickshaws.
The Narain passenger is priced at INR 1, 26,600 EX. SHOWROOM DELHI &  Narain Cargo is priced at INR 1,23,000 EX. SHOWROOM DELHI.
Given the urgent need to combat rising pollution levels in India's big cities, Lohia Auto has also showcased India's first concept e-three wheeler at the Auto Expo. So far, three wheelers either run on diesel or compressed natural gas. The shift to e-three wheelers will go a long way in curbing emission of harmful gases. The three-wheeler comes equipped with 5.7 KW motor and has the capacity to seat 3 passengers.
The company has also showcased its first high speed electric two wheeler at the Auto Expo. The two wheeler can clock a maximum speed of 60 km per hour compared to the current models, which touch a maximum speed of 25 km per hour. The much improved electric two-wheeler comes with three speed mode, disc brake, and a peak output of 3000W. The two-wheeler will be available in both Lead acid & Lithium ion batteries.
About Lohia Auto:
Lohia Auto Industries is an automobile division of Lohia Global founded by visionary Late Mr. N.K. Lohia. Lohia has diversified operation in various sectors like Automobile, Handicraft Export, Retail Warehousing, Real Estate, Brass coil manufacturing etc.
Headed by dynamic entrepreneur Mr. Ayush Lohia, Lohia Auto Industries was established in the year 2008 with an objective to provide clean, efficient, reliable and affordable inner-city & rural transportation. In the highly cluttered automobile market, company has carved a niche for itself with electric scooters. Keeping in mind the energy security of the country, Lohia Auto has launched five models till date which are OMA, OMA star, DX, FAME & GENIUS and electric three wheelers 'HUMRAHI'(Passenger and loader both). Lohia Auto also launched with its brand of Diesel/CNG Three wheelers 'HUMSAFAR' in both segment i.e. Passenger and Cargo for Domestic and Exports market.
The company has a manufacturing unit based out of Kashipur, Uttrakhand with capacity to produce 100000 units/Year of  2 Wheeler & 3 Wheeler. In addition it has in-house production of various key components and also houses ultra modern R&D department which provides and ensures innovative, Highly efficient & Durable electric vehicles to meet the ever growing demands of the domestic and international markets.
Lohia Auto Industries has been associated with SIAM (Society of Indian Automobile Manufacturers) and is also one of the founder members of SMEV (Society of Manufacturers of Electric Vehicles). It is the only company registered with UNFCCC (United Nations Framework Convention on Climate Change).