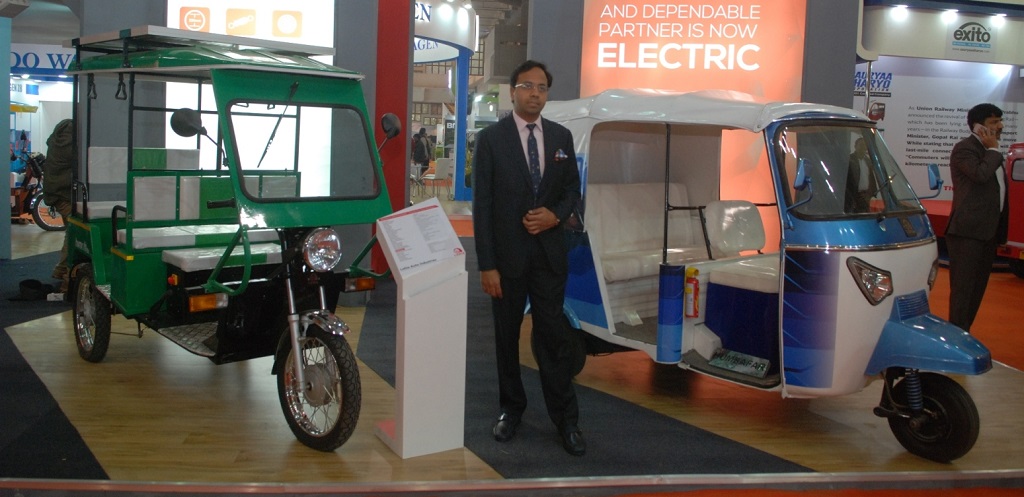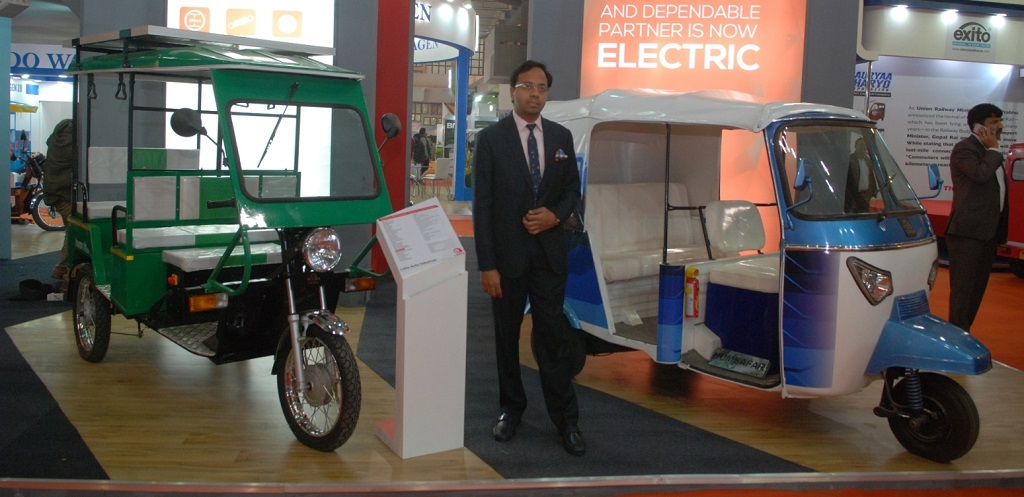 Lohia Auto Industries, the automobile division of Rs. 630 Crore Lohia Global, today showcased its new range of innovative and technologically robust electric vehicles at the EVEXPO 2016, Pragati Maidan. The company, which is a pioneer in the electric vehicles segment, has showcased Humrahi Solar Powered E- Rickshaw & Narain Hydraulic Tipper E- Rickshaw. Apart from these two, Lohia Auto also showcased India's first Electric Three Wheeler Auto designed and developed as a futuristic mode of local travelling.
The new modified versions of "Humrahi" and "Narain" are improved and customized vehicles designed especially for saving Electricity and for overall transport safety, efficiency and reliability. The first innovative product is Humrahi's Solar Powered E- Rickshaw. A normal battery rickshaw has to use conventional form of electricity to charge the batteries. With this Solar E-Rickshaw one can charge batteries on the run in sunny day. Solar powered E-rickshaw increases the efficiency of the vehicle and solar panel increases its mileage by 10-15% with a life cycle of 10 years.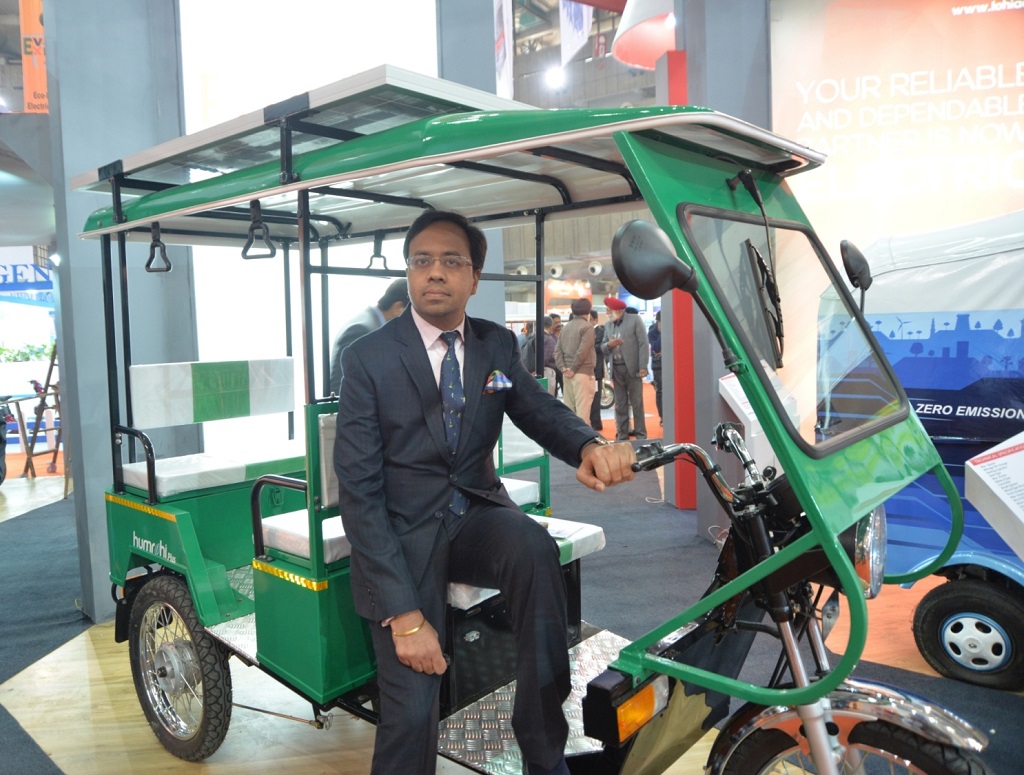 The second product unveiled at the EVexpo 2016 is Narain's Hydraulic Tipper E- Rickshaw. The electric dumper comes with a payload capacity of 350kg. It comes with a hydraulic system to unload the materials. This utility electric vehicle is designed for delivery van & garbage collection etc.
Commenting on the unveiling of new range of E-Rickshaw Mr. Ayush Lohia, CEO, Lohia Auto Industries said, "We have showcased the innovative model of Narain as Hydraulic Tipper & Humrahi with Solar Panel. These are the unique products designed by Indians for India with many additional features. We are committed to our vision to provide green mobility to the country and look forward to consistent innovation towards developing products for the Indian electric vehicles market".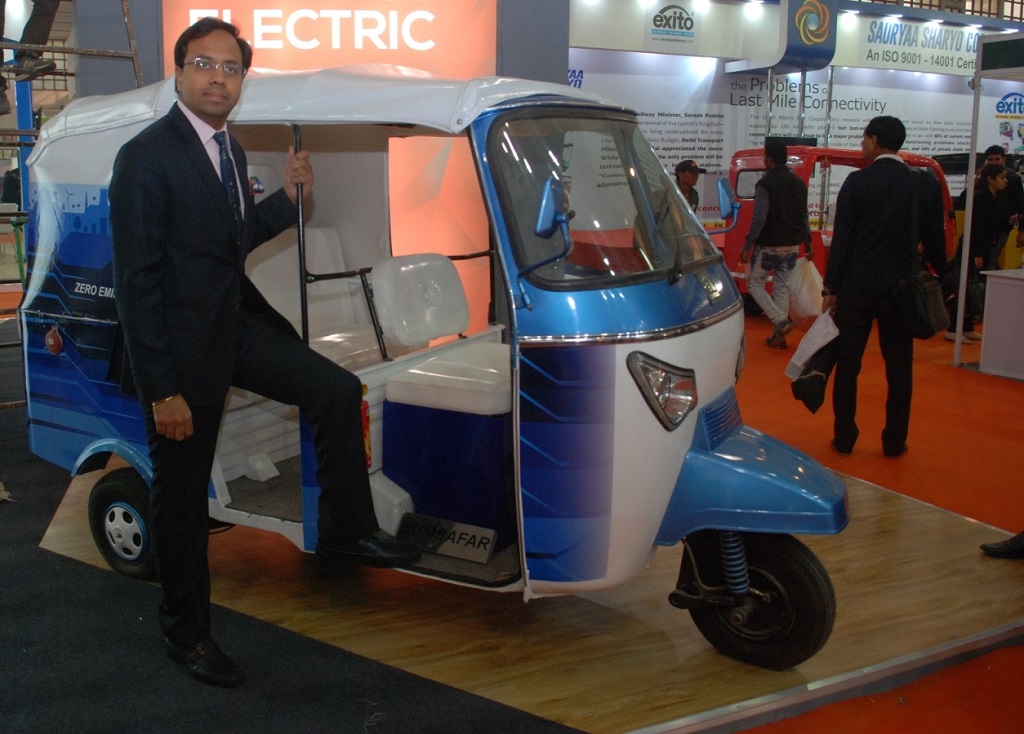 "Given the urgent need to combat rising pollution levels in India's big cities, we have also showcased India's first Electric Three Wheeler Auto. So far, three wheelers either run on diesel or compressed natural gas. The shift to e-three wheelers will go a long way in curbing emission of harmful gases. The three-wheeler comes equipped with 5.7 KW motor and has the capacity to seat 3 passengers".
With the pollution levels growing at an alarming rate, restorative steps in the form of electric vehicles are the need of the hour". We are confident that like our original versions, even these two re-designed models are going to receive a great response" he added.
The company has also showcased its first lithium ion battery electric two wheeler "OMA STAR LI". Charging time of this model will be less than three hours compare to other eclectic Scotty charging time which is 6 to 7 hours, also battery life cycle will more than 1000 cycles.
At present Lohia Auto have wide portfolio of products ranging from electric two wheelers– Oma Star, OMA Star Li, Genius, Electric rickshaw– Humrahi, Narain and Diesel Three Wheelers– Humsafar. Lohia auto has a manufacturing unit based out of Kashipur, Uttrakhand with capacity to produce 100000 units/Year of  2 Wheeler & 3 Wheeler. In addition it has in-house production of various key components and also houses ultra modern R&D department which provides and ensures innovative, highly efficient & durable electric vehicles to meet the ever growing demands of the domestic and international markets.