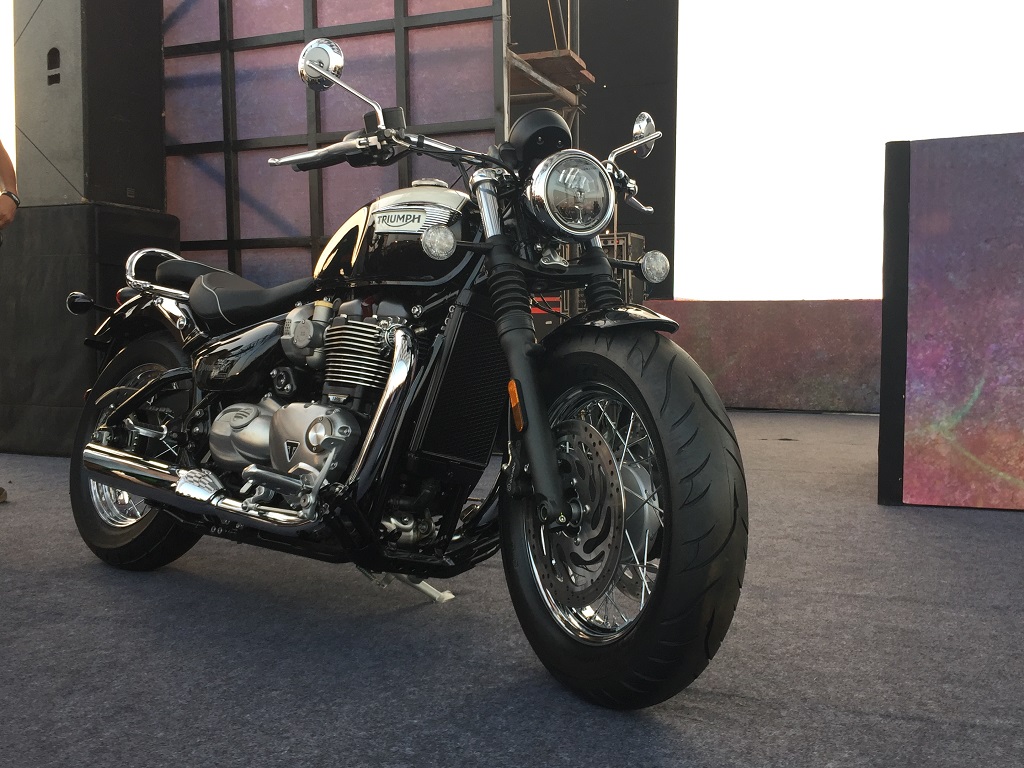 More than 1000 proud Triumph motorcycle owners rode from all parts of India to gather at the iconic fifth edition of Asia's largest motorcycle event
4 years of Triumph Motorcycles in India
Some of the milestones:

37 major industry award wins
More than 16 different motorcycles launched across 5 categories
14 State of the art dealerships and growing
Celebrating 4,500 proud customers
Rider skills enhancing programmes in India such as TTA
Promotion of road safety and safe riding skills

1100 plus riders at India Bike Week
More than 1000 proud Triumph motorcycle owners rode from all parts of India to gather at the iconic fifth edition of Asia's largest motorcycle event.
New Bike- Speedmaster Unveil
Triumph Motorcycles India unveils the all new Speedmaster at the India Bike Week 2017
Tiger Training Academy
The Triumph Tiger has been pivotal in building the adventure riding category and culture in India and is currently the market leader within this fast-growing segment.
Experience Zone at IBW 2017
Triumph Motorcycles hosted the best exhibition at their experience zone in the India Bike Week
Safety Ride for Customers
The ride promoted the cause of safe riding among its participants. The Triumph group was present in full force in the IBW parade, thereon.
Triumph Motorcycles, British luxury bike maker, with popular models such as Bonneville, Street Triple, and Tigers to name a few, completes four years in India today, and to make the occasion even grander its being celebrated at the India Bike Week 2017.  The iconic British brand has been delivering a complete riding experience in India since 2013 by creating motorcycles with a perfect balance of power, handling and style that involve the riders to bring out the best in them. Over 4,500 proud owners endorse the unique Triumph experience of bold design and purposeful engineering.
On the grand occasion Mr. Vimal Sumbly, Managing Director, Triumph Motorcycles India Pvt Ltd. commented, "Triumph is extremely delighted to be a part of the much-looked forward India Bike Week, 2017. It is a great way to associate with brands and network with renowned bikers to enhance their riding knowledge. The festival is also an adrenaline-charged music and lifestyle event adding a touch of entertainment to the entire experience. We unveiled an exciting new bike – The Bonneville Speedmaster and couldn't have found a better platform than this to showcase it. Our hope is to keep making newer and better products and associations and to continue delivering on the high-standards which is the Triumph way of riding."
Popular Indian film actor, Amit Sadh recently bought the all new Triumph Street Triple RS and rode to IBW, Goa where he was handed over the keys on stage by Mr. Vimal Sumbly. After his purchase, Amit Sadh commented. "I am very excited and have been looking forward to owning a beautiful Triumph motorcycle. It was my pleasure to receive the keys from Mr. Vimal Sumbly. I am thrilled to a part of this great celebration for Triumph in India, my best wishes to all participants and aspiring bikers."
On completing four years in India around this time, Triumph geared up well to unveil its new bike – the all new Bonneville Speedmaster! With much more classic British custom, swept-back beach bars, forward foot pegs, low seat height, signature Triumph neutral handling dynamics all combine to deliver a superior ride. With over 130 custom accessories available through Triumph's online configurator, riders can take their ALL NEW BONNEVILLE SPEEDMASTER to an even higher level of specification and capability! The Speedmaster will go on sale in India in the coming months.
Triumph motorcycles the leader in adventure segment organised a Tiger Training Academy, a well curated event which was a major attraction at IBW under the guidance of veteran adventure rider and instructor Mr. Vijay Parmar. There were several biking enthusiasts from multiple cities who came together to experience the adventure biking legacy of Triumph Tiger motorcycles. An enthusiastic feedback from participants was the highlight of this one-of- its-kind event that encourages adventure motorcycling in India.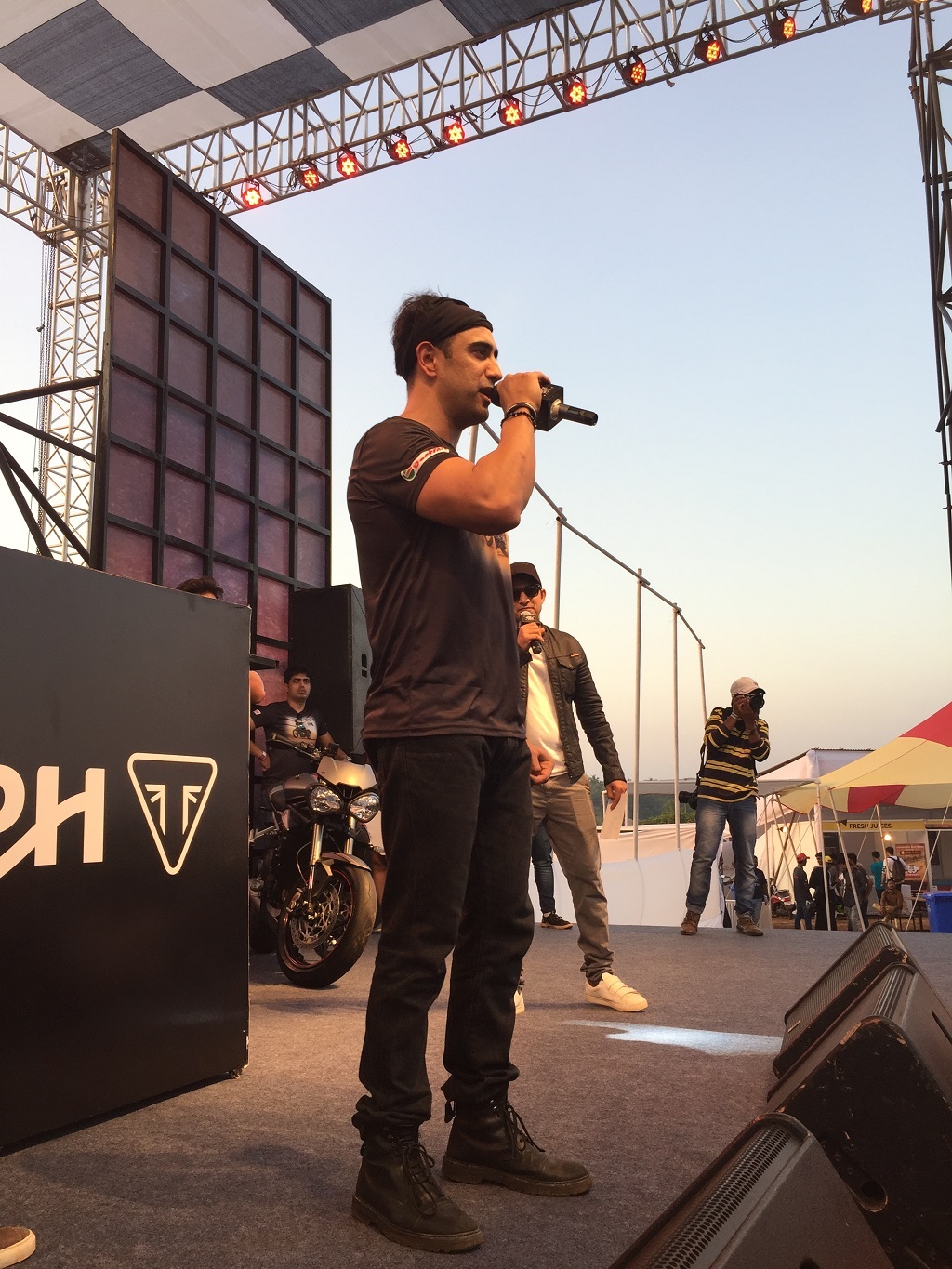 The India Bike Week 2017 saw close to 1000 proud Triumph customers coming from all across the country and most of them participated in the 4th Annual Triumph Ride organized by Triumph Motorcycles India. The riders promoted safe and responsible riding as a core message.
About Triumph
First established in 1902, Triumph Motorcycles celebrated 110 years of motorcycle manufacture in 2012. For more than two decades, Triumph Motorcycles has been based in Hinckley, Leicestershire, and has produced iconic bikes that perfectly blend authentic design, character, charisma and performance.
Building around 67,000 bikes per year, Triumph is the largest British motorcycle manufacturer and has over 700 dealers across the world.
The Triumph Bonneville, famously named to celebrate Triumph's 1956 land speed record on the Bonneville Salt Flats in Utah, USA. The original British superbike and a race winner straight out of the crate. Chosen by famous motorcyclists of the past for its legendary handling, style, and character. It's that handling, character and style, married to modern rider-focused technology that makes the new Bonneville family THE authentic modern classic choice today.
Today, Triumph has been producing "Tiger" motorcycles for more than 80 years, the first competition Triumph Tiger (70, 80 and 90 models) all won their classes in the 1936 ISDT (International Six Day Trial).
Triumph holds a unique place in the history of the International Six Day Trials as the motorcycle of choice for both the multiple winning British teams and famously Steve McQueen's US ride entry in 1964.
At the heart of Triumph's philosophy is a commitment and passion to develop truly unique motorcycles that offer a blend of distinctive design, intuitive handling and performance to enjoy the perfect ride.
This focus, innovation and engineering passion has today created a broad range of bikes suited to all motorcycle riders, including the epic Speed Triple, the game changing all new Street Triple 765, the class defining Tiger 800, transcontinental Tiger 1200, iconic Triumph Bonneville family including the stunning Bonneville Bobber, legendary Thruxton, accessible Street Twin, Street Scramble and iconic Bonneville T120 and T100, plus an exciting and accessible A2 range of Triumph motorcycles
Triumph currently employs around 2,000 personnel worldwide and has subsidiary operations in the UK, North America, France, Germany, Spain, Italy, Japan, Sweden (Scandinavia), Benelux, Brazil, India and Thailand as well as a network of independent distributors. Triumph has manufacturing facilities in Hinckley, Leicestershire, and Thailand plus CKD facilities in Brazil and India.