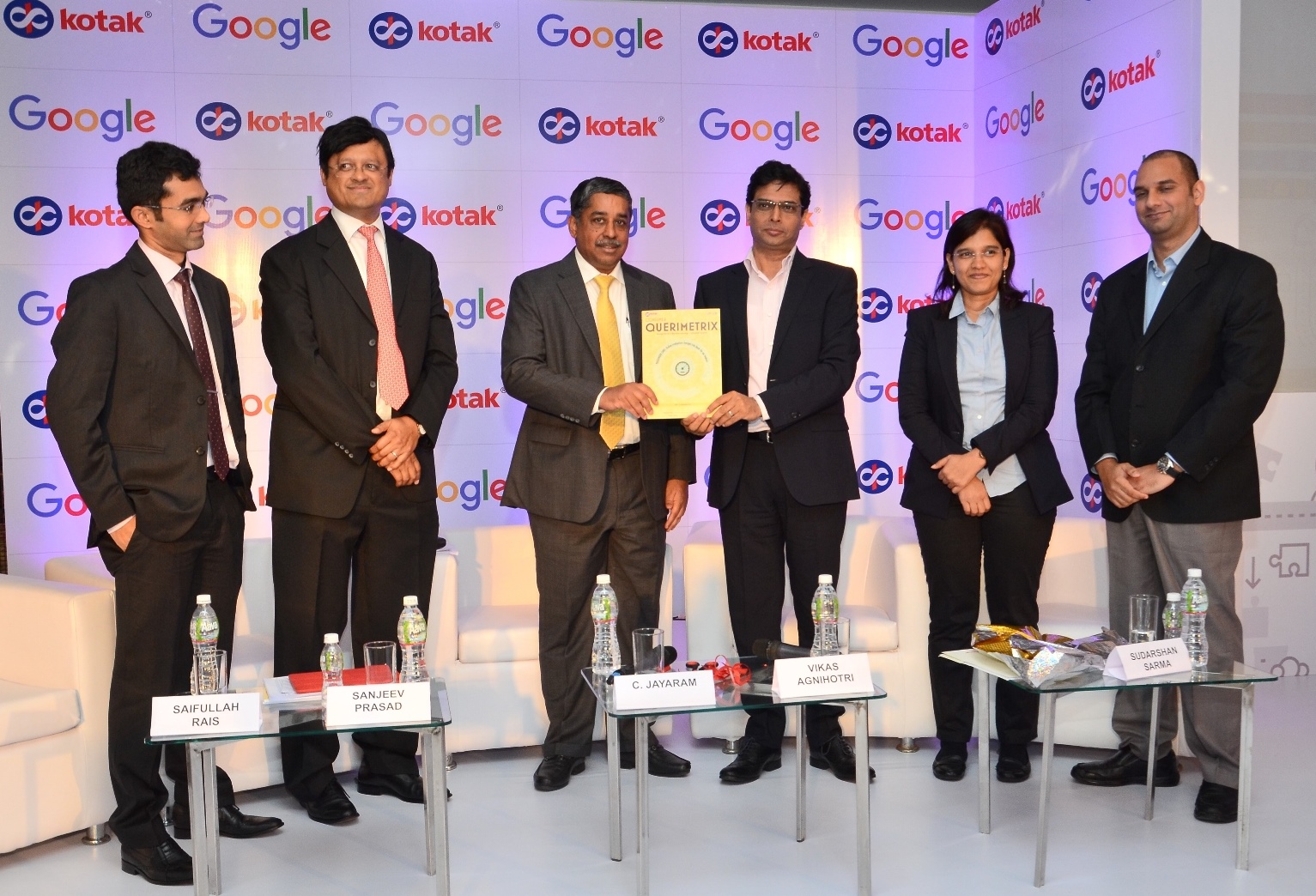 Kotak Institutional Equities,a division of Kotak Securities Limited, in collaboration with Google, today launched Consumer Querimetrix— a tool that demystifies and predicts near-term Indian consumer behavior by analyzing Google Trends data.
Using machine learning techniques and merging big data from Google Trends, the first edition of Consumer Querimetrix provides consumer insights into India's evolving car buying journey. Using Google Trends data, the tool enables 'nowcasting' (near-term predictions) on consumer activity, capturing inflection points earlier than traditional forecasting tools to give a complete picture—on car launches, last mile hiccups, cannibals and competition.
Each edition of the Consumer Querimetrix series will focus on consumer behavior in a different industry.
Launching the report, C Jayaram, Joint Managing Director, Kotak Mahindra Bank said, "The digital wave is challenging conventional business practices across industries. Ground rules are evolving rapidly along with the consumer and those in the business of business intelligence need new tools tokeep up with the changing landscape. Consumer Querimetrix is our step in that direction. Today, the sheer volume of consumer-centric search data available presents a tremendous opportunity to analyze and throw up actionable insights. These takeaways would be useful to both companies and investors. KIE research is highly valued by our clients and the launch of Querimetrix will further strengthen our ability to cover the Indian markets in a holistic manner."
Thefirst edition of Consumer Querimetrix which focuses on the passenger car segment highlights the extent to which the Internet is altering the ground rules for vendors of cars and allied products/services. With growing access to easy information online, the Indian car buyer's journey from a whim to final purchase has changed dramatically. More than 75% of car buyers are researching online for reviews, comparative specifications, financial products and used car markets before making a purchase. The first edition of Consumer Querimetrix also explains how the traditional 'funnel' model is giving way to a more complex purchasing path where 'initial consideration' may not always guarantee sales.  Although higher auto-related searches correspond to higher demand for cars, this does not hold true on a brand-wise basis.
Speaking about the trends for the passenger cars industry captured by analyzing Google Trends,VikasAgnihotri, Industry Director, Google India said, "With over 300 million Internet users online and growing, India today has a sizeable population which accesses the Internet on a daily basis,making search queries as the most dynamic data input to arrive at consumer insights through machine learning as illustrated by Kotak's research. If we look at the search trends related to car finance and car purchases, we're seeing a 40% year on year growth in car purchase queries on Google in India. Over half of the people who evaluate car purchases change their consideration set during their research phase – adding two to three new car models in their consideration, the only non-negotiablesare price and color of the car. This alone proves the growing complexity for car OEMs in the country. With this report we're attempting to demystify this changing consumer behavior into actionable insights for the industry."
Saifullah Rais, Quantitative Analyst at Kotak Institutional Equitiesand the architect of Consumer Querimetrix said, "In the absence of conventional rules, traditional decision-support systems are not very effective. They fall short on scalability and adaptability. Machine learning algorithms learn from data and do not rely on explicit rules, making them the most effective methodof dealing with data explosion."
Report Highlights for the Industry:
The Consumer Querimetrix report outlines the influence of digital marketplaces and calls for carmakers to reassess conventional business practices. The effect is visible as car loans are increasingly being sourced outside dealerships. This trend can eat into financing margins earned by dealers and hurt profitability. On the other hand, carmakers with captive finance arms can use this opportunity to innovate and differentiate themselves during the evaluation process.
The first issue of Consumer Querimetrix establishes that Google search volumes can be used as a gauge for assessing new car launches. The report underscores the linear relationship between search interest and advance bookings during a car launch. Interestingly, higher traditional media spends do not always guarantee higher search interest.
With over 223% yoy growth in used car queries in India, the report also outlines that horizontal classifieds (OLX, Quikr) may also be impeding new car sales as first-time car buyers may be substituting entry-level models with used car options. In contrast, vertical classifiedsseem to facilitate new car sales.
In its first projection, Kotak Institutional Equities nowcasts 195,000 passenger cars to be sold in January 2016. As Google queries on car loan inquiries begin picking up, it is anticipated that total passenger car sales will grow at 16% yoy in January.
There is very strong indication of growing competition in the market, as industry leaders have seen a substantial drop in search-share since 2010 even as advertising spends rose sharply.
Report Highlights for Original Equipment Manufacturers (OEMs):
Hyundai is expected to record compact car sales of ~38,000 cars (up 15% yoy) while Maruti can sell up to ~93,000 compact cars in January 2016. The recent launch of the Renault Kwid could spoil the incumbent strong-hold in the entry-level segment with more than 50,000 bookings in the first five weeks post its launch.
Maruti Suzuki Baleno has been the most successful car launch in recent times as far as digital inquiries are concerned. It has eclipsed most of the car launches in terms of search-share and is close to reaching the buzz seen during the Ford Ecosport launch in 2013.
Rising interest in taxi aggregators coincides with a drop in sales in the mid-size segment. A clear leader in the premium segment even in terms of searches, Honda will face the heat from taxi aggregatorssuch as Ola and Uber, SUVs and the Suzuki Ciaz in the premium sedan category. New car sharing solutions could disrupt new car purchases as well as replacements in Tier-1 cities. Development in the segment should be closely monitored by OEMs focusing on the premium car segment.
For Maruti Suzuki, the Ciaz has been well accepted in the premium category and the Baleno seems to be a strong contender going forward. Hyundai's digital strategy for its small cars shows promise, even as its mid-size offering is losing out to Honda City and the Ciaz.
About Google Trends: Google Trends is a public web facility of Google Inc., based on Google Search that shows how often a particular search-term is entered relative to the total search-volume across various regions of the world, and in various languages.