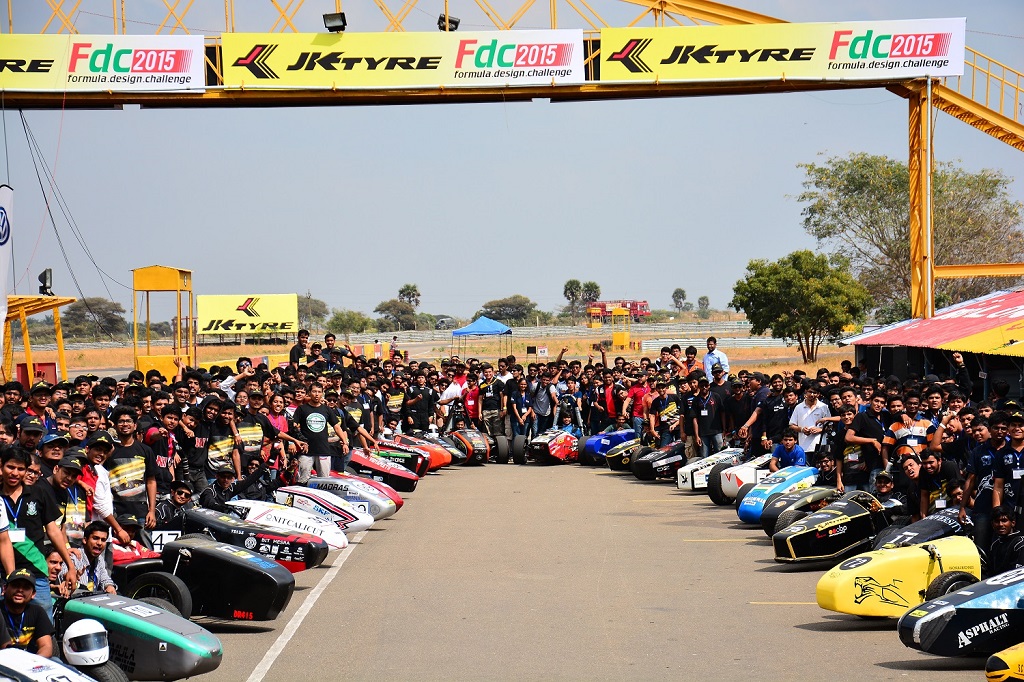 Almost 4000 students to participate in the two national level challenges
Delhi, India — January 21, 2016— JK Tyre Baja Student India 2016 and Formula Student India 2016 are set to take place at Buddh International Circuit today. Almost 4000 students from top engineering colleges will gather at the world renowned Formula One track to fight for the top honours. The final winners for JK Tyre Baja Student India 2016 will be announced on 26 January while JK Tyre Formula Student India 2016 winners will be announced on 28 January.
"We believe that competitions like FSI and BSI provide the next generation of engineers a platform to learn the real life applications of their classroom knowledge. The zeal that we see in these young engineers is extraordinary and surely reassuring for the future of India's journey to becoming technologically at par with the world superpowers," said Dr Raghupati Singhania, Chairman and Managing Director, JK Tyre & Industries Limited.
JK Tyre Baja Student India (BSI) & JK Tyre Formula Student India (FSI) are student design competitions which focus on engineering design of a given target (All terrain vehicles and race-car respectively) under strict guidelines & fixed timeline. This is the best way to emulate a real life project in any company & provides a platform for the students to experience a real life project management.
The idea behind BSI & FSI is to improve the standard of student design teams within India by exposing them to the international standards & guidelines.
The eminent jury consists of motorsport veterans from India and abroad like Claude Rouelle, with over 20 years of experience in working as a test, development and race engineer in several racing series including GT, Indycar and Formula One. Some others on the panel include Cathy D'souza, Felix Scherke, Parag Rajda and Dr. Peter Jones.
By the time these teams reach Buddh International Circuit, they would have already undergone rigorous inspection in the pre-event phase with Rules Quiz, Design Report & Design Spec Sheet, CAD Images, Cost Report & Bill of Materials tests.
During the on-ground stage, teams will compete under two broad categories of events called static and dynamic. The static events comprise of three major tests i.e. Design, Business and Cost Events. The dynamic events comprise of Endurance and Fuel efficiency events. Each team has two FMSCI-licence holding drivers. While the speeds may not be as high as professional cars, the team of stewards will be as strict on adherence of regulations.
The on-track action begins on 25 January when these models are put to the real life test. For All-terrain-vehicles in BSI, the teams need to navigate a tight course full of obstacles in the Manoeuvrability round within the shortest amount of time possible. The formula cars, on the other hand, take part in Skidpad and Autocross rounds. In the former, the cars need to navigate a figure of 8 within the shortest amount of time possible. In autocross, the cars navigate an autocross track within the shortest amount of time possible. While both competitions have Endurance tests, they are quite different in rules. The Endurance test in BSI requires the drivers to complete a 4 hour endurance run with fuel stops & mandatory driver change.  The Endurance test in FSI requires the teams to complete a 22 km run with a mandatory driver change. Refuelling & mechanical stops are not permitted in FSI.
With its roots in the 1980's, this is a major international design competition that comes to India after successful run across the world. BSI and FSI 2016 will have experienced global experts from across Automotive Design, Manufacturing and Business fields to judge the prototypes by the students.
Defending champions of FSI 2015 and BSI 2015, Team Orion Racing India of KJ Somaiya College of Engineering, Mumbai and RV College of Engineering, Bangalore respectively will have a tough job to regain their title this year.
About JK Tyre & Industries Limited:
Part of the JK Organisation, JK Tyre & Industries Ltd is a leading tyre manufacturer in India and amongst the top 25 manufacturers in the world with a wide range of products catering to diverse business segments in the four wheeler automobile industry.
JK Tyre has global presence in 100 countries across six continents with six plants in India and three in Mexico. Currently, the capacity across 9 plants exceeds 20 million tyres per annum. JK Tyre pioneered radial technology in India way back in 1977 and today is the leader in Truck Bus Radial segment. With over three decades of technological innovation, JK Tyre offers tyres for the entire range – Truck/Bus, LCV, Passenger Cars, MUV and Tractors. The company is the manufacturer of India's largest OTR Tyre weighing 3.7 tons and 12 feet high.
JK Tyre is a preferred supplier to the automotive Original Equipment Manufacturers and is a partner to some of the biggest names including Maruti Suzuki, Tata Motors, Honda, Ashok Leyland, Mahindra & Mahindra, Volvo Eicher, General Motors, Volkswagen, Fiat, Nissan, TAFE, BEML and Caterpillar India. JK Tyre has been ranked no.1 for the third time in the J.D. Power Asia Pacific's study on Customer Satisfaction.
In India, its nationwide network comprises of 143 selling locations, 4,000 dealers and over 120 retail outlets branded 'JK Tyre Steel Wheels', which are equipped with state-of-the-art wheel servicing equipment. It has also established 17 Truck Radial Tyre Care centres, which operate along all major National Highways on 365 day, 24×7 basis. JK Tyre has established over 20 truck radial total solution showrooms branded "Truck Wheels". It was the first to introduce unique concepts like "Dial-a-Tyre" and is the only tyre company to launch a 24×7 on-road tyre assistance initiative called "Fix-a-Tyre".
JK Tyre actively promotes various disciplines of motorsports in India and has invested enormous resources towards building its infrastructure. The Racing and Karting programmes are the breeding ground for the country's young motorsport talent and JK Tyre prodigies like Karun Chandhok, Armaan Ebrahim and Aditya Patel have done India proud in the global arena.