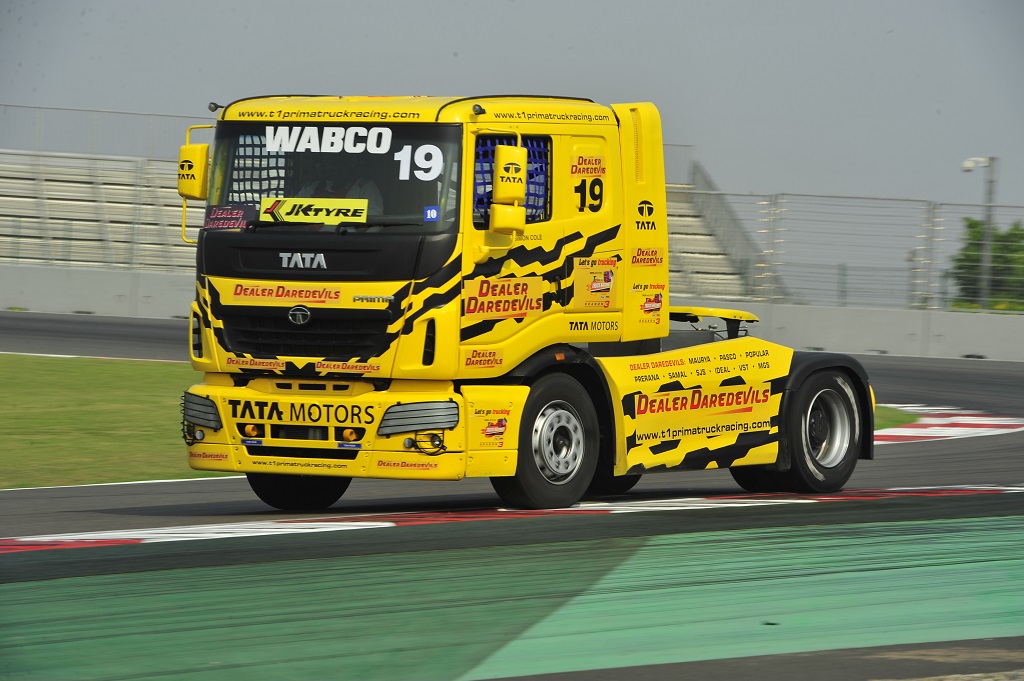 Greater Noida, 19 March, 2017: 29-year old UP based truck driver PITAMBAR, today won the his first professional truck race, in the SUPER CLASS CATEGORY of the T1 PRIMA Truck Racing Championship, Season 4.
Shivnihal Singh (40 years) also of UP and Gurujant Singh (33 years old) of UP, were second and third respectively and were among the 10 drivers who made it to the finals of the Super Class category.
Mohabat Singh of Rajasthan clocked the fastest lap @ 1:50.677, while first place Pitambar's fastest lap was @ 1:50.950.
Selected through the second edition of one of the most comprehensive motorsports driver training and selection program, for Indian drivers called the T1 Racer Program (TRP), Tata Motors formally kicked off preparations for Season IV, with the second edition of the T1 Racer Program (TRP 2.0) in 2016, under a new theme of 'Junoon-e-Trucking'. TRP 2.0 received over 1000 applications from all over the country, of which Season 4 presented 10 new shortlisted Indian truck drivers with an opportunity to race at India's globally renowned F1 race track.
Results of the Super class race are attached to this email.
Besides inducting new Indian drivers to the sport, Season 4 will also feature Indian truck drivers from Season 3, competing against each other in a separate race category called CHAMPION CLASS.
Like in the earlier seasons, the championship will continue to host experienced international drivers representing six teams under the PRO CLASS category, with accomplished racers from FIA's European Truck Racing Championship (ETRC) competing in the championship for the very first time. The ETRC was represented by six racers from the rest of Europe, who competed in the PRO CLASS category alongside six British drivers from the British Truck Racing Association (BTRA), who have raced in T1 since the sporting event was first introduced in 2014.
Alongside some edge of the seat action at T1 2017, Season 4 also hosted some of the country's most prominent names from the music and entertainment fraternity. From the Bollywood superstar Akshay Kumar to the scintillating Garima Yajnik with her foot-tapping Indo-western numbers along with vivacious damsel of melody added by Siddharth Mahadevan, KK and last but not the least the sensational performance by the young superstars from Saregamapa Little Champs, were few amongst the many other surprises that T1 season 4 had to offer.
In Season 4, Tata Motors has also partnered with some of the country's leading automotive brands. These are WABCO – Official Braking Technology Partner, JK Tyre – Official Tyre Partner, Castrol – Official Lubricant Partner, Cummins – Official Engine Technology Partner and Tata Technologies.
About Tata Motors:
Tata Motors Limited is India's largest automobile company, with consolidated revenues of INR 2,75,561 crores (USD 41.6 billion) in 2015-16. Through subsidiaries and associate companies, Tata Motors has operations in the UK, South Korea, Thailand, South Africa and Indonesia. Among them
is Jaguar Land Rover, the business comprising the two iconic British brands. It also has an industrial joint venture with Fiat in India.  With over 9 million Tata vehicles plying in India, Tata Motors is the country's market leader in commercial vehicles and among the top in passenger vehicles. Tata cars, buses and trucks are being marketed in several countries in Europe, Africa, the Middle East, South Asia, South East Asia, South America, Australia, CIS and Russia.