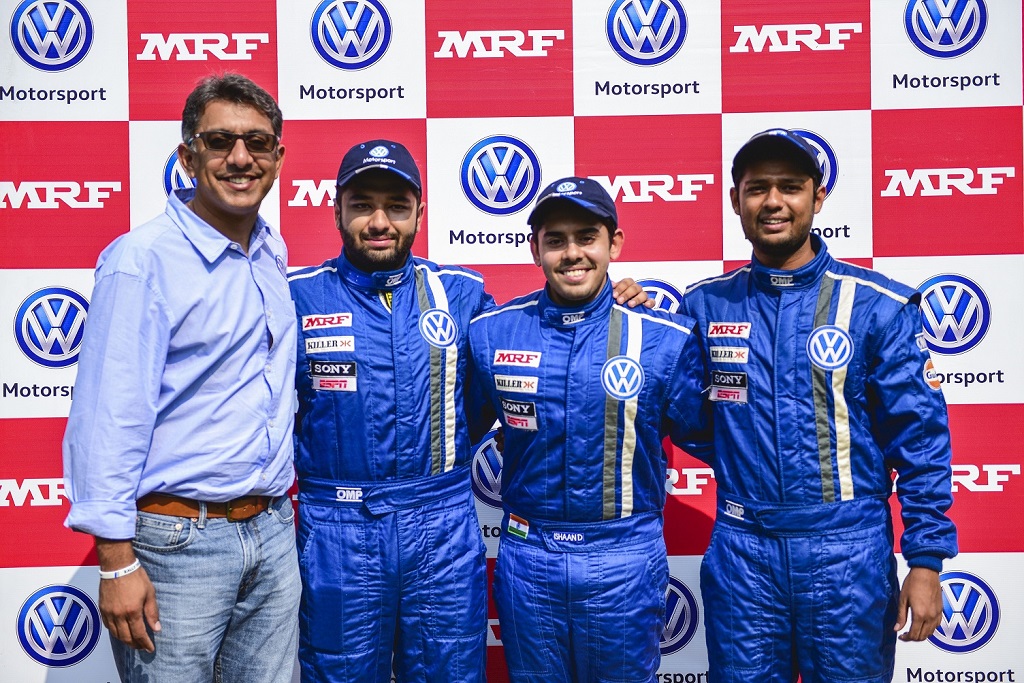 Ishaan Dodhiwala leads from start to finish and bags fifth victory of the Vento Cup 2016 season
Karminder Pal Singh finishes second on the podium, stays in contention for the title
Aditya Pawar grabs an impressive third spot after starting eighth on the grid
As Volkswagen Motorsport nears the end of the 2016 season of the Vento Cup one-make series in India, the temperatures at the Buddh international Circuit continued to rise with Ishaan sealing yet another win followed by Karminder. Aditya, who started eighth was the biggest surprise of the day as he raced past the others to clinch the third position in the end.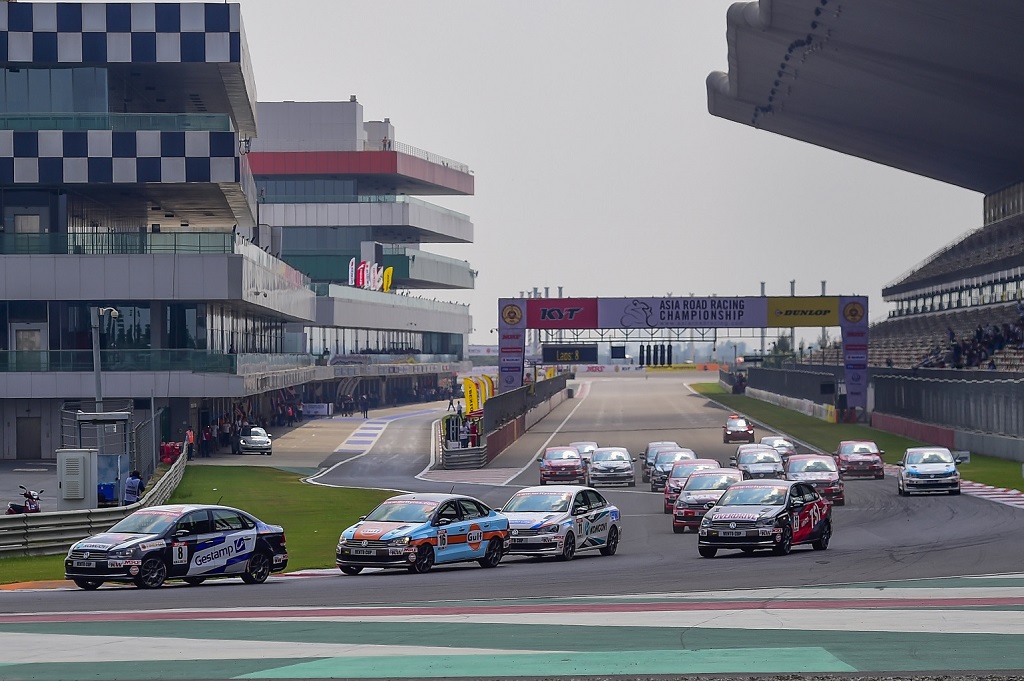 After a crucial finish in the qualifying, it was important for Ishaan to keep his nerves and lead the race from start to finish which he did by showcasing some spectacular race craft. He maintained the lead going into the first corner and kept gaining over Karminder, one lap at a time to build a steady eleven seconds lead by the end.
Behind the top two though, the race was action packed as it saw Keith Desouza, Gowdham Murugan, Aditya Pawar and guest driver, Rishaad Mody exchange positions multiple times as they contended against each other for the third and fourth position. Keith overtook Rishaad at the second corner of the first lap while Aditya too gained by moving up a couple of places to sixth position. Being in fabulous form, Aditya went on to overtake Rishaad and Gowdham between lap 4 and 5 before taking on Keith. As the race neared the end, Aditya finally overtook Rishaad at the last corner of the last lap and emerged third on the podium.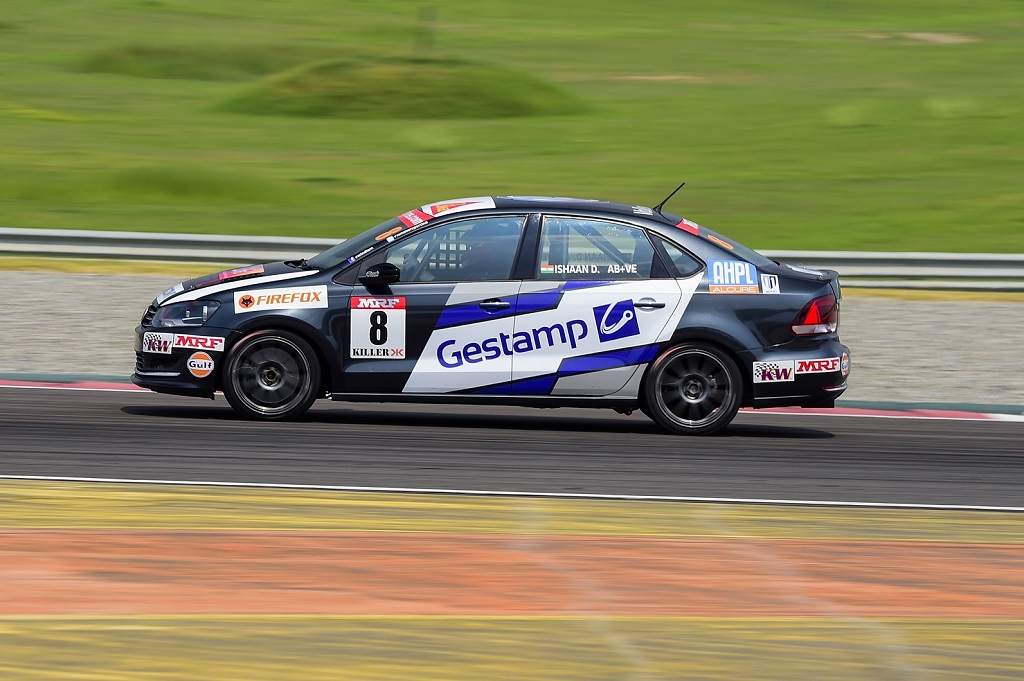 Jeet Jhabakh who started tenth on the grid, finished a position below to seal the Junior Drivers Vento Cup title securing a sponsored place in the next season of Volkswagen Motorsport India's one-make series.
Excited about his win, Ishaan said, "I had good pace throughout the weekend and it was crucial for me to maintain the lead going into the first corner. From there on I knew I could control the pace. After holding the lead till the end of lap 3, it was only about finishing the race without any mistakes and I am happy that everything went according to plan." Talking about the final race coming up tomorrow he added, "The reverse grid is going to be a challenge tomorrow, but I am thinking about the race like any other. Having said that, I would like to finish the last race of the season with a podium finish."
Junior Vento Cup leader Jeet Jhabakh said, "I have learnt a lot in the Vento Cup 2016 season and have matured as a racer in this one-make series. I hope to implement these learnings in the next season. For now, I have to remain focused on tomorrow's race and fight for a better result than today."
Said Sirish Vissa, Head of Volkswagen Motorsport India, "It has been a challenging weekend for the technical team but we managed to keep things under control." Commenting on how the drivers have performed through the season, he said, "The drivers have matured a lot since the season started and this is evident from the fact that we have had very few incidents during the season. The racers provide enough room for the cars to move around on the track while defending their position which shows how they have grown professionally."
Volkswagen Vento Cup 2016 – Round 4: Race 09 
| | | | |
| --- | --- | --- | --- |
| Sr. No. | Car Number | Name | Total Time |
| 1 | 8 | Ishaan Dodhiwala | 19:51.066 |
| 2 | 16 | Karminder Singh | 20:02.198 |
| 3 | 7 | Aditya Vijay Pawar | 20:08.234 |
| 4 | 21 | Rishaad Mody | 20:08.881 |
| 5 | 12 | Gowdham Murugan | 20:10.878 |
| 6 | 11 | Keith Desouza | 20:11.771 |
| 7 | 15 | Affan Sadat Safwan Islam | 20:19.605 |
| 8 | 18 | Niranjan Todkari | 20:20.137 |
| 9 | 10 | Arfath Mohammad | 20:21.018 |
| 10 | 1 | Rashad Khan | 20:22.152 |
| 11 | 5 | Jeet Jhabakh | 20:35.332 |
| 12 | 17 | Arunshowry Vallabhaneni | 20:35.882 |
| 13 | 22 | Simran Rastogi | 20:42.200 |
| 14 | 6 | Hatim Shabbir | 20:42.654 |
| 15 | 9 | Sree Venkata Teja | 20:45.564 |
| 16 | 3 | Amit Mete | 21:41.797 |
| 17 | 19 | Shreyas Venkatesh | 21:54.413 |
| 18 | 20 | Pradeep Rao | DNC |