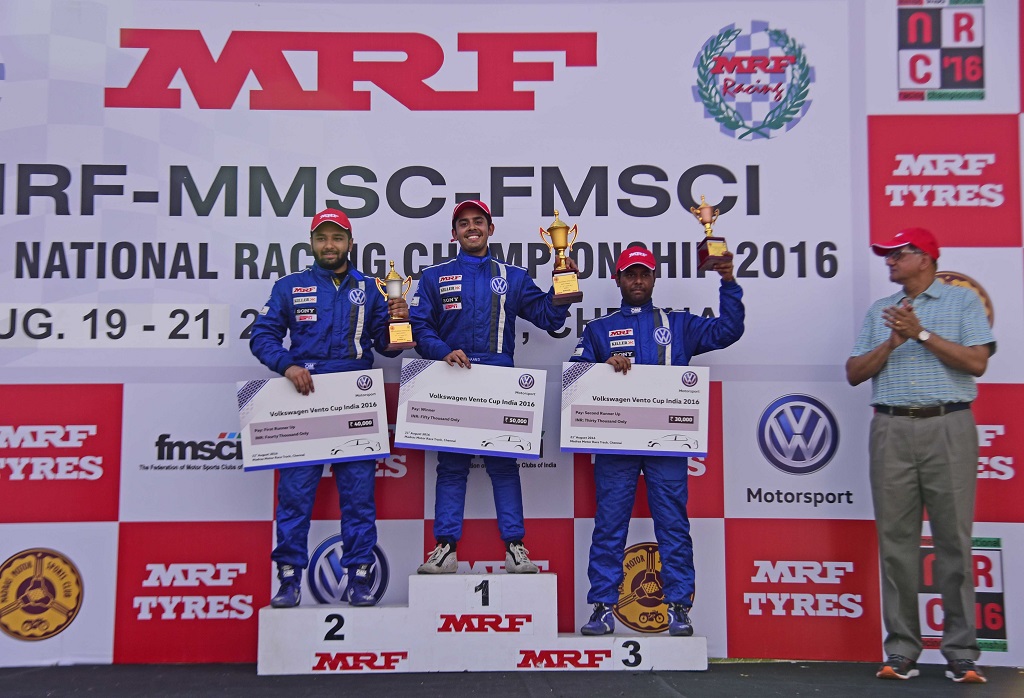 With three podium finishes including two victories, Ishaan gets one more step closer to the Vento Cup 2016 title
Karminder Pal Singh and Keith Desouza post competitive results to stay in the challenge
The second day of MMSC Volkswagen Vento Cup 2016 kicked off with an action packed race. Starting with reverse order, it was Pradeep Rao on pole position, who took off with a perfect start. However, at the second corner on the first lap itself, Aditya Pawar was forced off the track on to the grass causing an incident. Immediately after, at the third corner, Keith Desouza got involved in another incident that pushed him all the way back. While all this was happening, it was Dhruv Behl climibing up a position into second place and Ishaan Dodhiwala lining up behind him after having started seventh on the grid. The Safety Car was brought in on the first lap itself due to the incidents at C2 and C3 and it stayed out till the end of lap three. Racing restarted at full pace at the end of third lap.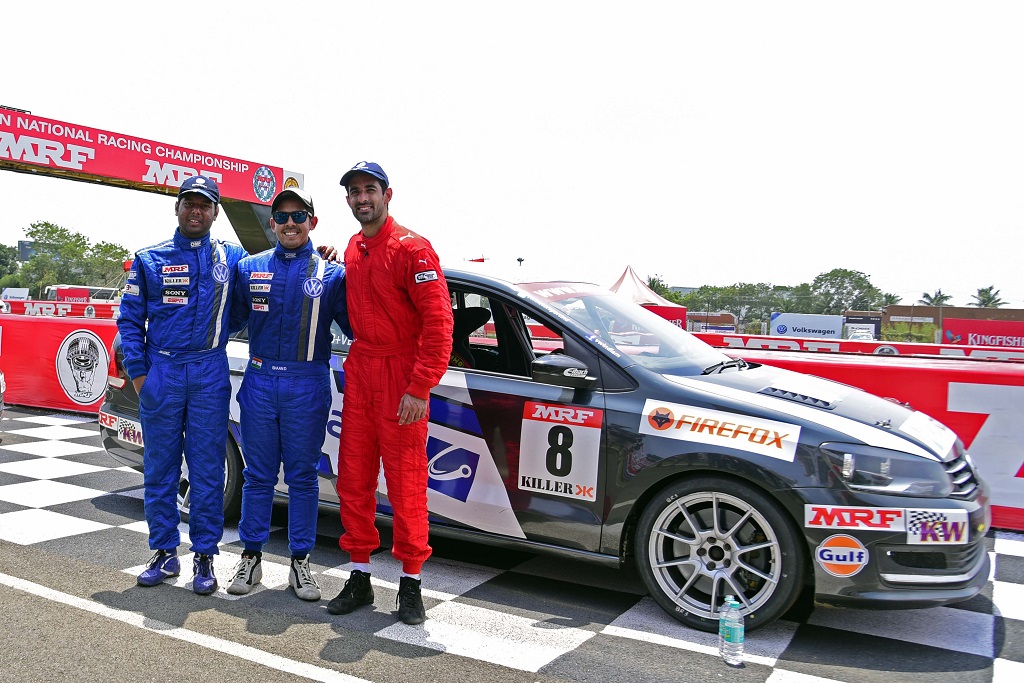 Staying in lead for the next four laps was Pradeep followed by Dhruv, Ishaan and Niranjan in second, third and fourth. On lap eight, guest driver Raunak Ajinkya went off in the last sector of the track and hit the tyre wall on the bridge. With the car standing across the track right on the racing line, red flag was shown and the drivers had to regroup on the grid for a race restart. Once the track was cleared, the race restarted for three laps. Pradeep went off the track a bit on the second corner and that is when Ishaan made his most important move to take lead in race. Dhruv stayed in second position and Niranjan came up in third. All three crossed the chequered flag in the same position. Karminder Pal Singh battling for crucial points, fought back from all the way from ninth to come up to fourth and missed the podium by a whisker.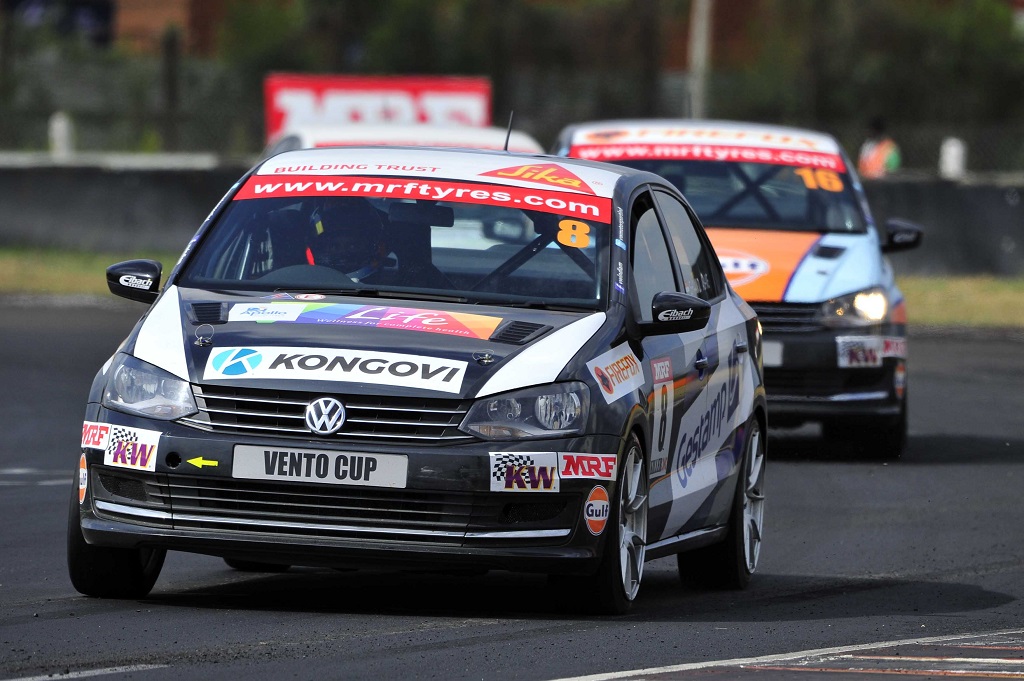 The second race of the day was a much cleaner as compared to the one in the morning. Ishaan started from pole position and drove a flawless race to take the chequered flag ahead of all other competitors. Behind him was a fight between Keith and Karminder, who started second and third respectively. Karminder had a better start as the lights went off and he managed to overtake Keith on the first corner of the first lap itself. Keith tried to challenge Karminder on the fourth lap between C2 and C3, but eventually ran wide while outbreaking and gave back the second position to Karminder. From there on, it was Karmidner who held on to the second position all the way till the end. Further, on the seventh lap, Keith made a mistake at the last corner, ran wide and allowed Niranjan to pass. Keith finally settled in forth position followed by guest driver Dhruv Behl in fifth.
MMSC Volkswagen Vento Cup Round 3 Race 7
| | | | |
| --- | --- | --- | --- |
| Sr. No. | Car Number | Name | Total Time |
| 1 | 8 | Ishaan Dodhiwala | 20:13.197 |
| 2 | 15 | Dhruv Behl | 20:15.171 |
| 3 | 18 | Niranjan Todkari | 20:17.447 |
| 4 | 16 | Karmindar Pal Singh | 20:29.767 |
| 5 | 11 | Keith Desouza | 20:31.123 |
| 6 | 5 | Jeet Jhabakh | 20:33.569 |
| 7 | 3 | Amit Mete | 20:35.016 |
| 8 | 12 | Gowdham Murugan | 20:38.100 |
| 9 | 20 | Pradeep Rao | 20:43.793 |
| 10 | 10 | Arfath Mohammad | 20:52.169 |
| 11 | 17 | Arunshowry Valla | 20:56.139 |
| 12 | 9 | Sree Venkata Teja | 20:59.771 |
| 13 | 22 | Debabrata Sarkar | 21:14.904 |
| 14 | 1 | Rashad Khan | 21:27.693 |
| 15 | 6 | Hatim Shabbir | 19:17.689 |
| 16 | 21 | Raunak Ajinkya | 14:21.278 |
| 17 | 7 | Aditya Vijay Pawar | 00:04.068 |
MMSC Volkswagen Vento Cup Round 3 Race 8
| | | | |
| --- | --- | --- | --- |
| Sr. No. | Car Number | Name | Total Time |
| 1 | 8 | Ishaan Dodhiwala | 19:44.856 |
| 2 | 16 | Karminder Singh | 19:46.918 |
| 3 | 18 | Niranjan Todkari | 19:50.640 |
| 4 | 11 | Keith Desouza | 19:52.635 |
| 5 | 15 | Dhruv Behl | 19:53.824 |
| 6 | 7 | Aditya Pawar | 19:56.498 |
| 7 | 3 | Amit Mete | 20:08.185 |
| 8 | 20 | Pradeep Rao | 20:08.514 |
| 9 | 12 | Gowdham Murugan | 20:09.532 |
| 10 | 6 | Hatim Shabbir | 20:23.254 |
| 11 | 17 | Arunshowry Vallabhaneni | 20:27.245 |
| 12 | 1 | Rashad Khan | 20:28.463 |
| 13 | 22 | Debabrata Sarkar | 20:43.694 |
| 14 | 10 | Arfath Mohammed | 20:44.771 |
| 15 | 9 | Sree Venkata Teja | 20:54.529 |