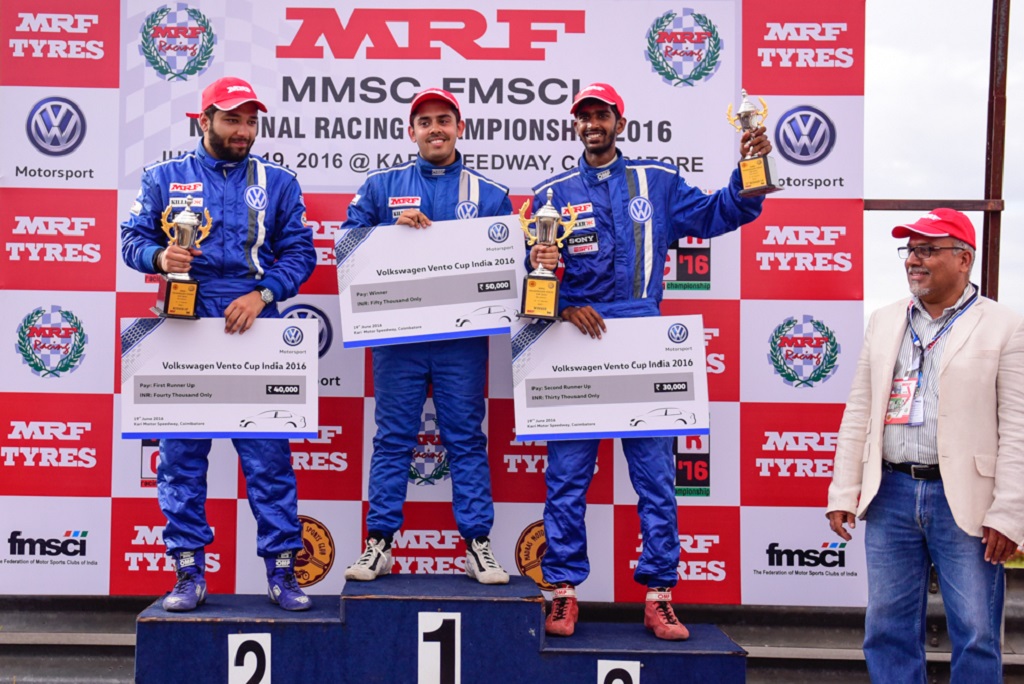 Ishaan Dodhiwala and Karminder Pal Singh tied with 108 points after round 1 of Vento Cup in Coimbatore
Debutant Keith Dsouza tied with Aditya Pawar for the third spot with 74 points
First timer Jeet Jhabakh at an impressive fifth spot in the championship
First round of Volkswagen Vento Cup 2016 recently concluded at Coimbatore's Kari Motor Speedway. Round 1 observed disciplined driving from all the racers including the debutants managing a clean start to the 2016 season of the Vento Cup. Both races of the first round started under different circumstances with the first race on the slicks while the latter one with wet tyres. Ishaan and Karminder both being part of the Vento Cup 2015 season were familiar with the car, circuit and conditions however they were uncertain of the performance of the wet tyres from the tyre partners MRF.
Ishaan Dodhiwala started from pole position in Race 1 and retained his position till the chequered flag to take home his first-ever victory. Karminder Pal Singh, who started third on the grid finished second followed by Keith Dsouza in third. Race 2 of the round started with a lot of confusion owing to the changing weather conditions. The racers that exited the pit lane with slicks for grid positions had to come back in only to go back out with the wets. Reverse grid position for Race 2 mandated the Ishaan Dodhiwala to start eighth while second position finisher Karminder Pal Singh started seventh. An aggressive start by both and some crucial moves in the initial laps put Karminder in the lead followed by Ishaan in second – positions that both held till the end. Aditya Pawar, having started fifth on the grid, finished third on the podium.
Putting together the points from the first two races, Ishaan Dodhiwala and Karminder Pal Singh emerged leaders on the championship board with 108 points against their names. Interesting Keith Desouza and Aditya Pawar were also tied for the next position with 74 points each followed with the third tie on the board between Jeet Jhabakh and Amit Mete.
"The first round of the championship was a perfect example of matured driving from the young drivers with a clean race. They also adapted to the changing conditions very well. It is also good to witness the young racers implement their learnings so early in the championship. A tie at the top of the table promises an exciting season ahead of us" said Sirish Vissa, Head ofVolkswagen Motorsport India.
Volkswagen Vento Cup 2016 Championship table after Round 1 –
| | | | | | |
| --- | --- | --- | --- | --- | --- |
| Sr. No. | Car Number | Name | Race 1 | Race 2 | Total Points |
| 1 | 8 | Ishaan Dodhiwala | 60 | 48 | 108 |
| 2 | 16 | Karminder Pal Singh | 48 | 60 | 108 |
| 3 | 11 | Keith Desouza | 40 | 34 | 74 |
| 4 | 7 | Aditya Pawar | 34 | 40 | 74 |
| 5 | 5 | Jeet Jhabakh | 32 | 30 | 62 |
| 6 | 3 | Amit Mete | 30 | 32 | 62 |
| 7 | 18 | Niranjan Todkari | 28 | 26 | 54 |
| 8 | 20 | Pradeep Rao | 24 | 28 | 52 |
| 9 | 9 | Sree Venkata Teja | 26 | 24 | 50 |
| 10 | 12 | Gowdham Raj | 22 | 20 | 42 |
| 11 | 10 | Arfath Mohammed | 14 | 22 | 36 |
| 12 | 6 | Hatim Shabbir | 18 | 16 | 34 |
| 13 | 1 | Rashad Khan | 16 | 12 | 28 |
| 14 | 17 | Arunshowry Vallabhaneni | 10 | 18 | 28 |
| 15 | 14 | Eswar Bolisetti | 12 | 14 | 26 |
| 16 | 4 | Rajeev Srivastava | 20 | 0 | 20 |
| 17 | 19 | Abhishek Vakil | 08 | 10 | 18 |