With all the gusto and zeal,
20,
000 bikers from all over the country will be celebrating brotherhood on 24th and 25th of November. The speakers for this year's edition include the following: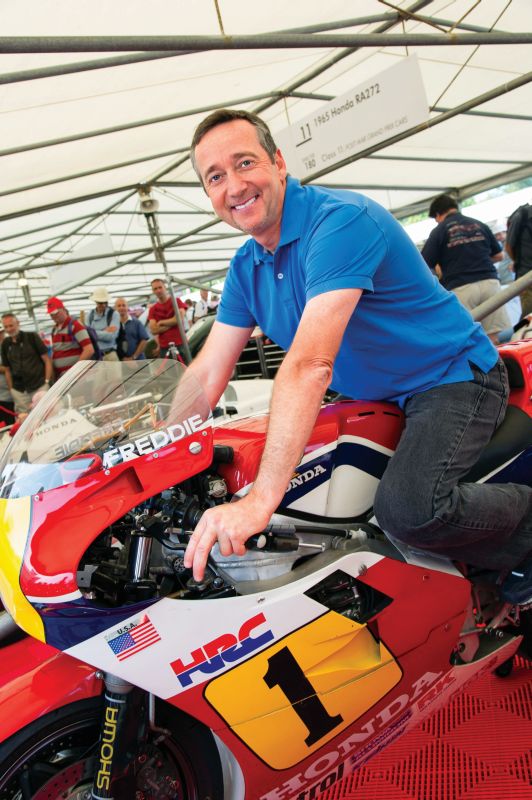 Freddie Spencer: Fast Freddie, as he is popularly known among motor enthusiasts is a big attraction of this year. One of the greatest and youngest world champions of the 80's, a consecutive championship winner across two classes (250cc and 500cc), Freddie is the only man to achieve all this. His passion, natural talent and joy of riding continues to inspire riders globally.
Leslie Porterfield: Riding since the age of 16, Leslie is today the Fastest Woman on a Motorcycle according to the Guinness Book of World Records' title after setting the speed record in 2008 at Bonneville Speedway. With three land-speed records and a favourite of the Bonneville 200 mph club, she's a businesswoman, mother of twins and a designer of motorcycles built for speed.
Vinod Rawat :Founding the world's first biker club for the specially-abled in 2010 came from Vinod's rejection from the biker's club – Convoy Control Club – in Mumbai. Since receiving his prosthetic limb in 1997, Rawat has been selected for MTV Roadies in 2004, raised INR 18 lakhs for rehabilitating and building homes for cloud burst victims in Leh by riding through the world's highest motorable road and he has pedalled from Manali to Leh in 2017. He has also scaled peaks in Maharashtra and the Himalayas, as well as participated in various cycling events and marathons.
Dhruv Dholakia:Faced with his worst nightmare of a job lost, a bitter divorce and a crippling slip-disc, Dhruv chose to cruise away from it. He bought a motorcycle, left his career and family to discover the ever eternal India. He catalogued his journey of 29 states across 16 months on a blog titled "On a Bullet Yatra". The Indian Army awarded him a medal for his bravery to ride alone through some of the country's most dangerous roads. The journey included rave parties in Goa, meditation in yogic ashrams, feasts on road side dhabas & solo camping in the mighty Himalayas; but it is also about motorcycle breakdowns, police interrogations, accidents & poverty – basically a narrative of self-discovery.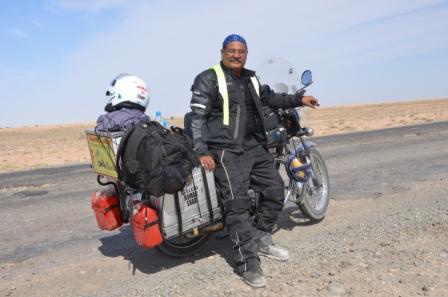 Kumar Shah:When Vadodara-based Kumar Shah, 53, decided to go on an ambitious bike expedition, it was not an easy task to convince his family and friends. But his passion for motorsports made them relent. He rode off from Vadodara across Kyrgyzstan, Kazakhstan, Uzbekistan, Russia, Finland, Sweden and Germany, Netherlands, France, Belgium and finally London. The Silk Odyssey, the name of the expedition, suggests the historic Silk Route through which medieval trade took place.
Melissa Pierson:A travel writer and essayist of non-fiction, Pierson has been a lifelong motorcycle enthusiast and this is reflected in many of her books. Her works are often explorations of personal experience, extended into general social commentary and history. She is the writer of the critically acclaimed book – "The Perfect Vehicle: What Is It About Motorcycles".
Ravi Verma :Inspired by a documentary on the routine life of Indian Army soldiers serving the sensitive LOC area, Verma undertook a solo ride across India to collect thank-you messages for the Indian Army; 29 states and 5 union territories covering a distance of 23,000+ kms in 100+ days. He also met members of various biking clubs from different cities and collected messages for the Indian Army.
Dilip Muralidaran: Dilip was born with a case of Cerebral Palsy. In his mid 20's he also discovered that he had dislocated his right hip, which is a noted condition in people with bad gait. Dilip used to ride a 2 stroke scooter and eventually a 4 stroke scooter and has put 2,50,000+ km between both these machines. His acquaintance and friendship with Shankar would lead him to drive a Honda city and eventually, a KTM. Dilip works in IT as an instructor, and regularly travels the globe for work. If he is not spending his hard earned money on duty-free shopping and camera gear, he would be caught spending it on motorcycling gear.  He will be present there with his group Trichakra Riders- Shankar Jaikishan and Veeramallu M.
Neel Jagtap :Neel is a Nasik based biker and the first biker to take Rajdoot GTS to Ladakh way to the top. He has covered 6000 kms in 23 days. Neel along with his fellow mates were to first one to complete 800 kms on a Yezdi in 16 hours last year. Also he has a group of Two –stroker bikes in which there are 500 members across India of all age group. They are on a mission to build a community with International bikers as well!
Pooja Dabhi:She has been rapidly adding locations to her list of conquests – 3 countries i.e. Thailand, Malaysia, and Nepal; 23 States and Union Territories of India i.e. Maharashtra, Karnataka, Goa, Kerala, Tamil Nadu, Andhra Pradesh, Telangana, Orissa, Chhattisgarh, Madhya Pradesh, Gujarat, Rajasthan, Uttar Pradesh, Haryana, Punjab, Jammu & Kashmir, Himachal Pradesh, Uttarakhand, West Bengal, Sikkim, Assam and Jharkhand. Dabhi is truly an inspiration for lady bikers with her grit and achievements