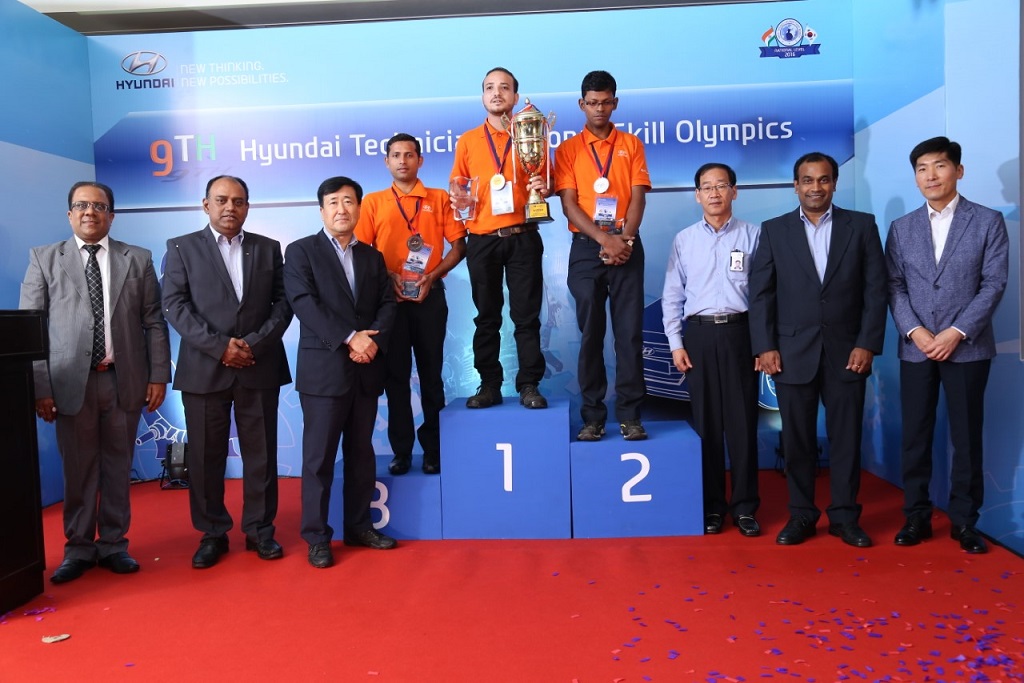 5102 technicians from Hyundai dealerships participated from across India
HMIL will enhance the skills of top 6 winners over a year and send top two to represent HMIL in World skill Olympics to be held at Seoul in 2017.
Hyundai Motor India Limited (HMIL), the country's largest exporter and the second-largest car manufacturer concluded their 9th National Skill Olympics fest yesterday at the manufacturing plant in Sriperumbudur near Chennai.
This inter-dealership competitionidentifies skill& honors the best talents amongst dealer techniciansnation-wide..  Hyundai Motor India Limited has the privilege of garneringone international award, in each edition in the past.
Speaking on the occasion MD & CEO – Hyundai Motor India Ltd. Mr. YK Koo said, "Hyundai is a customer centric and caring brand. Excellent service forms an integral part of the entire product experience in delighting the customers. We motivate our technicians by giving them global exposure & learning and ensure theirskills are sharpened to meet Global Hyundai ExcellenceStandards."
Every year Hyundai conducts a series of training programmes to systematically upgrade and refresh the skills of technicians and familiarize them with the latest technological developments. The competition helps them test their knowledge and induces a healthy competitive spirit amongst them.
This year over 1100 service workshops and more than 5102 technicians participated in this skill fest. The contest was kicked-off on August23,2016, at Hyundai dealerships across India, followed by State Level competitions in September' 16 andZonal Level competitions in October'16. Out of 5102 participants,18zonal champion qualified for the finale of the 9th National Skill Olympics heldat Chennai. The participants were tested for their ability to spot technical simulated problems in the car & componentand resolve them to meet international standards. This skill fest also evaluated the technician's adaptability to the concept of Digital Service namely Workshop Automation thereby depicting Hyundai's Modern Premium experience and ensuring highest level of customer satisfaction. The contest consisted of multiple rounds of practical and written tests.
Mr. YasinShaikh Umar (1st) from Singh Hyundai, Pune, MrPradip Kumar Saha (2nd ) from Mukesh Hyundai, Kolkata and Mr. Rampadarth Chaudhary (3rd ) from Samara Hyundai , New Delhi were declared the Top 3 winners of 9thNational Skill Olympics. Apart from this, three other runners up were also declared who were awarded with cash prizes, certificates & trophies. This year, for the 1st time, Hyundai Motor India Ltd introduced Sectional Awards for technician category. The award ceremony was felicitated by MD & CEO, Hyundai Motor India Ltd,Mr. YK Koo .