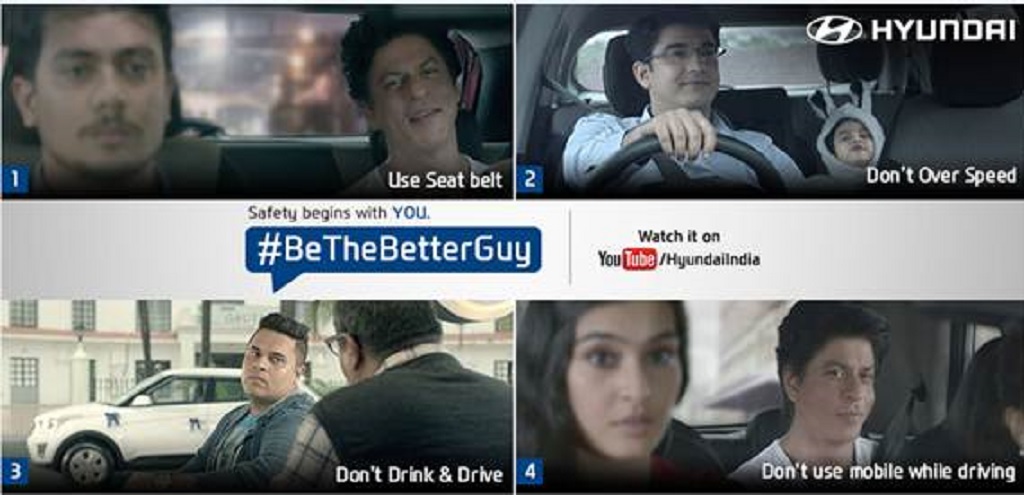 Starts 2017 with weeklong Road Safety Awareness Program across Pan India Service Network
Campaign efforts to Outreach 7 Million Hyundai owners
Mumbai, January 12, 2017: Hyundai Motor India, country's largest auto exporter and second largest manufacturer today further strengthened its commitment to spread awareness on Road Safety. Observing the nationwide Road Safety Week. Hyundai is conducting road safety awareness camps across all its Service Network in India.
All the CSR activities are being conducted towards HMIL's long term commitment towards road safety under the Safe Move – Road Safety campaign.#BeTheBetterGuy campaign under the Safe Move will impress upon – Use Seatbelt, Don't Drink & Drive, Don't Over-Speed, Don't use mobile while driving.
The week-long engagement camp from Jan 11-17 will be conducted at all Hyundai Workshops across India, alongside outreach camps near Residential colonies, Office Parking's, Malls, Colleges and Petrol Pumps to further amplify the message on Road Safety. Hyundai Motor India will reach out to all 7 Million Hyundai owners through text messages and will run education sessions at all dealer workshops with an objective to bring 'Behavioural Change' in their driving habits and will demonstrate the safety features of the vehicles.
Adding to the Road Safety Education, the customers will get Free 20-point safety checkup of their cars, Free Top Wash and 5% discount on safety related parts and labour, while the children will be encouraged to paint and present a slogan on safety. Customers will take a road safety pledge and amplify through social networking sites.
Commenting on the 'Road Safety' Week initiatives, Mr. YK Koo, MD & CEO, HMIL said, "Hyundai is a responsible corporate and advocates Road Safety. As a Caring manufacturer, it's our duty and responsibility to appraise the masses about the importance of Road Safety to make the roads safer. In association with Ministry of Road Transport and Highways, we launched the Safe Move – Traffic Safety Campaign in august presence of Hon'ble Minister for Road Transport, Highways and Shipping, Shri. Nitin Gadkari on Nov 30, 2015.  Safe Move campaign is a mega initiative as we aim to spread the awareness through different platforms to make it a Mass Movement"
In 2015, Hyundai Motor India launched "Safe Move – Traffic Safety Campaign" to spread awareness in a fun and engaging manner amongst children. The program conducted over two phases reached out to over 90,000 students and 100,000 residents across 142 Schools and 146 RWA's in 11 cities.
#BeTheBetterGuy innovative safety films were released on various Digital platforms featuring Hyundai Corporate Brand Ambassador, Mr. Shah Rukh Khan. The campaign received tremendous response with people pledging to adhere for Road Safety.