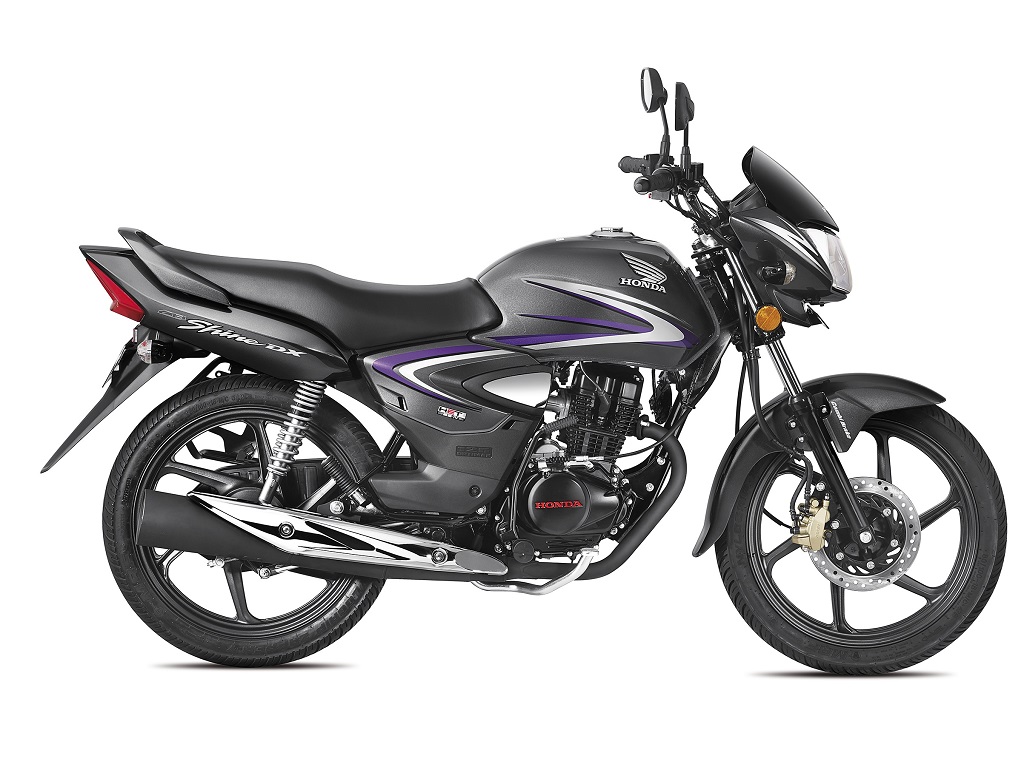 Becomes India's FIRST 125cc motorcycle to cross 1 LAKH sale in a single month – What a Shine!
Ø Sales of BS-IV and AHO CB Shine brand zoom by 51% to 100,824 units in April'17
Ø India's No. 1 selling 125cc motorcycle market share at 54% (phenomenal 15% jump in share)
Gurugram, May 23, 2017: After creating new highs in automatic scooter segment, Honda Motorcycle and Scooter India Pvt. Ltd. (HMSI) is now also expanding its leadership in the 125cc executive motorcycle segment, which is India's second largest motorcycle segment by volumes.
CB Shine: Shining the way into FY'2017-18
India's No. 1 selling 125cc motorcycle brand since 8 years – CB Shine is now the ONLY 125cc motorcycle brand to cross the landmark 1 lakh unit sales mark in a single month.
On its 11th Anniversary, CB Shine sales have grown by a phenomenal 51% from 66,691 units in April 2016 to 100,824 units in April 2017. This is led by demand for HET BS-IV Honda engine with AHO upgrades and Low Rolling Resistance tyre in CB Shine SP – a patent applied for technology. Shining the most in the segment, CB Shine brand sales grew five times faster than 125cc motorcycle segment's growth of 8%.
With aggressive growth, CB Shine has consolidated Honda's segment leadership even further. CB Shine has gained an impressive 15% market share on year on year (y-o-y) basis, is firmly leading with 54% market share in this segment, in April'17.
As biggest brand within Honda's motorcycle portfolio contributing over 55% in motorcycle sales, CB Shine record sales have catapulted Honda 2Wheelers India to the No. 2 motorcycle brand in India for the first time in April'17.
Launched in 2006, CB Shine is the first choice of more than 55 lakh proud Indians.
Speaking on this achievement, Mr. Yadvinder Singh Guleria, Senior Vice President – Sales and Marketing, Honda Motorcycle and Scooter India Pvt. Ltd. said, "With a legacy of more than one decade, CB Shine is the most important motorcycle brand in our line-up. Driven by continuous innovation, CB Shine brand alone contributes 55% to Honda's motorcycle sales. Such is the shine of the brand with Honda's high quality and reliability that today every second 125cc motorcycle customer in India is buying a CB Shine."
The journey of Honda's iconic CB Shine brand
Ø April 2006  : CB Shine launched in India with the unique Optimax technology
Ø FY'2008-09: CB Shine becomes No. 1 selling 125cc motorcycle in 2 years since its launch
Ø Oct 2010    : CB Shine achieves its first 10 lakh happy customers in 54 months since launch
Ø FY'2013-14: Every third 125cc motorcycle sold in India is CB Shine (led by 33% market share)
Ø FY'2014-15: Sales grow 14% which is faster than 1% growth of 125cc motorcycle segment.
Ø Feb 2017   : Becomes First 125cc motorcycle to reach 50 lakh unit sales milestone, BS-IV and AHO upgrade launched in CB Shine.
Ø Feb 2017   : Unique Low Rolling Resistance tyre (patent applied for) technology introduced in CB Shine SP
Ø April 2017 : Becomes the first 125cc motorcycle in India to sell over 1 lakh units in a single month!
* Data source: Society Of Indian Automobile Manufacturers (SIAM)