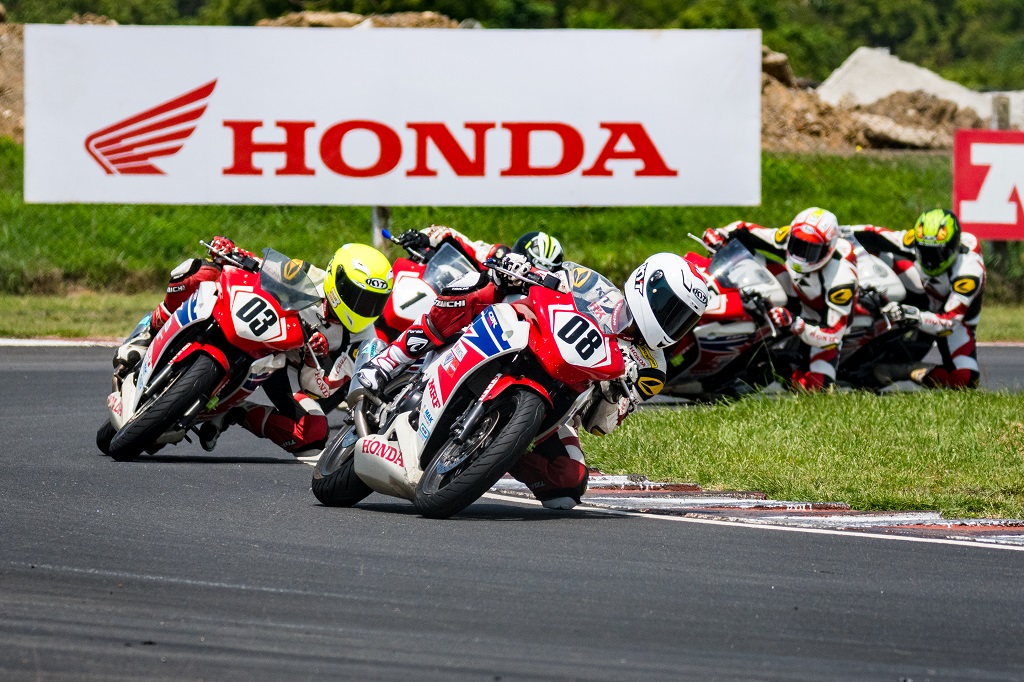 Leading podium tally in 165cc SuperSports & Pro-stock National Championship, Honda riders fire all cylinders in the practice sessions today
Honda Ten 10 trio of Rajiv S, Mathana Kumar & Hari Krishnan eye for 165c super sport podium
Chennai boys Mithun, B Aravind, Anish Shetty and Soorya set for 165cc Pro-stock
39 entries for Honda One Make Race (21 – CBR 150R Open championship, 18 – CBR 250R Team championship)
Honda All Ladies Race to see action between 8 riders including Shruthi S. and Reyhanna Bee
Round 3 gets overwhelming 56 entries of Honda riders across India with race this weekend
Chennai, August 3, 2017:  After highest ever podium finishes in the Round 2, Honda Racing contingent is all set to lead the podium tally in Round 3 of MRF MMSC FMSCI Indian National Motorcycle Racing Championship 2017 this weekend.
Round 3, Mr. Prabhu Nagaraj, Vice President, Customer Service, Honda Motorcycle and Scooter India Pvt. Ltd. said, "The 2017 motorsports season is truly a spectacular and historic race season for Honda2Wheelers India. Our boys have notched up highest ever podiums finishes and are entering Round 3 with high confidence and preparation. Looking at their recent form, Honda is rooting for great racing action in the 2017 season. With superior race machines, engaging platforms of Honda One Make championships for both Novice and experts riders and the exclusive All Ladies Race, there's sure to be nail biting finishes and intense racing action this weekend."
19 Honda riders in the National Championship
Super Sport 165cc: Honda's racing contingent is led by Honda Ten 10 young gun Rajiv S whose international exposure in the Asia Road Racing Championship 2017 (ARRC) is firmly placed his first in the championship till now. Completing the Honda representation are his Honda Ten 10 teammates Mathana Kumar (2nd) and Hari Krishnan R – India's first podium winner in ARRC 2016).
Pro Stock 165cc: After scoring a podium hat-trick in Round 2, the trio of Honda Ten 10 riders– Mithun Kumar (1st), Anish Shetty (2nd) and B. Aravind (3rd) are all set to further their points margin this weekend with Soorya joining them this round.
Stock up to 165 (Novice) will see 3 entries from Honda stables including podium winner Amala Jerald Arul Kumaran M. and Senthil Kumar C. race the modified CBR 150R's.
Honda One Make Championship:
CBR 250R Open Championship sees 18 rider entries from 5 teams (Apex Racing, Honda Ten10 Racing, Pro Lap Racing, Kingdom Racing and Rock Star Racing). With practice session today, India's stalwart racing talent including Rajiv S, Hari Krishnan R and B Aravind, Honda's flagship CBR 250R One Make Race looks like a nail-biting finish.
CBR 150R Novice Race: Giving a platform to 21 novice riders, the CBR 150R Race has a packed grid. Leading the pack are Honda riders Amala Jerald and Vyshakh Sobhan.
Honda All Ladies Race:  After the splendid success of second full-fledged season, 8 woman riders complete the grid with Ryhana Bee, Shruthi N and Kalyani Potekar leading the points tally till now.