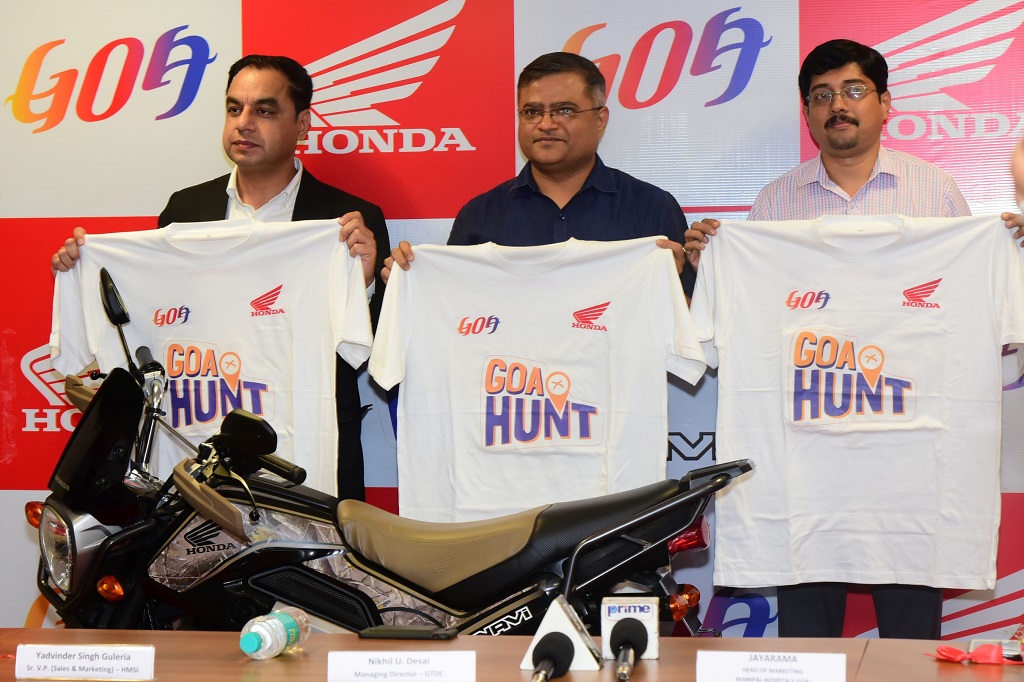 Organized by Goa Tourism Development Corporation in association with Honda Motorcycle & Scooter India
Panjim, March 22, 2017: Goa Tourism Development Corporation in association with Honda Motorcycle & Scooter India Pvt. Ltd. today announced the first edition of Honda NAVi Goa Hunt 2017. Honda NAVi Goa Hunt is a fun and adventure activity aimed at exploring the unexplored side of Goa on youth's most loved and favorite Honda NAVi. With its unique design and vibrant color options, NAVi promises a FUNtastsic experience for the customers. The Honda NAVi Goa Hunt is a 2 day activity to be flagged off on 23rd of March by the Hon. Minister for Tourism, Govt. of Goa, Mr. Manohar Azgaonkar. The objective of this activity is to explore Goa having fun riding the Honda NAVi and reaching the final destination after surprise tasks at each location. The event will conclude with an award ceremony by felicitating its winners on 24th of March 2017.
Exploring Goa: Honda NAVi- Goa Hunt 2017
A fascinating destination known for its tranquil beaches, nightlife, adventure, sports and cuisine, it has an unexplored side left untouched by many. The event is spread over two days consisting of mysteries and challenges to be completed and become the ultimate Honda NAVi Goa Hunter. Different teams will embark on a journey to explore Goa on Honda NAVi. The teams will consist of renowned journalists and online bloggers. Different challenges including fun-filled tasks will be posed to them en-route. The teams will be decoding clues and then NAVigate their way through 10 different stages over two days. The encrypted challenges will be designed on the uniqueness of Honda NAVi and various flavors of Goa.
About Honda NAVi
Launched at the Auto Expo 2016, Honda NAVi has not only emerged as the youth's most loved 2Wheeler but also recognised with many awards by prestigious automobile publications. A marvel on 2Wheels, NAVi is the first 100% Honda R&D India model – from concept development to commercial production. NAVi's unconventional design is its uniqueness – a concept which is very Mechanical & Clean. In its standard form, the design statement is FUN TO SEE and pure FUN TO RIDE. Providing endless possibilities in expression & Customization for the young customers – NAVI is designed in such a way, that it opens up a significant opportunity to modify & customize it to suit ones taste. And therefore pure FUN to Create.
Complementing the unlimited possibilities offered by Honda NAVi & to further boost the 2Wheeler customization culture, new Adventure & Chrome editions for NAVi were recently launched. This introduction is an extension to the available customization options in vibrant colours -red, orange & green and a stylish high quality utility box which provides convenience of storage to the fun riders.
Manipal Hospitals is the medical partner for the Goa Hunt  2017 and  is providing  a  fully equipped ambulance with emergency trained staff and doctors. Mr. Jayarama, Head of Sales and Marketing, Manipal Hospital Goa was present for the press conference.
Mr. Manohar Azgaonkar, Minister for Tourism, Govt. of Goa said," An event like the GTDC Honda Navi Goa Hunt 2017 will give a big boost for tourism in Goa.  Goa today is a biker's haven and offers the right platform for promotion  of hinterland tourism and  discovering the hidden facets of Goa. I am extremely happy that Goa Tourism Development Corporation is organizing such events and associating with big brands like Honda. I wish this mega two day event a great success."
Mr. Nikhil Desai, MD, GTDC said, "This is an interesting concept introduced by the GTDC to discover the hidden treasure of Goa. We are confident that this event will help in a major way to showcase a unique element of Goa. We are glad to be associated with Honda Motorcycle & Scooter India and are thankful to them for their extended support. This is also an interesting promotional and marketing activity and we are confident that it will help in the enrichment of the state."
Speaking on the association with GTDC, Mr. Yadvinder Singh Guleria, Senior Vice President- Sales & Marketing, Honda Motorcycle & Scooter India Pvt. Ltd. said, "Honda 2Wheelers holds the No.1 position in Goa and enjoys a market share of 45%. Currently a big buzz amongst youth in Goa, Honda NAVi with it's unique design and endless customization possibilities provides an extra dose to youngsters who have appetite for adventure and FUN. It personifies the spirit of vibrant Goa and exploring Goa's unknown side on the NAVi will be a FUNtastsic experience. We are excited to associate with GTDC for the Honda NAVi Goa Hunt and wish all participants good luck in their quest to become the ultimate Honda NAVi Goa Hunter."