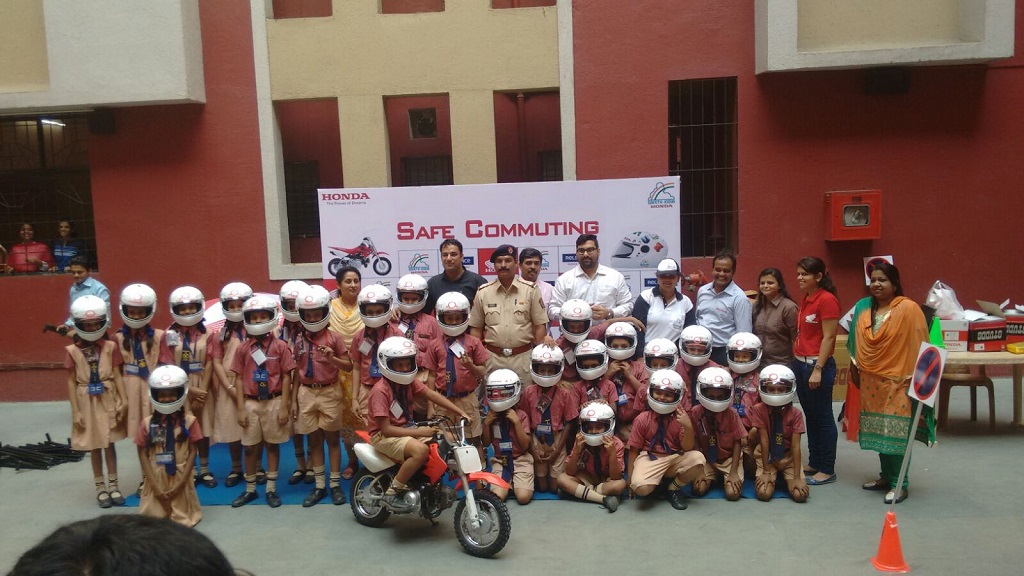 Activity outreach planned for Western India
Distribution of uniquely designed kids' helmets
Safe riding and helmet usage promoted among kids in fun manner
Mumbai, December 16, 2015: Honda Motorcycle & Scooter India Pvt. Ltd. (HMSI), the Only Honda in the Indian two-wheeler industry, continues to spread road safety awareness, activates its outreach to the young minds in Western India. Today, the activity was conducted in St. Lawrence School, Vashi, Mumbai to spread the road safety message among school kids. The initiative is currently ongoing, activities conducted in Pune, and soon to cover Ahmedabad.
Honda in collaboration with Reliance General Insurance in Mumbai successfully conducted the engagement-cum-awareness initiative on safe riding and benefits of helmet usage. The objective of the initiative was to educate young minds on how the Freedom of using roads comes with Responsibility – not just of self but also for other road users as they will be road users of tomorrow.
Commenting on the initiative, Mr. Yadvinder S. Guleria, Senior Vice President-Sales & Marketing, Honda Motorcycle & Scooter India Pvt. Ltd. said, "Children play crucial role in effective implementation of campaigns that aim to drive attitudinal shift in society. With their significant impact on their family and society at large, we have been engaging young minds through various initiatives to spread road safety awareness across India. We are continuing our association with RGI, in this course for outreach to 2 states in Western India. As road safety awareness takes the centre stage globally for Honda, we will continue to nurture young learners to help them become road safety influencers in their families today and responsible adult road users of tomorrow."
According to Mr. Rakesh Jain, CEO, Reliance General Insurance, "We are happy to partner with Honda in this helmet safety initiative across schools, an initiative that sensitizes and educates children on the need for protection while driving. As a responsible corporate, and a major insurance company, we are committed to spreading awareness about safety and protection amongst citizens, including kids, through various initiatives and partnerships"
The students from class V were encouraged to participate. The activity began with a simple quiz to assess basic road etiquettes awareness among kids. The top 25 students with best know-how of the subject were identified and were given an exclusive opportunity to ride the especially imported Honda CRF 50-kids training bike from Japan. Honda CRF-50 built the real excitement among all the participants who learnt safe riding in 'fun way'. The activity further entailed distribution of 25 uniquely designed kids' helmets that will aid awareness with greater impact, inspire parents and society at large to follow ethical road safety practices. Noteworthy was the active involvement of parents of participating students. The session also had interesting activities including photo sessions in commuting mode, experiences shared by the families on the subject and certificate distribution.
Prior to this, Honda successfully concluded 'Road Safety Summer Camps' in 7 cities in Northern, Southern, Eastern and Central India with more than 1000 school students. Apart from this, Honda continuously provides free of cost training at its existing eight traffic training parks in Jaipur, Delhi, Bhubaneswar, Cuttack, Chandigarh, Yeola (Nashik) and Hyderabad. Brand Honda has received encouraging response for its various initiatives that also include special initiatives for females and kids. So far, more than 2.3 lac individuals have been successfully trained at these parks.