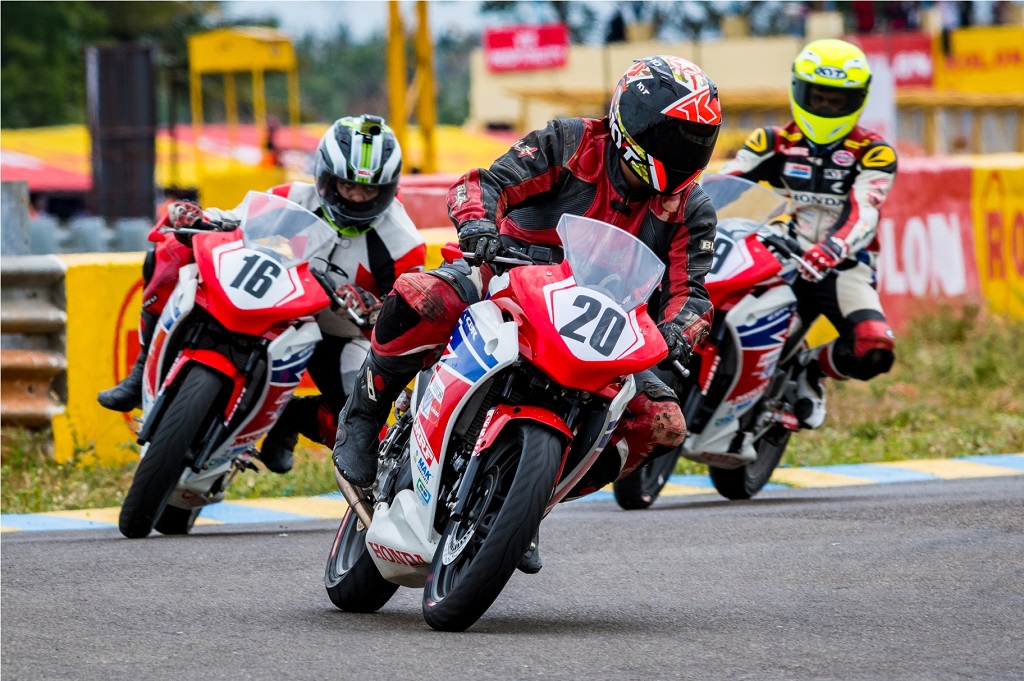 Honda wins 7 podiums (HIGHEST EVER in single round); scores double podiums in both Supersport 165cc and Pro-stock 165cc races
3 podiums in Super Sports 165cc: Rajiv S (1st –Race 1), Mathana Kumar S. (2nd – Race1 & 2)
4 podiums in Pro-stock 165cc: Mithun Kumar (1st – Race 1 & 2), B. Aravind (2nd – Race 1), Soorya P.M (2nd – race 2)
CBR 250R Open Championship: Honda sponsored ARRC rider Rajiv S. on fire, wins both races
CBR 150R Novice Championship: Double whammy for Hyderabad boy Satya Narayana in Round 1!
Coimbatore, June 11, 2017: Honda Racing made a dominant start to the National Championship with 7 podium finishes at the Kari Motor Speedway at Coimbatore this weekend. With this, Honda has kick started the 2017 MMSC FMSCI Indian National Motorcycle Championship with its highest ever podium finishes in a single round.
Congratulating the winners, Mr Prabhu Nagaraj, Vice President, Customer Service, Honda Motorcycle & Scooter India Pvt. Ltd. said, "What an epic start to the 10th year of Honda's motorsports in India! Backed by the phenomenal performance of our young riders, Honda is leading the tally at the start of 2017 season. My heartiest congratulations to Rajiv, Mathana, Mithun and Aravind for their podium wins. 2017 season will witness intense racing action. The international learning's of Honda riders gained through Asia Road Racing Championship is giving them an edge. We at Honda are confident of more such stellar performances throughout this racing season".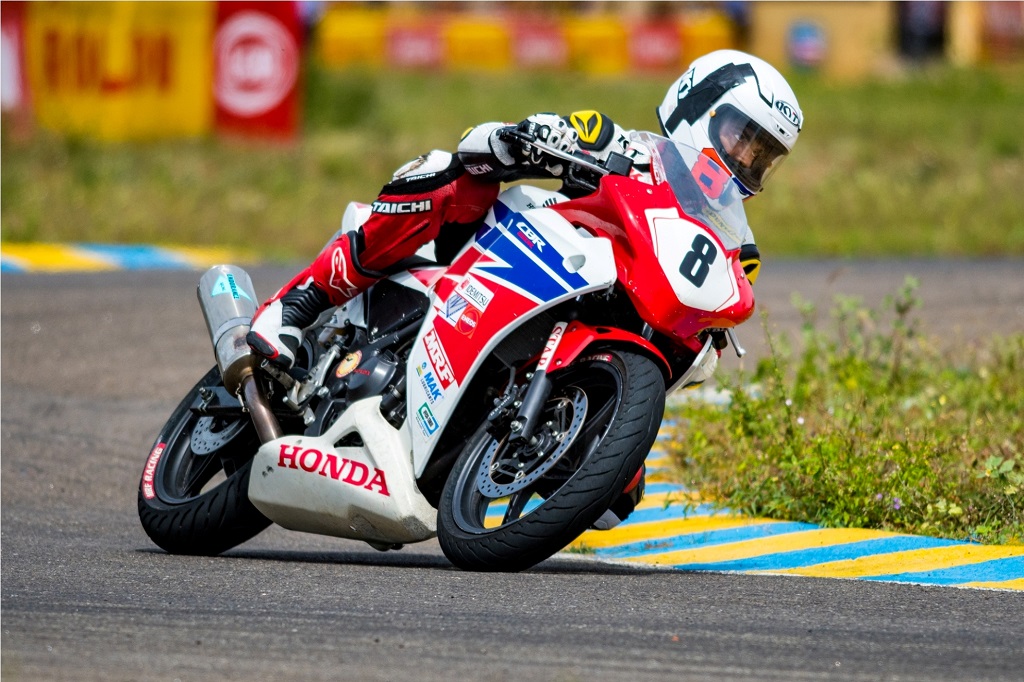 NATIONAL CHAMPIONSHIP RESULTS:
Super Sport 165cc: Race 1 saw intense action between the 2 Honda Ten 10 Racing stalwarts.
Race 1 saw a nail biting finish which lasted till the finish line, Rajiv S scored first position (total lap time 07:53.415) with Mathana Kumar S. coming a close second (07:53. 947)with less than one second gap.
Race 2 too brought good news with Mathana Kumar S. scoring his second consecutive podium, in total time of 19:11.374. Interestingly, Honda riders emerged the fastest in both the races with Rajiv coming at 1:14.032 and Mathana clocking 1:14.737 in Race 1 & race 2 respectively.
Pro Stock 165cc: Honda's domination continued in the Pro-stock category with Honda riders clinching 4 out of 6 podiums in both the races. A much in form Mithun Kumar P.K from Honda Ten10 Racing Team sealed the first position and fastest lap times in Pro-Stock 165cc in both Race 1 (best lap – 1:18.359) and Race 2 (best lap – 1:19.159). Adding on the podium tally were B. Aravind and Soorya P.M who secured second position in Race 1 and Race 2 of the Pro-stock Championship respectively.
HONDA ONE MAKE CHAMPIONSHIP RESULTS:
CBR 250R Open Championship saw Honda's ARRC sponsored rider Rajiv S. clinching first position in both the races, with Ranchi boy Amit Richard Topno (2nd), B. Aravind (3rd) in Race 1 and Abhishek V.(2nd), Kishore V S (3rd) in Race 2.
With a packed 40 rider grid, The CBR 150R Novice Championship saw first timer Honda rider Satya Narayana from Hyderabad leading the pack in both Race 1 & 2. Completing the podium in Race 1 were Syed Nawas (2nd) from Chennai and Vysakh Sobhan (3rd) from Kerala. Race 2 closed with Amala Jerald (2nd) and Aditya Rao (3rd) from Bangalore.
Honda All Ladies Race saw 8 women riders compete on the race-prepped CBR 150R motorcycles. Rehana Reya romped home to an impressive victory at the Round One of the Honda All Ladies Race with Shruti and Kalyani Potekar grabbing the 2nd & 3rd Podium respectively.