Let the True Adventure begin!!
The 'Make In India' CRF1000L Africa Twin deliveries commence
Africa Twin receives overwhelming response – First 50 bookings complete in over 2 months' time
Equipped with Dual Clutch Transmission (DCT) technology. World first in motorcycles by Honda
Available at Honda 'Wing World' dealerships across 22 cities
Udaipur, July 31, 2017: Honda Motorcycle & Scooter India Pvt. Ltd. today commenced the deliveries for its all-new CRF1000L Africa Twin motorcycle in India. It is Honda's first one litre engine capacity motorcycle to be 'Made in India'. Africa Twin received an overwhelming response with the first 50 bookings, completing in just over 2 months' time.
Africa Twin, the flagship adventure-tourer motorcycle from Honda's global line-up is the first 1000cc 'Make in India' model by Honda Motorcycle & Scooter India. True to its roots, which are firmly embedded in Dakar history, Africa Twin is known for its ultimate adventure that pushes the rider and machine to the edge of physical and mechanical performance.
Excerpts from the company
Speaking on this momentous occasion Mr. Minoru Kato (President & CEO – Honda Motorcycle & Scooter India Pvt. Ltd said,'' I would like to congratulate the first lucky customers on the delivery of their amazing machines. My own experience of riding the Africa Twin, during the development of one of its variant on my official assignment in Europe, was exhilarating. The motorcycle with its unique features, allows it to be very adaptable for varied riding conditions. I wish all the Africa Twin customers a memorable and adventurous experience.''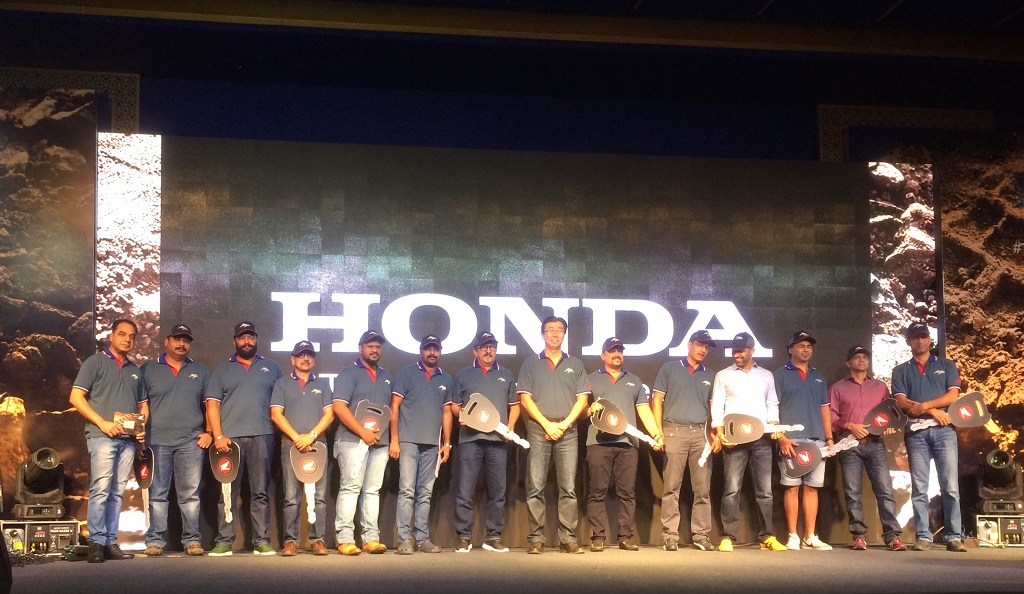 Mr. Yadvinder Singh Guleria, Senior Vice President – Sales and Marketing, Honda Motorcycle and Scooter India Pvt. Ltd. said, "We are extremely delighted to witness the overwhelming response received by Africa Twin. Africa Twin is possibly the most reliable, versatile and proven adventure touring motorcycle ever launched in India. As we welcome the first tribe of Africa Twin customers in India, few lucky customers will also get a chance to attend the grand out-door 'True Adventure' Africa Twin ride event."
Key Features
Unique Dual Clutch Transmission (DCT) technology by Honda. A world first in motorcycles
Africa Twin is equipped with Dual Clutch Transmission (DCT) System for a smooth acceleration or deceleration, depending on rider's intent.The long road to adventure is varied and the Dual Clutch Transmission (DCT) machine gives you a choice of Manual and Automatic gear shifting to suit tarmac, dirt tracks and steep mountain passes. Experience a more enjoyable ride by focusing on the sensations of accelerating, turning and braking your motorcycle. Control your bike to your heart's content. DCT technology brings the fundamentals of motorcycles – the joy of riding and control – to a whole new level. D mode offers the best balance of fuel economy and comfort cruising, while S mode provides extra levels of sport performance, with three different shift patterns to choose from. Africa Twin is also fully equipped to operate in an off-road environment, and its functionality is enhanced by the G-Mode. Pushing the G-button in any riding mode modifies the control of the clutch system to give a more direct drive.
Honda Selectable Torque Control (HSTC) & Switchable ABS
Africa Twin comes standard-equipped with the HSTC (Honda Selectable Torque Control) system which controls the engine's torque output by detecting differences in the slip ratio between front and rear wheels. The standard Anti-Locking Braking System and traction control offer multiple driving modes for different conditions.  It's possible for the rider to turn off the ABS system for the rear brake, allowing the rider to lock the rear wheel when riding off-road. There are four levels of control to choose from the Honda Selectable Torque Control: Level 1, 2, 3 and Off.
A True companion 'on & off-road'
The adventure begins where the road ends. Inheriting the "Go Anywhere" spirit of its celebrated predecessors, the CRF1000L Africa Twin packs an innovative, compact and powerful parallel twin-cylinder engine (makes 65Kw peak power @ 7,500 rpm and 92Nm torque @ 6,000 rpm) into a lightweight, agile chassis ready for true adventure both on and off road – whether crossing continents or commuting. The inverted cartridge type fully-adjustable front forks come with a 230 mm stroke – the longest in its class – with a good range of rebound and compression settings. With a class-leading 250 mm ground clearance, riding this bike off-road is a glide. The Dual LED headlights evoke memories of those Dakar winning machines.