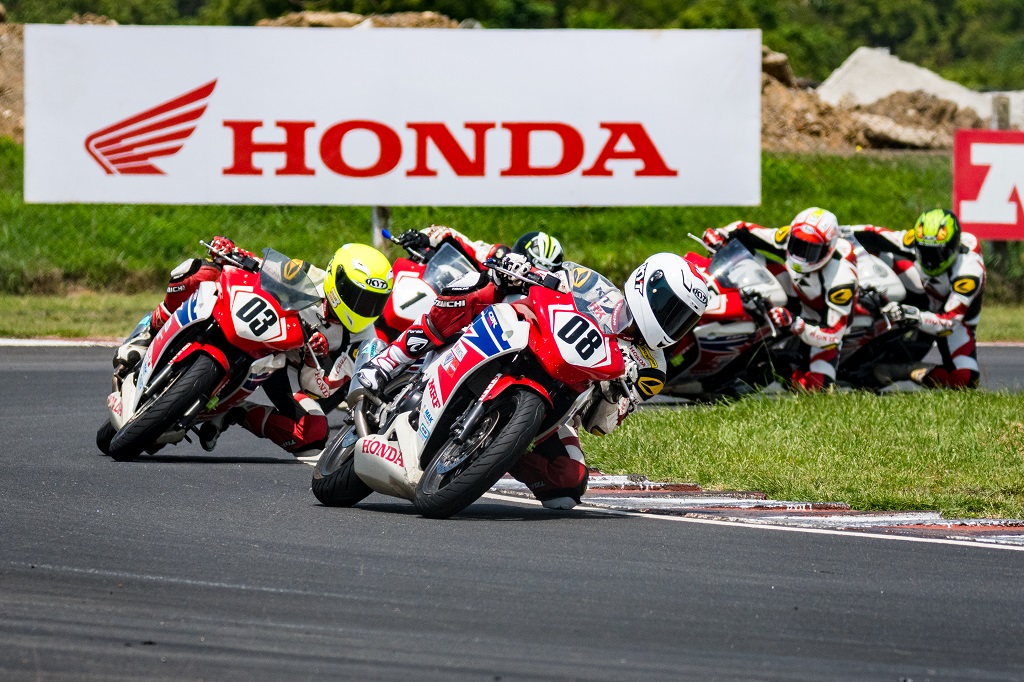 August 5, 2017: Honda riders Rajiv Sethu and B Aravind romped home to an impressive victory as Round 3 of the MRF MMSC FMSCI National Motorcycle Racing Championship got underway at MMRT track, here on Saturday.
National Motorcycle Racing Championship
Super Sports 165cc (Race 1):
The 18-year old Honda rider Rajiv Sethu secured third place by clocking 8:12:951 minutes in the Race 1 of Super sport 165cc National Championship. With this, Rajiv, who won all the three previous races, continues to lead the scoreboard with 91 points. Team mate Hari Krishnan from Chennai finished fourth clocking 8:19:531 minutes.
Pro-Stock 165cc (Race 1):
In the category, Chennai boy B Aravind, who is looking to consolidate his position at the top, grabbed first position, clocking an overall timing of 8:30:837 minutes. Winning four races out of 5, B Aravind leads the Pro-stock tally board with 83 points.
Honda One Make Championship:
Honda One Make Race 150RNovice (Race 1):
Leading from pole position to the chequered flag, Satya Narayana, from Hyderabad, secured first position in Race 1 of Honda One Make Race 150 Novice Championship. Satya won the race by clocking 11:08:098 minutes. Balaji G from Chennai finished the race at second place by clocking 11:22:842 minutes, closely followed by Senthil Kumar from Coimbatore at third place who clocked 11:23:098 minutes.
Honda All Ladies Race
Dominating the Honda All Ladies Race, Rhyhana Bee from Chennai took the first position in the Race 1 by clocking an impressive 11:26:214 minutes. Kalyani Potekar (2nd) from Indore and Shruthi N (3rd) from Chennai fought a close battle to grab podium places, clocking 11:41:677 and 11:41:767 minutes respectively.
Congratulating the winners, Mr. Prabhu Nagaraj, Vice President, Customer Service, Honda Motorcycle and Scooter India Pvt. Ltd. (HMSI), said, "My heartiest congratulations to all Honda riders. It is exciting to see such intense competition and close finishes. The international exposure gained through Asia Road Racing Championship is giving Rajiv a clear edge in the National Championship. I am confident that we will witness some stellar performances by Honda riders as the season proceeds." 
Now all eyes are set on Honda flagship CBR250R Open class and second races scheduled on Sunday which will determine the winners of Round 3 of National Championship.