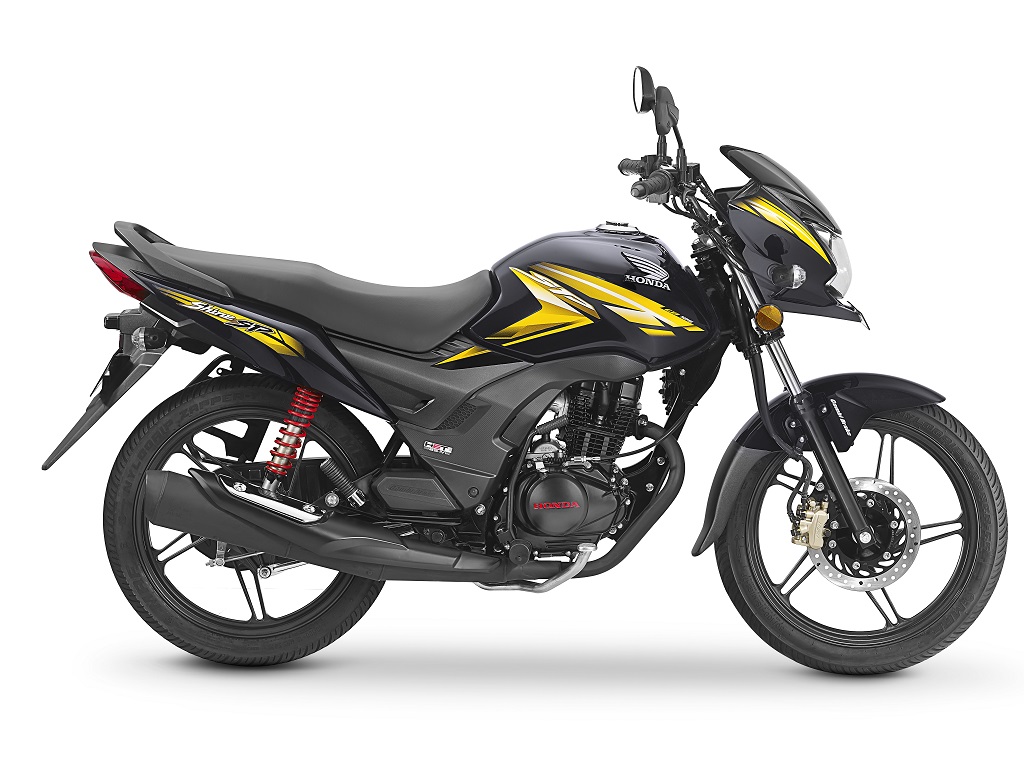 'Effortless Style' Honda launches NEW BS IV CB Shine SP
Debuts with HET Tyre -Specially developed from Honda patented* compound
ADDED STYLE: Refreshing new graphics
EFFICIENT: Equipped with HET Tyre (Honda patent technology for new tyre compound)
SAFETY: Automatic Headlamp On (AHO) for improved visibility in all conditions
ENVIRONMENT: Honda's trusted 125cc HET engine is now Bharat Stage-IV compliant
NEW COLORS: Attractive Pearl Siren Blue and Imperial Red Metallic colors introduced
Available at an attractive price starting Rs. 60,914 (Ex-showroom Delhi)
New Delhi, 21 February, 2017: Adding Special Value to its sibling's 50 Lac mark celebration, Honda Motorcycle & Scooter India Pvt Ltd (HMSI) today launched the new CB Shine SP 2017 offering 'Refreshed Style'. The new CB Shine SP with AHO is the 5th offering from Honda's stable to meet Bharat Stage-IV norms.
"Since its launch, CB Shine SP has been a successful Urban Commuter with added advantage of 5th gear. The new 2017 CB Shine SP with extra style and advanced BS-IV compliant engine with AHO offers more value to the aspirational customers. Introduction of eco-friendly HET Tyre specially developed by Honda will mark the beginning of a new revolution in the 2Wheeler industry", said Y.S. Guleria, Senior Vice-President, Sales and Marketing, Honda Motorcycle and Scooter India Pvt Ltd.
New Colors & Added Style
The 2017 CB Shine SP comes with attractive new Pearl Siren Blue and Imperial Red Metallic colors with refreshing new graphics standard across its complete colour line-up. With urbane sharp looks and styling, it makes the rider feel 'Special'. A combination of sharp headlight with carved visor on top of it, lend an attractive front-look to CB Shine SP. The sporty character of CB Shine SP receives a boost with the digital analog meter console and the dual tone side-cover. The combination of 5-split alloy wheels with disc adds to its distinctiveness while the strong 2-piece designed modern muffler leaves a lasting impression.
Revolutionary HET Tyre (Low Rolling Resistance Tyre)
The new CB Shine SP is Honda's first motorcycle to be equipped with HET Tyre in India. Developed and patented by Honda (Patent received in 3 countries including Japan, applied in India)*, HET Tyre is built with a new compound that reduces the energy loss while maintaining optimum grip performance. It reduces rolling resistance by 15-20% thereby improving overall efficiency. Honda through this technology aims to pass on the benefit of improved fuel efficiency to customers and contribute to the environment by reducing carbon footprint.
Advanced Technology Enhancing Comfort & Convenience
CB Shine SP is equipped with Combi Brake System (CBS) with Equalizer technology (Much ahead of Government regulations, which will make CBS mandatory on all two-wheelers up to 125cc engine capacity from April 1, 2018). The unique Equalizer in Honda's advanced Combi Brake System (CBS) distributes braking force proportionately between front and rear wheels simultaneously by pressing just the rear brake foot lever. This results in reduced braking distance & improved balance, leading to more confident riding compared to conventional braking. The 5-speed gear box helps reduce vibrations at high-speed, thus making even the long rides calm and comfortable.
The innovative ergonomics, longer-seats, longer wheel-base, an increased ground clearance and 5 step adjustable suspension on the CB Shine SP provide for comfort of both the rider and the pillion irrespective of the road conditions.
Automatic Headlamp On / AHO is a new Government notification effective April 1, 2017. As per this, the headlamp of all two-wheelers manufactured in India should be equipped to automatically turn on as vehicle starts. Key benefits of AHO for the new CB Shine SP rider are improved visibility of the vehicle in all conditions (dawn, dusk, fog, rain etc.)
Bharat Stage-IV or BS-IV is the new regulation for reduced emission level approved by Indian government. This will be mandatory in all two-wheelers starting April 1, 2017. In this regard, the new CB Shine SP is now also Bharat Stage-IV compliant!
Next Level Performance 
At the core of CB Shine SP is Honda's trusted 125cc Honda Eco Technology (HET) engine.
The max net power of 7.58kW (10.16 BHP) @7,500 RPM and max net torque of 10.30Nm@5,500 RPM provide for high power output at all speeds, making it the most refined engine in its category.
Colors, Variants & Price
The CB Shine SP is offered in 6 attractive colors – Geny Grey Metalic, Athletic Blue Metallic, Pearl Amazing White, Black, NEW ADDITION- Pearl Siren Blue and Imperial Red Metallic. Representing good value for money that exceeds the customer's expectation, CB Shine SP is available for sale in three variants-Standard, Deluxe & CBS at an attractive price starting Rs. 60,914 (ex-showroom Delhi).