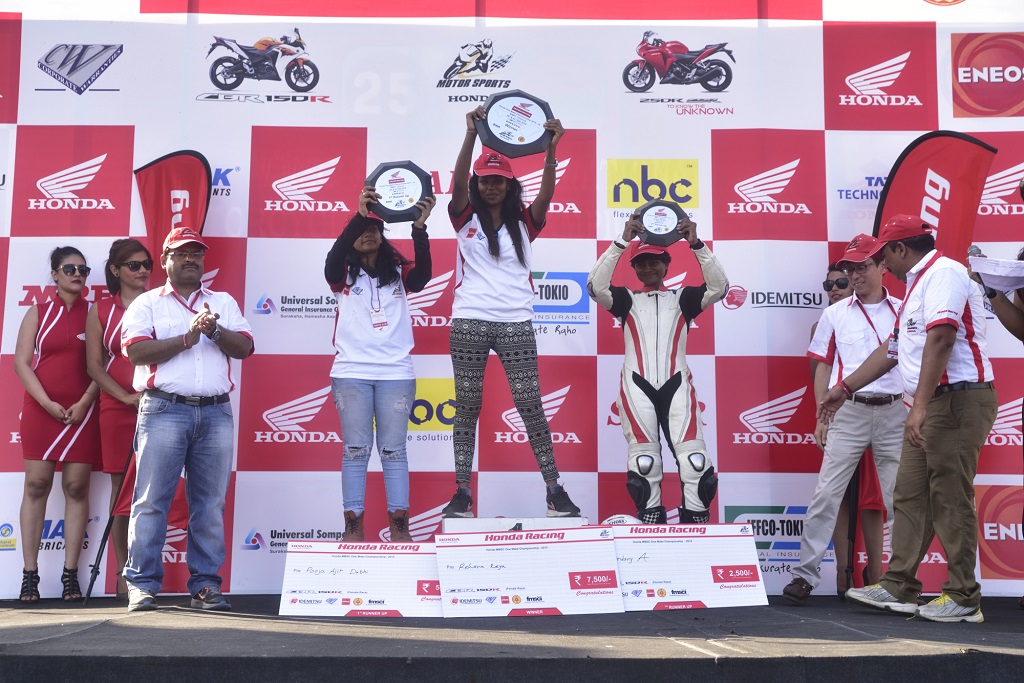 First-ever women exclusive track event in Chennai – Honda All-Ladies Race category makes a historic debut – Chennai's Rihana Reya wins the inaugural race
CBR 150R Open Championship:
Aravind B crowned Championship winner (177 points) after Sivanesan S (156 points) fails to completes his race
Chennai's Kishoar VS clocks back-to-back wins on Sunday; finishes season at third place (145 points)
CBR 250R Open Championship:
Sarath Shankar Kumar, who entered final round with an unassailable lead; clinches Championship glory
Sumit Locus Toppo and Dinesh Kumar round-off an impressive season with a win each
Yet another chapter was added to Chennai's motorsport legacy when city's riders Sarath Shankar Kumar, Aravind B and Rihana Reya clinched the respective championships to bring curtains on the 2015 Honda One Make Race Championship 2015 at the MMRT here.
Sarath Shankar Kumar from Ten 10 Racing, who came into the final read with an unassailable lead, clinched the CBR 250R Championship without having to take to the tracks on Sunday. His 186 points tally was built on the back of 6 consecutive wins including 'a double' at the Buddh International Circuit during Round 4. His absence from the grid was fully capitalized on by Ranchi's Sumit Lucas Toppo (Pro Lap Racing) and Chennai's Dinesh Kumar D (United Tech Torque Racing), winning Race 1 and Race 2 respectively. Sunday also witnessed Ten 10 Racing clinch the Team Championship for 2015 season.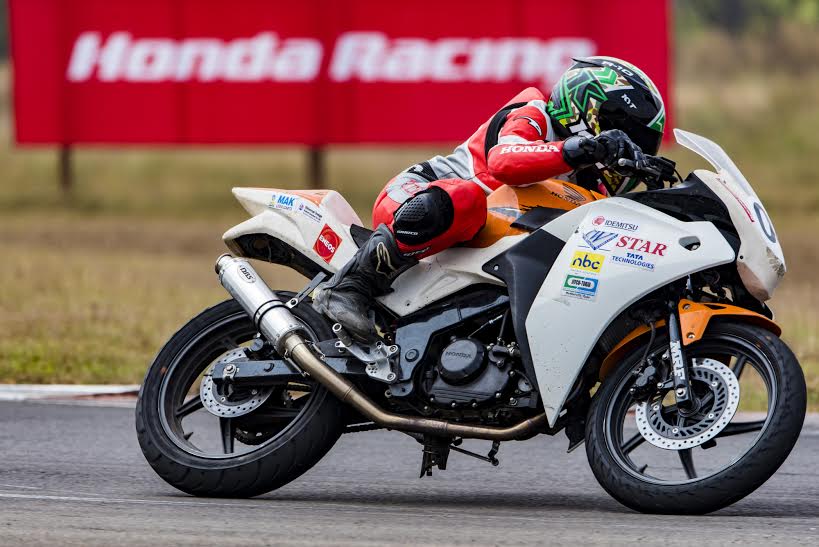 The CBR 150R Championship escalated into a 3-way showdown between joint leaders Sivanesan S and Aravind B (from Chennai); and Kishoar VS from Coimbatore, who had started the day on pole position. However, in the final race, Aravind B edged-out Sivanesan to the second spot and claim championship glory after latter had failed to finish his race.  Kishoar VS, from Coimbatore, showed great composure to clinch both the races on Sunday, and finish the Championship on third position.
Honda Ladies Race
In a step towards achieving a greater democratization of motorsport, and to encourage more women participation, Honda today flagged-off the first ever Honda All Ladies Race in Chennai. Amid huge cheers, 10 women from all over India took to the grid for this historic race. In the end, despite Pune's Pooja A Dhabi best-efforts, it was Chennai's Rihana Reya who rallied brilliantly to jump two-places from her starting position and emerged triumphant in this inaugural race. Pooja finished second while Soundari  (from Chennai) who finished third.
Congratulating the winners, Mr Prabhu Nagraj, Vice President, Customer Service, HMSI, said, "It is always Honda's endeavor to bring new categories and excitement into the race. To democratize motorsport, and to offer the adrenaline pumping track experience to our women audiences as well, we have introduced, for the first time in Chennai, an All-Ladies Race. All 10 girls, who raced today have been trained by the Honda Racing Training Academy. I would like to specially congratulate all of them for being a part of this landmark race. The immense potential on display today, strengthens our belief in the talent that exists in the country. I would also like to congratulate all the winners and thank FMSCI for organizing and supporting our efforts in India. Look forward to see you all next year with greater enthusiasm.
Results:
Honda MMSC One-Make Championship:
CBR 250R Championship (Open):
Race 1 (6 laps):
Sumit Lucas Toppo (Pro Lap Racing) 12:31.775
Mathana Kumar (Ten10 Racing) 12:34.839
Hari Krishnan R (Ten10 Racing) 12:34.978
Race 2 (6 laps):
Dinesh Kumar D (United Tech Torque Racing) 12:49.293
Rajiv Sethu S (Ten 10 Racing) 12:49.293
Harikrishnan R (Ten10 Racing) 12:49.914
Champion rider: Sarath Shankar Kumar
CBR 150R Championship (Novice):
Race 1 (6 laps):
Kishoar VS (Coimbatore) 7:53.076
Aravind Balakrishnan (Chennai) 8:00.248
Sivanesan Sethu (Chennai) 8:00.268.
Race 2 (6 laps):
Kishoar VS 07:48.673
Aravind Balakrishnan 07:48.719
Anish Shetty (Hubballi) 07:51.708.
Champion rider: Aravind Balakrishnan
Honda Ladies Race (4 laps):
Rehana Reya (Chennai) 06:17.491
Pooja Dabhi (Pune) 06:18.559
Soundari A (Chennai) 06:22.444.
Honda One Make Race completes 8 years
Since its inception in 2008, the Honda One Make Race continues to grow in scale and prestige. The championship draws entries from biking enthusiasts converging from as far as Mizoram, Ahmedabad, Ranchi, Aizwal, Jalgaon, Pune, Hyderabad, Bangalore, Trichy and Aoroville.
Bringing intense adrenaline and excitement to the race, the CBR 250R category was under a Team Championship wherein Honda leased out 16 CBR 250R performance bikes to teams registered at FMSCI. Excluding the engine, chassis and tires of CBR 250R and enable permitted performance enhancing modifications to the vehicle. Honda further supported participating teams with Original Spare parts worth Rs. 10,000 and set of tyres replacement per round. These vehicles are modified with imported HRC performance kits for an exhilarating output. 
Honda requires all participants to have undergone extensive racing training from Honda Ten10 Racing Academy or any other training school recognized by MMSC (Madras Motor Sports Club). This is done basically to ensure the riders' safety at the track.
International exposure through The Asia Dream Cup
Asia Dream Cup is the brain-child of Honda Motor Company, Japan. Through this unique racing activity, Honda gives Indian riders a platform to develop riding skills comparable to the best of Asian riders. From India, Honda has sponsored three riders – Sethu Rajiv, Hari Krishnan and Sarath Kumar. This year for the second time, participants were asked to train at Suzuka Racing School (Suzuka Circuit, Japan) for taking part in Asia Dream Endurance Race – 2 hours.
MoU with Ten10 Racing academy
To further develop new talent and nurture motorsport talent in India, Honda has signed an MoU with Ten 10 Racing Academy. Already, 7 academy sessions for professional racing training have been held, wherein over 150 riders above 15 years of age participated. Encouraged by the overwhelming response, Honda recently opened a new racing academy this month itself at Bhubaneswar (Odisha).
Also, in addition to this Honda has offered Free Riding Suit and Riding Boots to the HOMR Novice Category- CBR 150R. Moreover, Honda CBR 250R introduced new engine for the 2015 racing season.