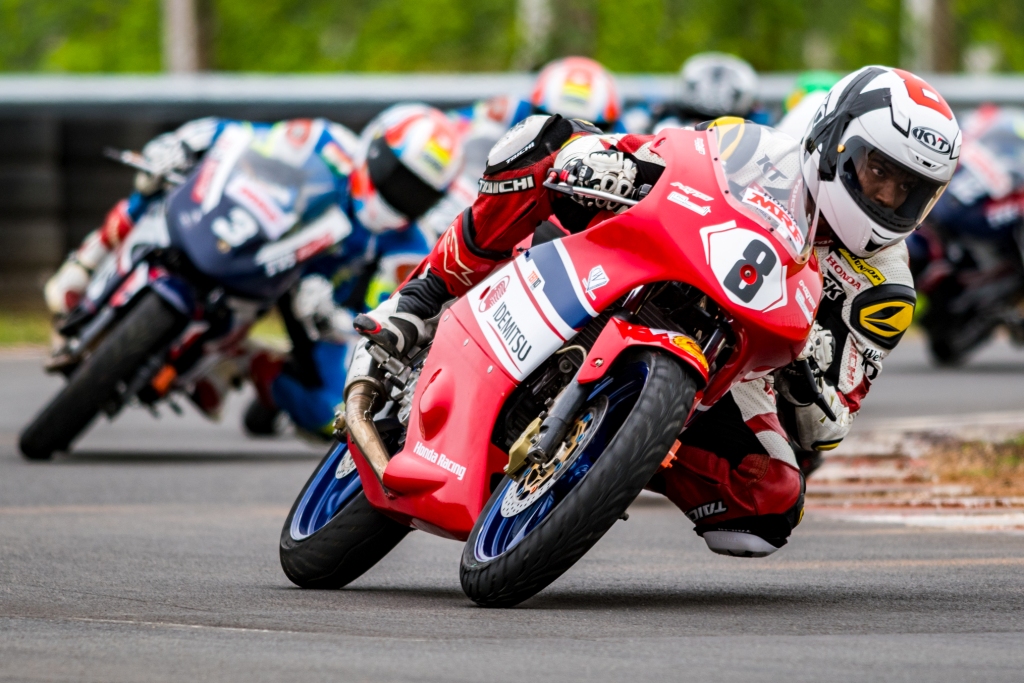 With maximum podiums, Honda2Wheeler takes top spot in Supersports and Pro-Stock National Championship
Chennai, July 8, 2017: Honda riders Rajiv Sethu and B Aravind romped home to an impressive victory as the Round 2 of the MMSC FMSCI National Motorcycle Racing championship got underway at MMRT track, here on Saturday.
National Motorcycle Racing Championship
Super Sports 165cc (Race 1):
Further underlining his stature as one of the fastest growing Indian riders, Rajiv Sethu (Participant- 250RR ARRC Championship 2017 and Pro-Stock 165 Champion 2016) finished first in the Race 1 of Super sport 16cc National Championship. Staring from pole position, Honda Ten10 Racing's Rajiv maintained his lead despite intense competition to clock an overall timing of 12:02:236 minutes over the 5 laps.
Pro-Stock 165cc (Race 1):
Continuing the winning spree, Honda rider B Aravind, from Chennai, secured first position in the Race 1 of Pro–stock 165cc National Championship. B Aravind clocked an overall time of 12:50.292 minutes.
Honda One Make Championship:
Honda One Make Race 150RNovice (Race 1):
The CBR150R Novice Race 1 witnessed nail-biting competition between Amala Jerald, Vysakh Sobhan and Mahesh Murali. The race was won by Amala Jerald, from Chenani, who clocked 11:28:014 minutes. Vysakh Sobhan (2nd), from Kerala, finished close by clocking 11:28:196 minutes, followed by Mahesh Murali(3rd) at 11:28:226 minutes.
Honda All Ladies Race
Leading from pole position to the chequered flag, Ryhana Bee, from Chennai, rode her way to victory.  Ryhana won the Honda All Ladies Race by clocking 11:51:658 minutes. Shruthi N from Chennai, followed closely to grab second position. However, it was Shruthi who clocked the fastest lap timing of the race just at 2:16:773. Kalyani, from Indore, clocked 11:58:728 to take third position.
Congratulating the winners, Mr. Prabhu Nagaraj, Vice President, Customer Service, Honda Motorcycle and Scooter India Pvt. Ltd. (HMSI), said, "My heartiest congratulations to all Honda riders. It is exciting to see such intense competition and close finishes. The international learning's gained through Asia Road Racing Championship is giving Rajiv a clear edge in winning National Championship. I am confident that we will witness some stellar performance by Honda riders as the season proceeds."  
Now all eyes are set on Honda flagship CBR250R Open class, National Stock Championship and second races scheduled on Sunday which will determine the winners of Round 2 of National Championship.