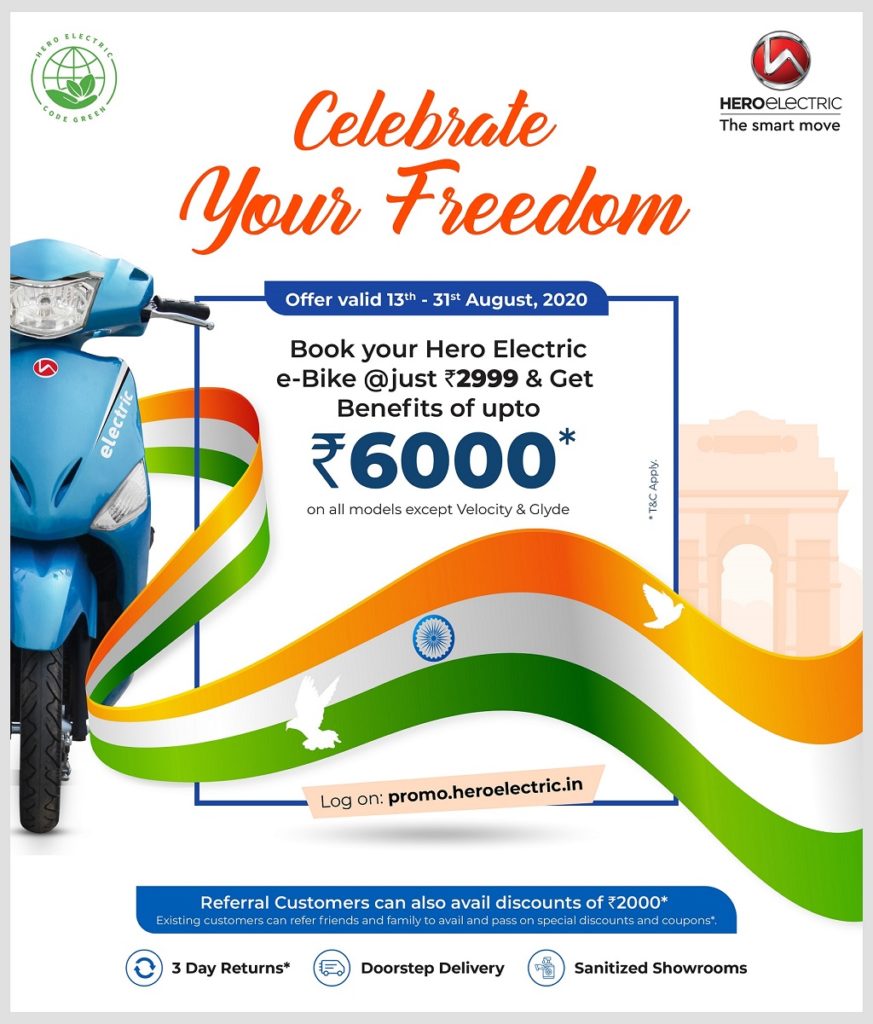 Flat cash discount of INR 3,000 on entire hi-speed lithium-ion range
Referral discount of INR 2,000 for first-time customers
Amazon benefits of INR 1,000 for existing customers who act referee
Offer valid from 13th to 31st August 2020
New Delhi, August 15th, 2020: Hero Electric, a pioneer in the electric vehicle industry in India, today announced its "Celebrate Your Freedom Campaign" on India's 74th Independence Day. Talking about this innovative idea, Sohinder Gill, CEO, Hero Electric said, We keep hearing from some of our Customers, particularly those who switch from the petrol bikes to Hero E-bikes that they were initially a bit skeptical but soon got so much used to the comfort and convenience of the Hero E bikes that they feel a great peace of mind and a unique sense of freedom . They feel liberated from the worries of daily expenses of petrol, frequent visits to service stations and the increased maintenance expenses as the bikes grows old. This led us to think of launching a campaign "Celebrate your Freedom." on the eve of our Independence Day. This campaign addresses individuals who are progressive, spend judiciously and look for great value for money in the products that they buy. The home charging facility of the portable batteries alleviates any range anxiety and allows them to maintain social distancing in their daily commute Hero E bike users deserve to feel proud of contributing their bit for saving our environment. Riding a Hero E bike for 5 years is equivalent of planting 10 full grown trees. A splendid way to celebrate our Independence for our beloved country."
"Celebrate Your Freedom" campaign comes with a reward scheme extending benefits upto Rs.6000. for example, a customer who purchases any Hero Electric Hi-speed lithium-ion bike would get Rs 3,000 discount and an additional Rs 2,000 off, if such customer gets referred from an existing Hero Electric customer who in turn gets a Rs.1000 Amazon voucher. The brand's 3-day return policy and home delivery option continue as before for customers throughout India.
During the past 4 months of the Pandemic, Hero Electric has had record high sales from its on-line channels. Hero thanks thousands of customers who reposed faith in the brand and bought e bikes without even visiting a Hero dealership. We strongly believe that the current "Celebrate Your Freedom" scheme will be another milestone in convincing the discerning customers to shift to electric mobility and reap its benefits for years to come.

Hero Electric is committed to champion the cause of electric mobility and foster eco-friendly transport solutions in India. The brand's efforts have been in line with promoting EVs in the country through such initiatives so that people do not just choose but genuinely want electric vehicles over the polluting ICE counterparts. Hero Electric is ambitious about its expansion plans for the remainder of the year and expects to achieve record sales despite the lockdown for FY21.
About Hero Electric India: 
HERO ELECTRIC is a pioneer of electric mobility and the largest electric two-wheeler manufacturer in India. The company has set up a manufacturing unit at Ludhiana, Punjab, with a total installed capacity of 100,000 units per annum. Hero Electric currently has over 610 sales and service outlets spread across the country, including top metros, min-metros, and even smaller towns.
Hero Electric launched the first Lithium-ion based electric scooter in India and introduced the unique concept of charging stations for anywhere and everywhere usage. With close to 300,000 electric two-wheelers in India, the company has been delivering sustainable mobility solutions for the past 12 years. It continues to play a significant role in developing the EV market in the country.
Hero Electric has been at the forefront of the electric two-wheeler revolution in India and encourages all to switch to electric mobility. It is committed to its philosophy of the #SmartMove by actively working towards generating awareness to curb air pollution through the umbrella campaign #CodeGreen.