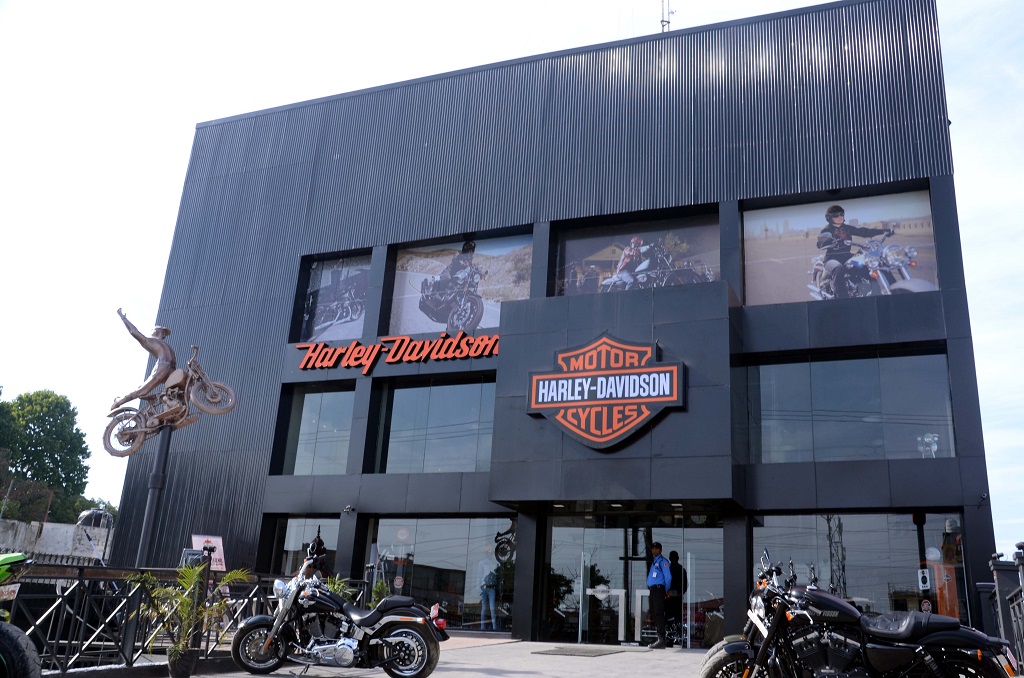 New Delhi, February 7, 2017: Harley-Davidson India today launched its first dealership in Dehradun – Foothills Harley-Davidson, bringing its legendary motorcycles to riders and enthusiasts in Dehradun and neighboring cities – Haridwar, Roorkee, Rudrapur and Haldwani. This 3S dealership facility is the 1st independent dealership of the company in Uttarakhand and 26th in India. Spread over 8,000 sq. feet, Foothills Harley-Davidson is located at Dehradun Road, Chandrwani Khalsa, National Highway 72A, Mohabbewala, Dehradun, Uttarakhand. The launch of the dealership will introduce the exclusive Harley Owners Group (H.O.G.) to the city, making Foothills Harley-Davidson the 27th H.O.G. Chapter.
Harley-Davidson's spirit of freedom will make its way to the 'Land of Gods' to indulge the fans in a unique Harley experience. Nestled between the Ganges and Yamuna river, the picturesque hilly landscape with its winding roads makes the Doon Valley an inviting location for motorcycle lovers.
Harley-Davidson dealerships worldwide are the one-stop-shop for patrons and loyalists who seek to experience the famed Harley-Davidson lifestyle and culture. The new dealership comes at a time when the state of Uttarakhand already has a burgeoning base of Harley-Davidson enthusiasts who can now purchase an exciting new Harley-Davidson or have their existing motorcycle serviced locally. The newest dealership will offer all 13 models in the Harley-Davidson India 2017 line up, in-addition to a wide range of parts and accessories to customize motorcycles, and authentic Harley-Davidson merchandise. Enthusiasts can drop by to schedule a test ride or indulge in the latest riding gear, and motorcycle parts and accessories.
Dilmohan Singh, Dealer Principal, Foothills Harley-Davidson, commenting on the launch said, "We are delighted to open our doors to the wide motorcyclist base in Dehradun and neighboring cities, and welcome new customers to our growing family of Harley-Davidson owners to a truly world class 3S facility, to cater the needs of the H.O.G. and new owners." Also, speaking about the launch of the dealership, Jasmeet Singh Marwah, Dealer Principal, Foothills Harley-Davidson said, "Harley-Davidson is renowned world-over for providing its customers with a premium lifestyle experience through a unique product offering and we shall strive to deliver the same level of excellence or more, here at Dehradun as well."
Since the beginning of retail operations in India in 2010, Harley-Davidson continues to lead in the market by holding 60 percent market share1 of the 601+cc motorcycle segment in the country. This growth is attributed to the company's success in building a strong leisure motorcycle culture in India, a rapidly expanding dealer network, and an unrelenting focus on delivering a great customer ownership experience. The passion, enthusiasm and respect the Harley-Davidson brand receives from customers and enthusiasts continues to inspire the company's growth plans. Over the last year, Harley-Davidson India has opened dealerships in various cities including Coimbatore, Calicut, Ludhiana, Guwahati, Mumbai Airport and second dealership in New Delhi.
1Harley-Davidson India's market share provided in the release is as per Society of Indian Automobile Manufactures (SIAM)
About Harley-Davidson India
Harley-Davidson India commenced operations in August 2009 and appointed its first dealership in July 2010. The Company offers 13 models in its line-up in India, in addition to a full range of genuine parts, accessories, and general merchandise, available through its authorized dealerships. Harley-Davidson India is headquartered at Gurgaon, Haryana, and has an assembly unit at Bawal, Haryana. The company has 26 independent dealerships across India: New Delhi, Gurgaon, Chandigarh, Mumbai, Navi Mumbai, Hyderabad, two in Bangalore, Chennai, Kochi, Kolkata, Ahmedabad, Indore, Pune, Goa, Jaipur, Surat, Lucknow, Nagpur, Calicut, Coimbatore, Ludhiana, Guwahati and Dehradun. Harley-Davidson recently launched its first showroom, Mach-1 Harley-Davidson for merchandise only at the Mumbai Airport – Terminal 2 (Departures).