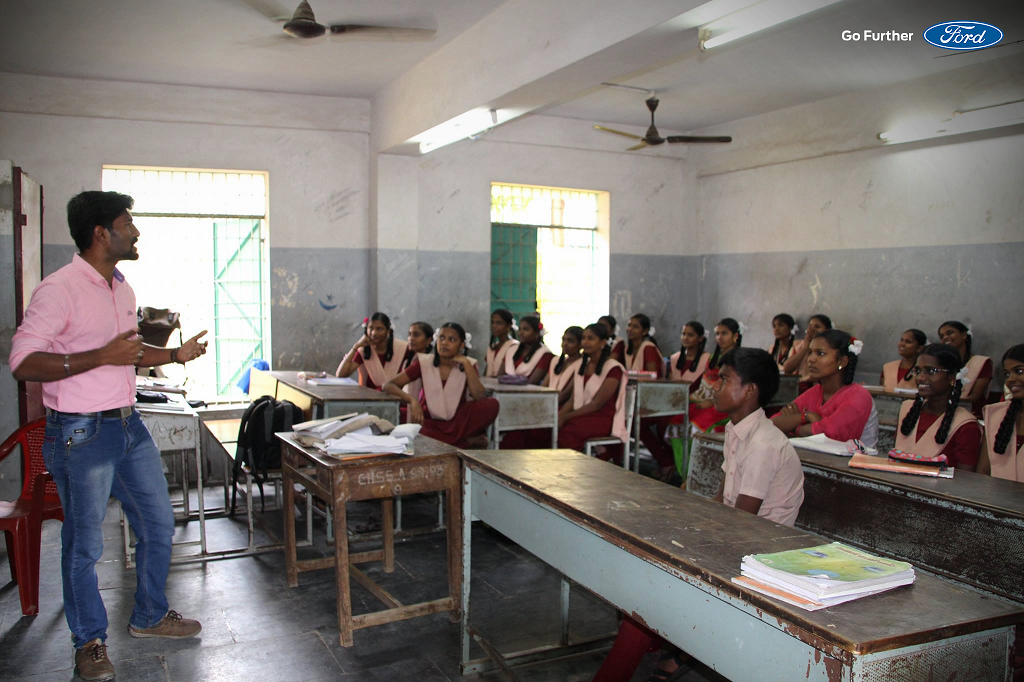 Carrying forward Henry Ford's legacy of making lives better for communities, 14,000 Ford India employees will apply their skills and energy towards creating a Better World.
Ford employees will participate in  more than 47 community service efforts in the field of education, auto-safety, sustainability and humanitarian support
Ford Motor Company Fund – the philanthropic arm of Ford Motor Company – will contribute $600,000 in grants to purchase supplies for many of the volunteer projects
New Delhi, India Sep. 07. 2017 –: The month of September will witness close to 14,000 dedicated men and women across Ford's operations in India come together to celebrate the Global Month of Caring.
Spreading their volunteer work across 47 projects, Ford employees across India will contribute in areas of education, environmental sustainability, safety, health and humanitarian support, across Chennai, Sanand, Gurgaon, and Coimbatore.
Some of the key volunteer projects earmarked during the month of September include:
Chennai – Science Workshops, Sapling Plantation, Literacy Mela on Wheels, Education on menstrual health management, Mural Painting in school, Donation Drive for underprivileged kids ,  Auto Safety Workshops with corporates and universities etc.
Sanand – Green marathon, Auto safety workshops in Colleges, Talent competitions in schools, spending a day with Thalassemia patients and organizing a blood infusion camp, and Auto Safety workshops etc.
Gurgaon –Sapling Plantation in Aravalli forest range, Donation Drive at old age homes and shelters for underprivileged women, Traffic Awareness drive, Theme based Art Competition, Sports Fest, Building a school library etc.
Coimbatore – Black board painting and mural painting in schools, tree plantation, awareness workshop on hygiene and sanitation in school etc.
"Whether it's improving access to clean water or creating innovative ways to help children and families, each Ford volunteer is making a valuable contribution to a better world," said Anurag Mehrotra, president and managing director, Ford India. "Each project is important because one person at a time, we are strengthening our communities and enhancing the quality of life."
Ford Global Caring Month is the signature annual event of the Ford Volunteer Corps. Since its launch in 2005, Ford Volunteer Corps members have contributed more than one million hours of community service in 50 countries, representing more than $30 million of in-kind community investments. During September, the Ford Volunteer Corps will tackle more than 600 projects with thousands of volunteers on six continents.
Ford Fund is also contributing $600,000 in grants to purchase tools and supplies for many of the volunteer projects. Ford Volunteer Corps activities take place year round as part of a global network enlisting more than 30,000 Ford volunteer participants annually.  
About Ford Motor Company Fund
Ford Motor Company Fund is the philanthropic arm of Ford Motor Company. Established in 1949, Ford Fund invests in transformational programs that advance innovation, empower people, promote social mobility and improve community prosperity. Ford Fund works with local and global partners to create opportunities in education, encourage safe driving, enlist employee volunteers and enrich community life. Ford Fund's signature programs include Ford Blue Oval Scholars, Ford College Community Challenge, Ford Driving Dreams, Ford Driving Skills for Life, Ford Next Generation Learning and the Ford Volunteer Corps. 
About Ford in India
Established in 1995, Ford in India manufactures and exports automobiles and engines made at its integrated manufacturing facility in Chennai, Tamil Nadu and Sanand, Gujarat. Ford's current range of award-winning products in India includes the Ford EcoSport, Ford Figo, Ford Aspire, Ford Endeavour and Ford Mustang. Ford Operations in India also include Global Business Services, with offices in Chennai, New Delhi, and Coimbatore. Registered as Ford Motor Pvt. Ltd. (FMPL) as a legal entity, Global Business Services provides innovative solutions to nearly every Ford locations around the world — in areas of Information Technology, Product Engineering, Finance and Accounting, Automotive Financing, Material, Planning & Logistics, Marketing Sales and Service, Analytics, and Purchasing. Ford currently employs more than 14,000 hard-working, dedicated men and women across its operations in India.