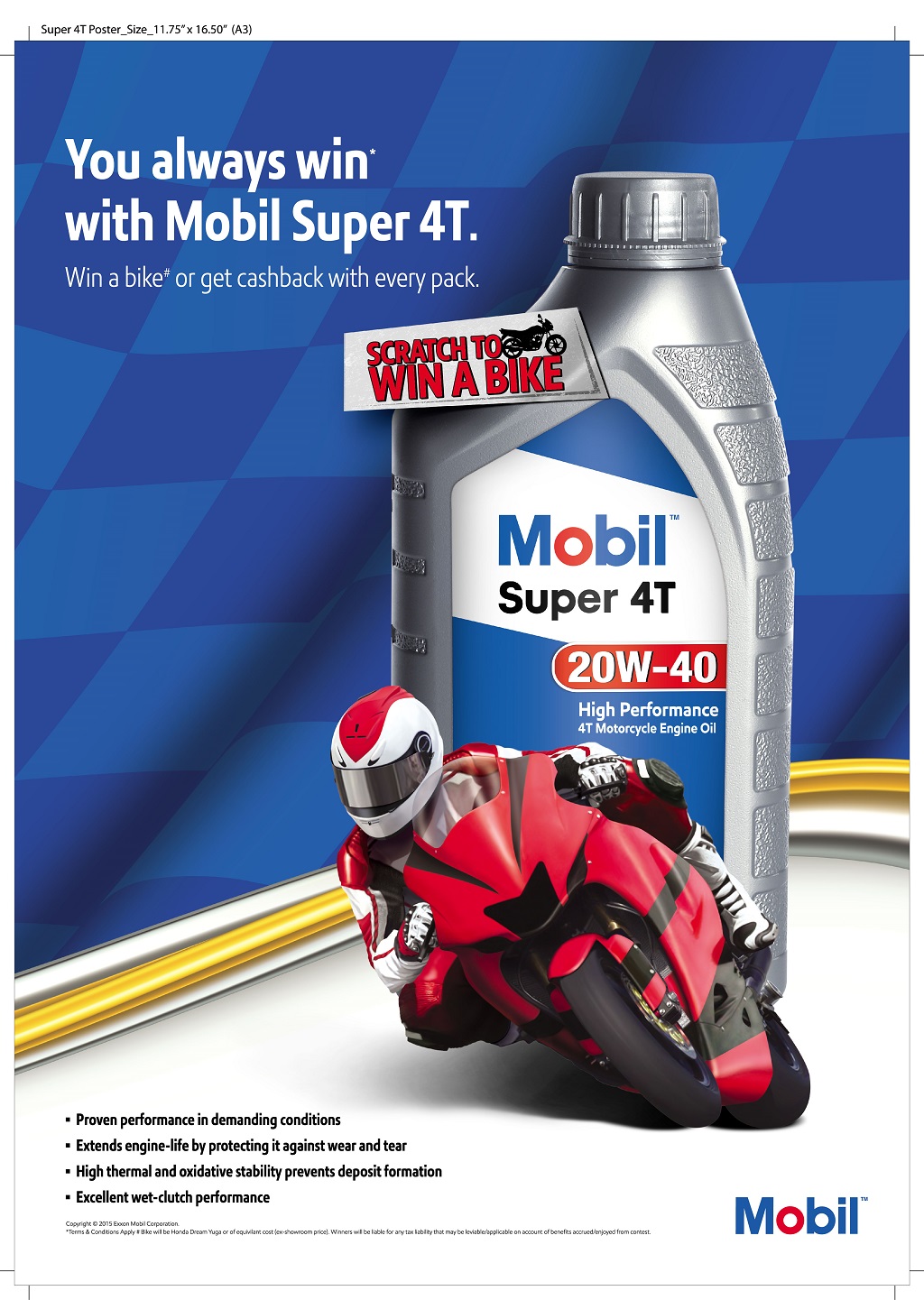 Latest entrant in Mobil's motorcycle oil range has proven performance in the most demanding riding conditions
ExxonMobil Lubricants Pvt Ltd, a wholly-owned affiliate of ExxonMobil Corporation, today, announced the launch of Mobil™ Super 4T 20W-40 high performance 4T motorcycle engine oil.
Mobil™ Super 4T 20W-40 is formulated from high quality base oil and additives and has proven performance in demanding conditions; extends engine life by protecting it against wear and tear; prevents deposit formation through high thermal and oxidative stability; and affords excellent wetclutch performance. MobilTM Super 4T 20W-40 also meets the requirements of API SL and JASO MA2.
ExxonMobil offers a range of engine oils specifically engineered for use in four-stroke motorcycles. Leading the line-up is Mobil 1™ Racing 4T 10W-40 – a superior quality fully synthetic engine oil with race-proven technology, designed for high performance motorcycles. The flagship product is followed by Mobil™ Extra 4T 10W-40, Mobil™ Super 4T 10W-30 and the newly launched Mobil™ Super 4T 20W-40. Product formulations are based on proven technologies used in other Mobil™ automotive products; yet optimised for the unique requirements of a motorcycle engine.
To mark the launch, ExxonMobil will be running an exciting Scratch & Win contest, where customers stand a chance to win a 110 cc motorcycle when they purchase a can of Mobil™ Super 4T20W-40. Mr Ankush Khanna, General Manager – Automotive, ExxonMobil Lubricants Pvt Ltd, said,
"Whether on the race track or your daily commute to work, you can trust our motorcycle oils to deliver  exceptionally and efficiently. Every engine oil we manufacture is backed up by a long tradition of technological superiority, thus protecting your bike in extreme riding conditions. We have therefore optimized Mobil Super 4T 20W-40 with a high quality base oil and additives to protect four-stroke engines of high performance motorcycles."
"There is only one Mobil. And ExxonMobil's motor oils have been keeping people and machines moving since the first gasoline-powered automobile," he added.
From the Wright brothers' first flight to the launch of the first space station; from the first automobiles to the latest Grand Prix cars, ExxonMobil's motor oils have been continuously keeping millions of vehicles performing at their very best. For ExxonMobil, innovation, technological leadership and application expertise lie at the core of the company's product portfolios of advanced lubricant solutions. Mobil's 4T range, designed for the world's second-largest motorcycles market, extends to every customer this commitment to innovation.
© ExxonMobil, Mobil, Mobil 1, Mobil Super and Mobil Extra are trademarks of Exxon Mobil Corporation or one of its subsidiaries. ExxonMobil Lubricants Private Limited is a wholly-owned affiliate of Exxon Mobil Corporation.