The cruiser bikes will be available in matte green, carbon black, and desert brown!
Pune, February 28, 2017: DSK Hyosung, one of India's most celebrated players in the premium superbike segment has announced 100 limited edition Aquila 250 motorcycles in three stylish and eye-catching colour options. The special edition cruiser bikes will be available in Matte Green, Carbon Black, and Desert Brown; available across all DSK Hyosung dealerships. Adding to the quality of the premium offering, customers can also finance their DSK Hyosung superbikes with attractive zero percent interest loan schemes* (terms & conditions applied).
Aquila 250 is a stylish cruiser bike showcasing a 4-stroke, V-twin, 249cc DOHC engine. Equipped with front telescopic suspension and hydraulic shock absorbers at the rear, the cruiser bike comes with a fuel capacity of 14 litres – ensuring long rides with less fuel stops. The superior bike that banks on performance and style has witnessed an overwhelming response from the cruiser biking enthusiasts across the country.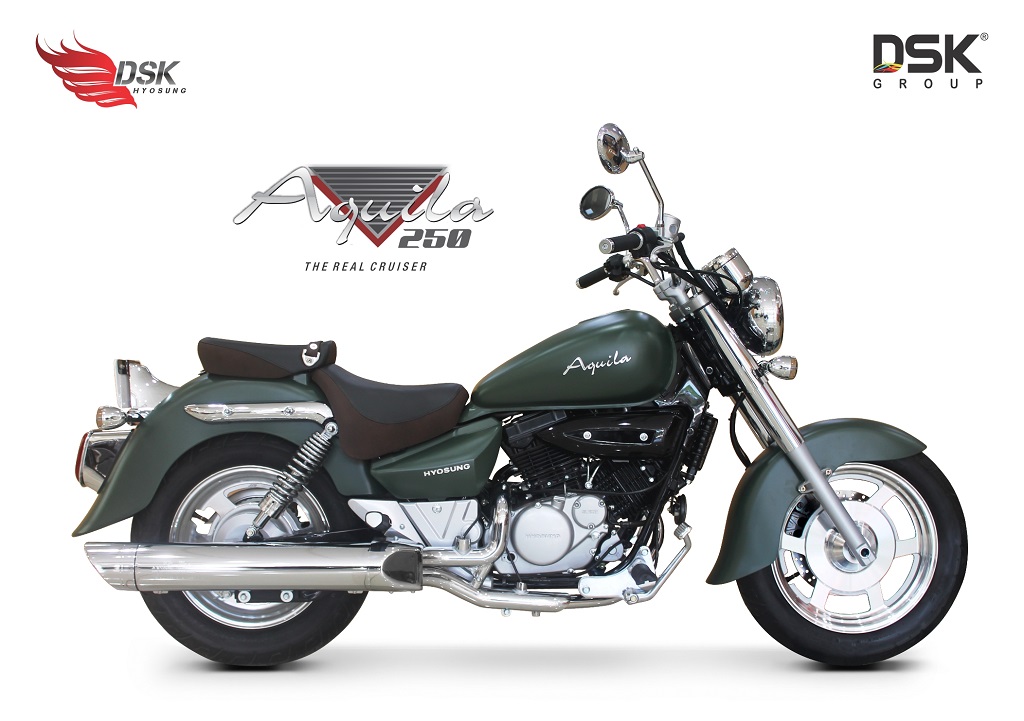 At the announcement, Shirish Kulkarni, Chairman, DSK Motowheels said, "The DSK Hyosung Aquila 250 has been a high-demand cruiser in the sub-500cc market segment. In order to mark its success, we are proud to announce 100 limited edition units of the Aquila 250 which will be available in three trendy colours including matte green, carbon black and desert brown. We have partnered with various financial institutions to provide interest free loans for all the motorcycles on offer in the DSK Hyosung line-up."
The DSK Hyosung Aquila 250 is also available in three shades of blue, black, and red.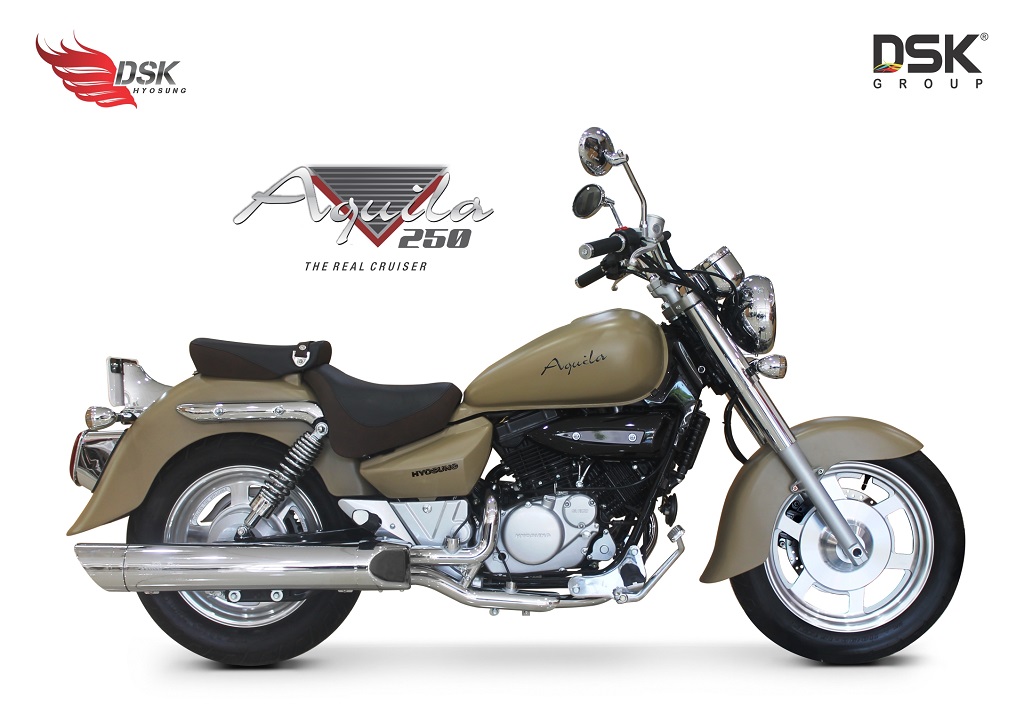 About DSK Hyosung
Established in 2012, DSK Motowheels, a part of the DSK Group (Diversified business group with a turnover of over Rs. 5000 crores) forayed into the growing automobile sector by entering the niche segment of powerful and aspirational bikes in association with Hyosung, Korea. The company assembles and markets these superbikes under the brand name of DSK Hyosung.
Taking forward the company's rich legacy of dynamic entrepreneurship, Mr. Shirish Kulkarni, Chairman, DSK Motowheels Pvt. Ltd. spearheads the brand's operations in India with the primary objective of providing a world class super biking experience.
With a CKD plant in Maharashtra, the brand enjoys the status of having the strongest most well entrenched superbike network in India. Being a leading super biking brand of global repute, Hyosung is known for its high-end biking experience, extended product line, technology and quality. Hyosung dominates the super biking market in the US, South America, UK, Australia and many Asian countries including India.