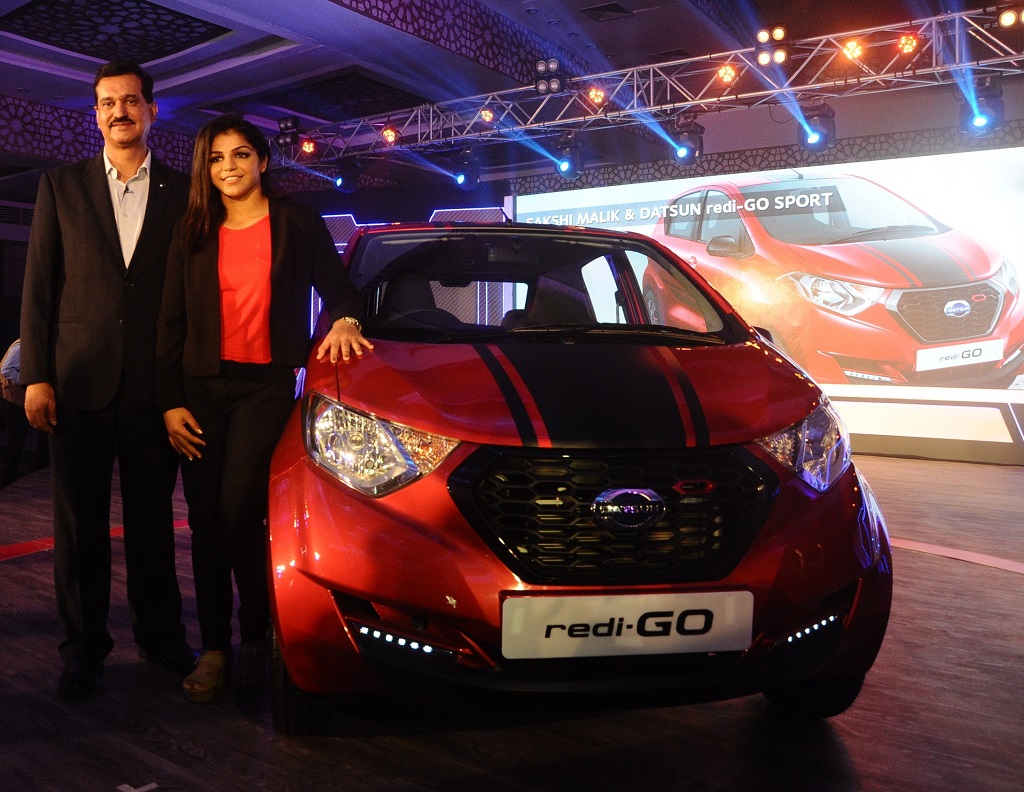 Limited edition Datsun redi-GO SPORT version has a bold new exterior look and array of sporty-themed new features
Datsun announces new association with famed Rio Olympic medallist Sakshi Malik as the face of the redi-GO SPORT limited edition
Sakshi Malik honoured with Datsun redi-GO SPORT for her achievement at Rio Olympic Games
Datsun is introducing a new sport version of redi-GO to celebrate the festive season in India. The Datsun redi-GO SPORT is a limited edition dressed with bold stripes and accents on the exterior together with a host of new features for customers seeking an active lifestyle. The sporty-themed redi-GO is priced at INR 3, 49,479 (ex-showroom, Delhi) and will be available for sale during the festive season.
Datsun also announced today that world-class female wrestler Sakshi Malik will be the face of the Datsun redi-GO SPORT. Sakshi, who rapidly rose to fame during the Rio Olympics, is India's first female wrestler to win an Olympic medal. She exemplifies the spirit of young India, having faced and triumphed over obstacles in her path such as exceling in a sport that some had termed "not for girls." Sakshi will be featured in an upcoming Datsun advertising campaign for the Datsun redi-GO SPORT.
During the event Sakshi Malik was honoured for her achievement at the Rio Olympic Games with a brand new Datsun redi-GO SPORT, presented to her by Arun Malhotra, managing director, Nissan Motor India.
Arun Malhotra, managing director of Nissan Motor India Pvt. Ltd., said, "Datsun redi-GO has redefined the value proposition offered to young achievers in India. Now we are delighted to introduce the limited edition Datsun redi-GO SPORT, which adds a sporty-themed option for customers during the festive season. We also celebrate our new association with Sakshi Malik, whose world-class performance in Rio brought her into all our hearts, and who perfectly embodies Datsun's philosophy of #ISayYes to having a dream and achieving it."
Commenting on her association with Datsun, Sakshi Malik said "I am thrilled to partner with Datsun, a brand that is a true representation of the young achievers. I believe that Datsun redi-GO is a perfect fit for me, as I am always in pursuit of achieving my dreams and I believe that I am going to connect to every Datsun redi-GO owner, all driving towards achieving their dreams. Say Yes to Your Dreams."
The new limited edition Datsun redi-GO SPORT comes with several attractive features:
Sporty and Convenient Interiors
·         Sporty Dashboard
·         Bluetooth Audio System
·         Black Interiors
·         Remote Key-less entry
·         Rear Parking Sensor
Sporty and Dynamic Exteriors
·         Theme Grille-Red Accents
·         Theme Wheel Cover
·         Sporty Graphics
·         Sporty Roof Spoiler
 The redi-GO SPORT variant will be available as the top grade and comes in three stylish body colours: Ruby, White and Grey. It will be available at all 227 Datsun dealerships across India.