To celebrate at 100 locations with underprivileged children
Datsun marked its first year in India by hosting the 'Datsun Drive-On' cavalcade in Delhi that saw over 100 Datsun owners coming together to celebrate the brand's first anniversary in the market. Datsun will also celebrate the occasion with underprivileged children at 100 locations across India.
The start of the 'Datsun Drive-On' convoy, consisting of an impressive line-up of Datsun GO and GO+ cars, was flagged off by Guillaume Sicard, President, Nissan India Operations and Bollywood actor Ayushmann Khurrana in the capital city. The 'Datsun Drive-On' celebratory drive will also be hosted across seven cities including Delhi, Bangalore, Chennai, Kolkata, Cochin, Ahmedabad and Guwahati.
 The convoys celebrate the first year since the Datsun GO hatchback went on sale in 2014. The celebrations in Delhi were marked by a musical performance including a jamming session with the talented Ayushmann Khurrana, with Guillaume Sicard joining him on stage.
Giving the signal for the 'Datsun Drive-On' to start, Mr. Sicard said, "India was the first market to begin selling Datsun products after it was announced in 2012 that the brand would be reintroduced, and we are proud to celebrate this milestone in Datsun's history in India.
Since then Datsun has had an encouraging year both in India – where our happy customers are a testimony to this – as well as other world markets. 'Datsun Drive-On' is our way of showing our strong commitment towards our customers. Both Datsun GO and GO+ have been received well in India and we look forward to adding more products to our portfolio in the future."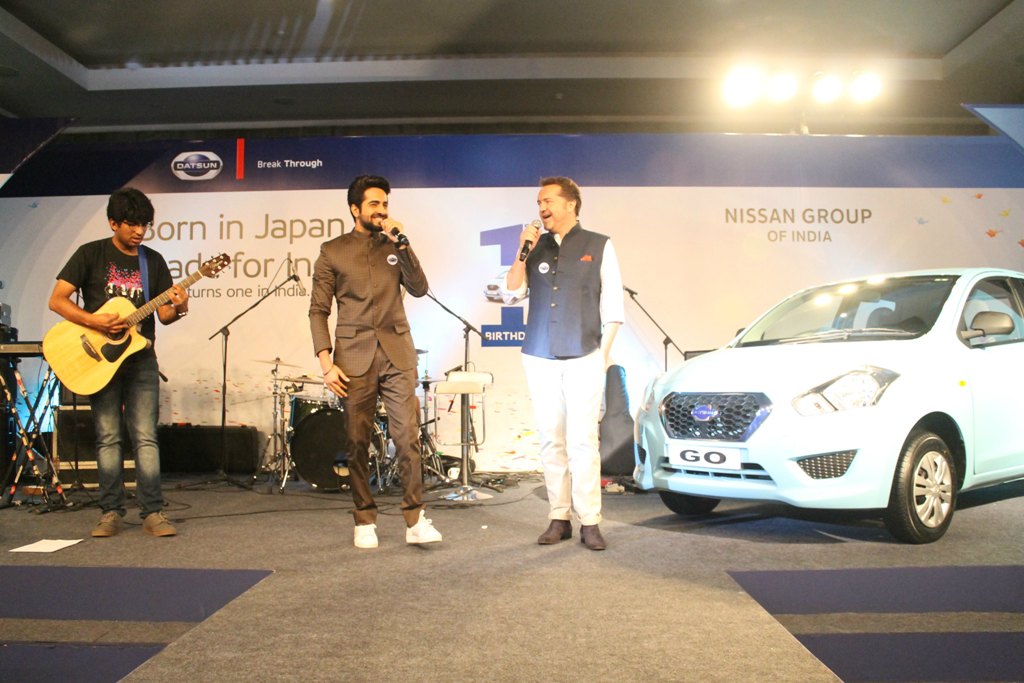 Talking about his association Datsun, Ayushmann Khurrana said, "I am very proud to be associated with Datsun. It is a young and dynamic brand that resonates with my personality completely. It has been a great experience today to meet Datsun owners and get to know their experiences with their cars. This has strengthened my belief in the brand".
Conceived with the vision of "mobility for all", the Datsun GO was made available to Indian customers in early April last year and Datsun GO+ was added to the stable earlier this year in January. Datsun vehicles are available across 176 Nissan-Datsun Dealerships and standalone outlets in India.