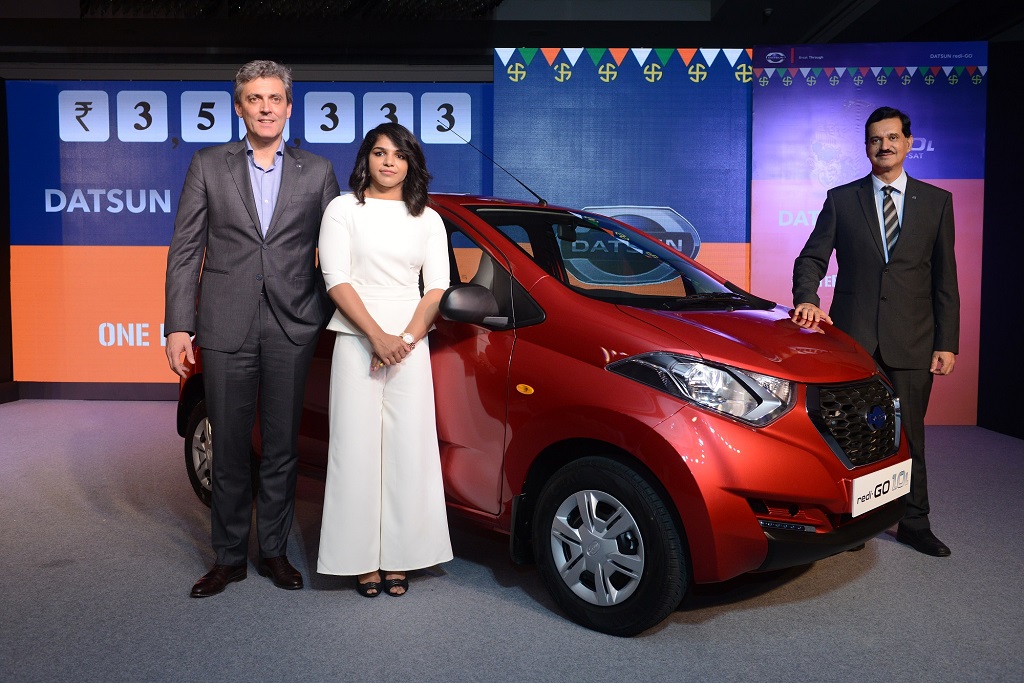 Priced from INR 3,57,333 and available at all Nissan dealerships across India; "one nation, one price" post-implementation of the GST
Newly-introduced 1.0L Intelligent Spark Automated Technology (iSAT) engine offers more power
Available in two trim levels and five vibrant colors
"Datsun Care" comprehensive car service package also available for new Datsun redi-GO 1.0L customers
NEW DELHI, India (July 26, 2017)—Datsun India today launched the highly-anticipated Datsun redi-GO 1.0L, equipped with the iSAT engine, which features more power, style and convenience for customers. Priced from INR 3, 57,333 deliveries to new owners will commence today at all Nissan dealerships across the country.
Datsun redi-GO brand ambassador Sakshi Malik, India's first female wrestler to win an Olympic medal, was present to launch the more powerful Datsun redi-GO 1.0L version.
Arun Malhotra, managing director of Nissan Motor India Pvt. Ltd. said, "Datsun is a challenger brand and we have been working hard for three years now to bring products that people want and desire. In that spirit, building on the successful launch of redi-GO last year, Datsun now offers a more powerful driving experience with the redi-GO 1.0L. It brings more power, style and convenience for our customers, and we are delighted to launch it today."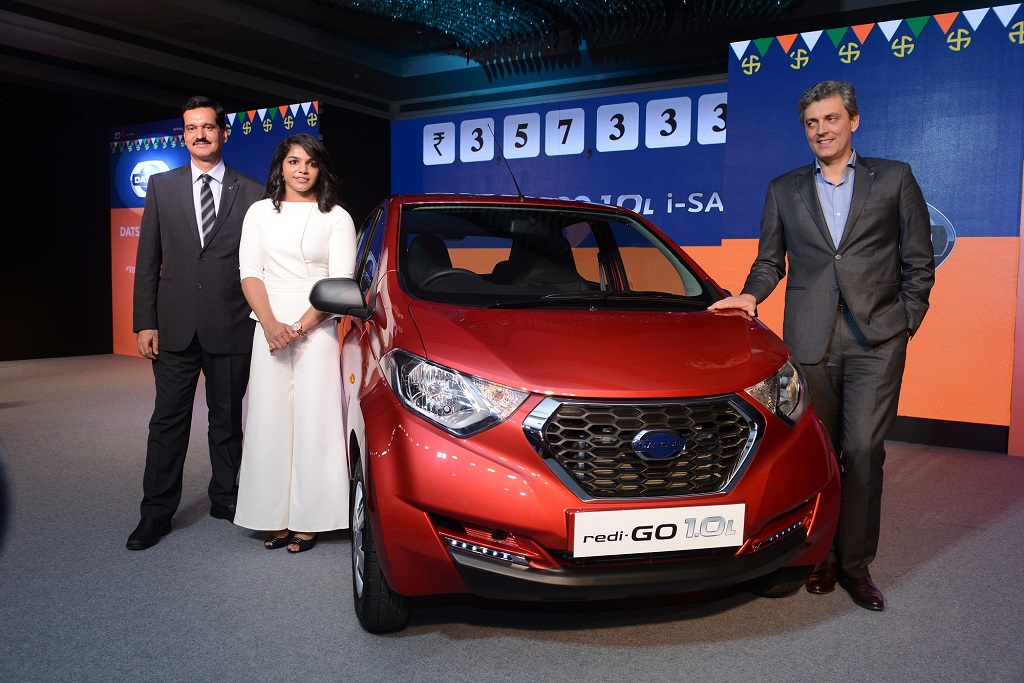 Jerome Saigot, vice president, Datsun India, added, "Datsun is focused on offering accessible and high-value-for-money cars for aspirational "young India." The Datsun redi-GO 1.0L is the latest example of our brand's core strengths, and we will continue to enhance the Datsun model line-up in line with our customers' expectations."
The Datsun redi-GO 1.0L is powered by the Intelligent Spark Automated Technology  (iSAT) 1.0L three-cylinder fuel efficient engine, paired with a five-speed manual transmission, to enhance the driving experience for owners. Addtionally, it comes in two trim levels, T
(O) and S, with new features such as central locking and remote keyless entry; black interiors; and silver finish on the AC vents and horn pad. The car is avaialable in five body colours: Silver, Grey, Ruby, Lime and White.
To further strengthen Datsun's relationship with its customers, in May 2017 the brand launched the "Datsun Care" comprehensive package for new Datsun redi-GO buyers. Datsun care is an industry-leading all-inclusive car service package that offers peace of mind to customers. Three, four and five-year options are available wherein customers can save approximately 10% on periodic and general repairs. More details are available at https://www.datsun.co.in/datsuncare.html
Launched in India in June 2016, Datsun redi-GO combines the roominess, agility and efficiency of an urban hatchback with best-in-class ground clearance (185mm) and high seating position. The Datsun redi-GO 1.0L brings together other best-in-class features, such as front visibility, shoulder room, rear knee room, with brisk acceleration thanks to more power coming from the new engine.
Customers can get more details about the Datsun redi-GO 1.0L on the 'Datsun India App' which can be downloaded from the Google Play store. More details about Datsun India and its product range can be found at https://www.datsun.co.in/
About Datsun
Nissan Motor Co., Ltd. announced the return of the Datsun brand, Nissan's third global brand, alongside Nissan and Infiniti, in March 2012. Datsun provides a sustainable motoring experience to optimistic up-and-coming customers in high-growth markets. Datsun represents 80 years of accumulated Japanese car-making expertise and is an important part of Nissan's DNA. Datsun started sales in India, Indonesia, Russia and South Africa from 2014. For more information, visit www.datsun.com.
About Datsun History
Datsun originated in Japan as DAT-GO (the DAT-car) almost a century ago in 1914. The word DAT means 'lightning-fast' in Japanese but is also a reference to the first letters of family names of the three financiers who supported the business at the time: Den, Aoyama and Takeuchi. Using the same logic, it was promoted as Durable, Attractive and Trustworthy, or DAT for short.
In 1933, Nissan's founding father Yoshisuke Aikawa took over the business with a vision of "mobility for all". The introduction of a light-weight, economical yet resilient car to meet the aspirations of young Japanese people in the early 1930s was named the 'son of DAT' – Datsun – which later changed to Datsun. Local engineering and mass-production made the founder's dream a reality.