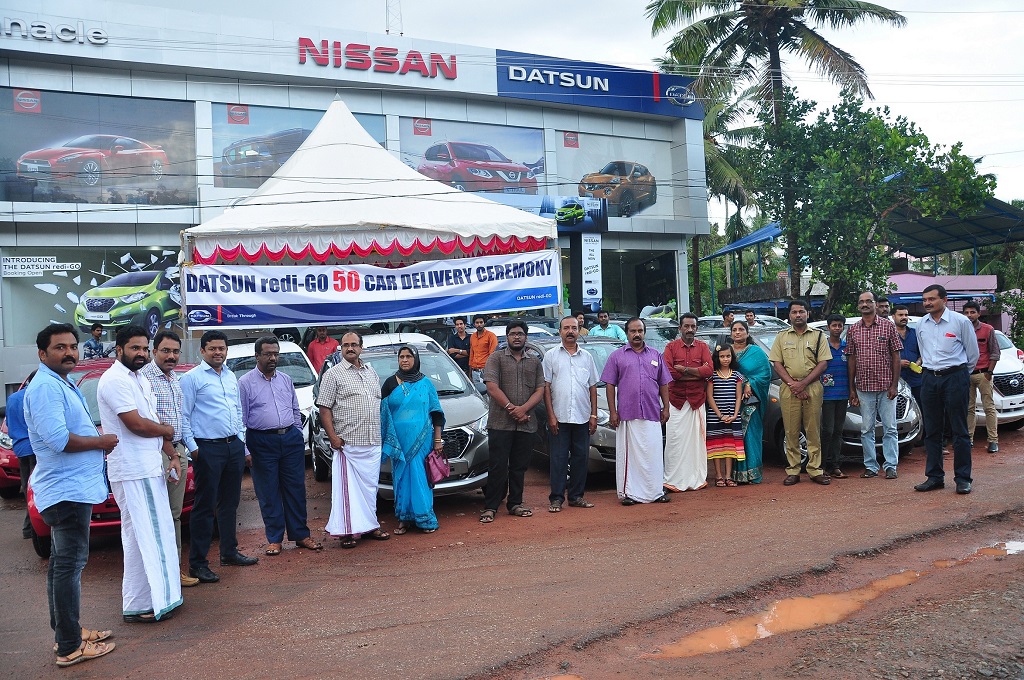 The popularity of Datsun's newest offering in India – the redi-GO urban-cross – continues to grow. Today, Datsun delivered 50 redi-GOs to customers in Kollam, a city in Kerala state, in a single day. A special ceremony was held at the Pinnacle Nissan dealership to present the cars to their excited new owners. The keys to the shiny new cars were handed over by Mr. Vishvambaran, CI of Police, Kollam and Shabeen Muhamedali, Dealer Principal, Pinnacle Nissan.
Datsun redi-GO, India's first urban-cross, has made a splash in the entry-level car segment after its launch in early June this year. With its unique styling, outstanding performance, comprehensive safety package, and low cost of ownership, the Datsun redi-GO has been receiving accolades and turning heads across the country.
"I am delighted to see significant demand for the newly-launched Datsun redi-GO in the Kerala region. Delivering 50 redi-GO vehicles in one day to customers here in Kollam is a reflection of how well the brand is resonating with young India. We are delighted to deliver personal mobility to so many new car buyers," said Arun Malhotra, Managing Director, Nissan Motor India Pvt. Ltd. "Our lively redi-GO urban-cross is loaded with several best-in-class features and offers a great value proposition for the young and ambitious who are ready to take the next step in their lives."
Datsun redi-GO has also created huge digital buzz around the brand thanks to the innovative "Datsun redi-go app" which was introduced to keep customers and fans updated on the latest news about the car. So far 2.6 lakh users have downloaded the app.
Datsun redi-GO is available across the 274 Nissan and Datsun sales & service touch-points in India. With 300 dealerships planned to be established throughout India in the near future, Datsun will be able cover up to 90 per cent of current and prospective customers in the country and provide them with easy and immediate access to sales and aftersales services.