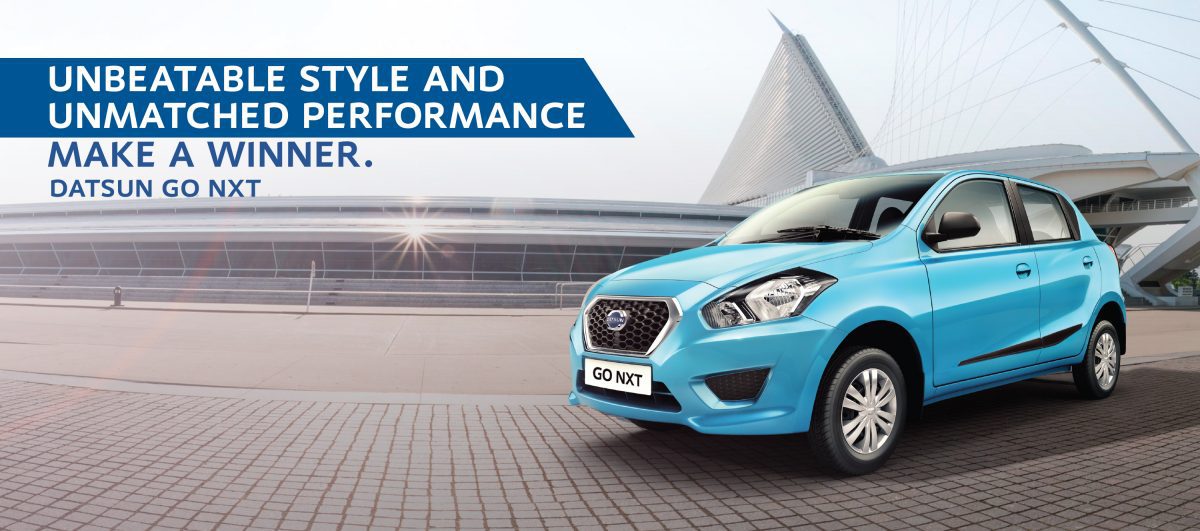 Launches Datsun GO NXT Limited Festive Edition with added convenience features
1000 units to be available during the festive season 
Datsun introduces Datsun GO NXT Limited Festive Edition ahead of the festive season in India. This Festive Edition will be available between August and December 2015 across all 196 Datsun outlets in India.
Datsun GO NXT Limited Festive Edition offers add-ons worth INR 20,000 at a minimal price increase of just INR 5,000. The car will be available at the following prices:
| | | |
| --- | --- | --- |
| Variants | Ex-Showroom Delhi | Ex-Showroom Mumbai |
| Datsun GO NXT | INR 4,09,912 | INR 4,27,805 |
The Datsun GO is a modern five-door, five-seat hatchback engineered for young, aspirational Indians. The car offers a sophisticated driving experience along with spaciousness, quality and fuel efficiency for new-age Indian who seeks a stylish, practical and value-for-money product.
Datsun GO NXT Festive Edition is an extension of Datsun GO 'T' variant, offering enhanced value proposition. The new features include rear parking sensors, remote central locking and chrome exhaust finisher, all first in the segment. In addition, the car boasts piano black interior finish on the dashboard, meter console and around the gear shifter. The rear parcel tray and body side mouldings on the outside add to the convenience and appeal.
Announcing the Datsun GO NXT Limited Festive Edition, Arun Malhotra, Managing Director – Nissan Motor India Pvt. Ltd. said, "We in India save most of our purchase decisions for the festival season. We prefer to align our dream buys with the auspicious occasions during this period. Continuing this 'parampara' and bringing in the newness, we offer the Datsun GO Limited Festive Edition to add to the cheer."
"Datsun GO has been purposefully designed for Indian market rather than adapted to fit and boasts best in class space, performance and economy. With the NXT Festive Edition, we are offering a host of convenience features that add to the functionality, practicality and appeal of the car," he added.
Datsun is also organizing Datsun Carnivals in dealerships across South India. The carnivals will be a three day affair at every dealership. During these events, the dealerships will boast festive feel and remain open till midnight. All customers stand a chance to win prizes ranging from accessories worth INR 3,500 to gold worth INR 12,000 with every purchase.
About Nissan Motor India Pvt. Ltd.
Nissan Motor India Private Ltd. (NMIPL) is a 100% subsidiary of Nissan Motor Co. Ltd. Japan. The company was incorporated in 2005 and offers innovative and exciting products across hatchback, MUV, SUV and sedan segments in India. Nissan together with its global alliance partner Renault set up a manufacturing plant and a Research & Development Centre near Chennai. Nissan in India has a portfolio of two brands, Nissan and Datsun. For more information, visit www.nissan.in.
About Datsun
Nissan Motor Co., Ltd. announced the return of the Datsun brand, Nissan's third global brand, alongside Nissan and Infiniti, in March 2012. Datsun provides a sustainable motoring experience to optimistic up-and-coming customers in high-growth markets. Datsun represents 80 years of accumulated Japanese car-making expertise and is an important part of Nissan's DNA. Datsun started sales in India, Indonesia, Russia and South Africa from 2014. For more information, visit www.datsun.co.in. 
About Datsun History
Datsun originated in Japan as DAT-GO (the DAT-car) almost a century ago in 1914. The word DAT means 'lightning-fast' in Japanese but is also a reference to the first letters of family names of the three financiers who supported the business at the time: Den, Aoyama and Takeuchi. Using the same logic, it was promoted as Durable, Attractive and Trustworthy, or DAT for short.
In 1933, Nissan's founding father Yoshisuke Aikawa took over the business with a vision of "mobility for all". The introduction of a light-weight, economical yet resilient car to meet the aspirations of young Japanese people in the early 1930s was named the 'son of DAT' – Datson – which later changed to Datsun. Local engineering and mass-production made the founder's dream a reality.