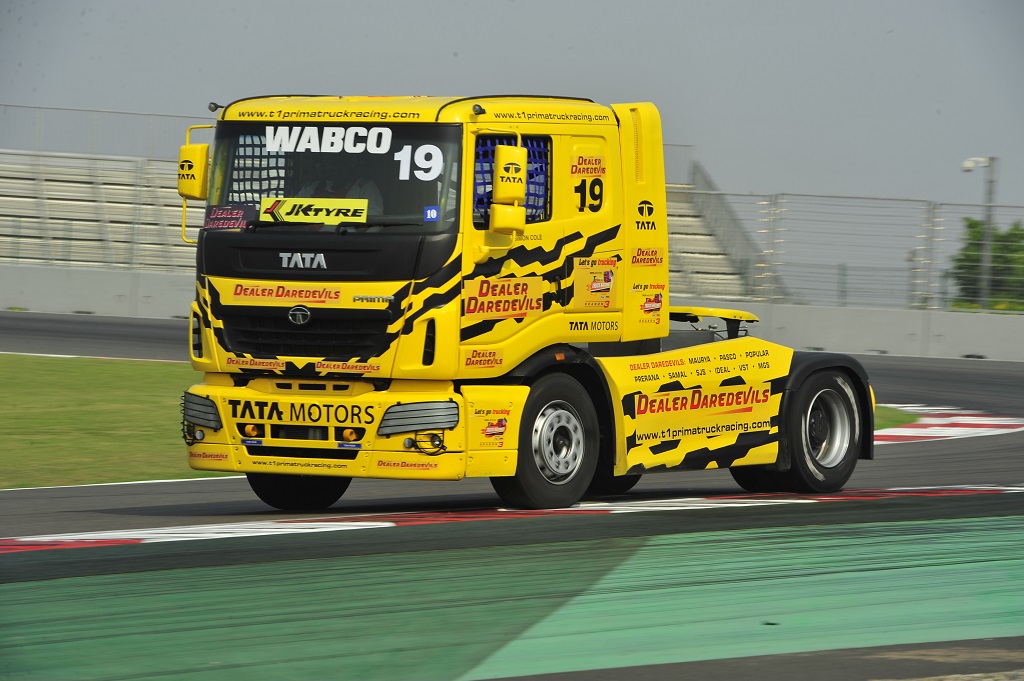 Noida, INDIA: Cummins India Limited, the country's leading designer and manufacturer of engines, generator sets and related components and technologies today announced its long-standing association with Tata T1 PRIMA Truck Racing Championship 2017 as a team sponsor and the official engine technology partner for the fourth season of T1 racing.
In its fourth successive year of participation, Cummins will power all competing Tata PRIMA trucks with its technologically advanced, best-in-class, high performance and emission compliant ISLe8.9 engines built for the purpose.
As compared to last year, the performance of the ISL engines has been enhanced from 375 HP to 400 HP to achieve higher power and speeds. The high performance 400 BHP @ 2100 RPM engines will offer drivers high acceleration, with reliability and durability for top speeds of 145 Km/h, over last years' 135 Km/h.
T1 Prima truck racing provides Cummins an ideal platform to showcase the endurance and reliability of its engines and this year we will witness for the first time a 1000 BHP Prima Race Truck roaring on the track in a trial run. This truck has been powered by the Cummins ISG12 engine.
The G Series is Cummins' latest global Heavy-Duty engine platform, built to meet worldwide emissions and customer expectations. Ideal for use in heavy-duty commercial vehicles, the G Series sets benchmark standards in weight, performance, fuel efficiency and cost of ownership. With composite materials and an innovative block design, the ISG12 retains its structural strength, while being lighter, more compact and quieter.
The engineering teams have worked for over a year to ensure that these engines meet the stringent racing requirements. The BSIV complaint ISG engine has 1100 HP power working up to 3500 Nm of torque and low weight of 850 kg delivering a high power-to-weight ratio which is 300 percent higher in comparison to the average for engines with a similar power range. Watching these trucks race on the tracks will provide thrills like no other.
Speaking on the occasion, Anant J. Talaulicar, Chairman & Managing Director, Cummins India Limited, said, "We are proud to collaborate with the T1 Truck Racing Championship that goes a long way in not only strengthening our long standing partnership with Tata Motors, but also in demonstrating our technology leadership by putting our technologies to test under extreme conditions. Tata Motors is synonymous with the trucking arena in India and this event is another opportunity to partner with the market leader in this space."
Collaborating with Tata Motors as the official engine technology partner, Cummins will also showcase its BS IV emission compliant electronic engines that are available in both EGR and SCR technologies and feature the Cummins fuel system and after treatment systems. These engines offers best-in-class fuel economy and are both green and energy efficient.
"With over 90 years of engineering expertise, and pioneering innovative technology, Cummins is ideally positioned to deliver the optimum product for our customers and the environment. With the upcoming BSIV norms coming into effect from April 2017, right technology matters. Cummins is ready to offer fit to market products that are BS IV compliant. Built and engineered in India, the Cummins BSIV ISG engines (EGR and SCR) offers our customers the power of choice to choose the right technology for the varied applications." Mr. Talaulicar added.
Globally, Cummins has a wide range of Euro 6 ready engines and the ability to tailor the engine to suit installation needs as per the local requirement, thus demonstrating its ability to offer fit-to-market product, pioneering technology and extensive aftermarket network.
About Cummins Group in India
Cummins in India, a power leader, is a group of complementary business units that design, manufacture, distribute and service engines and related technologies, including fuel systems, air handling, filtration, emission solutions and electrical power generation systems. Its technology and pioneering initiatives are bringing innovative solutions and dependable services at the best possible value to users across the country. Its high performance outlook is based on customer focus, integrity and capability of its people. Part of the US $19.1 billion Cummins Inc., Cummins in India is a Group of seven legal entities across 200 locations in the country with a combined turnover of ₹10880 crores in 2016 and employing over 10,000 individuals.