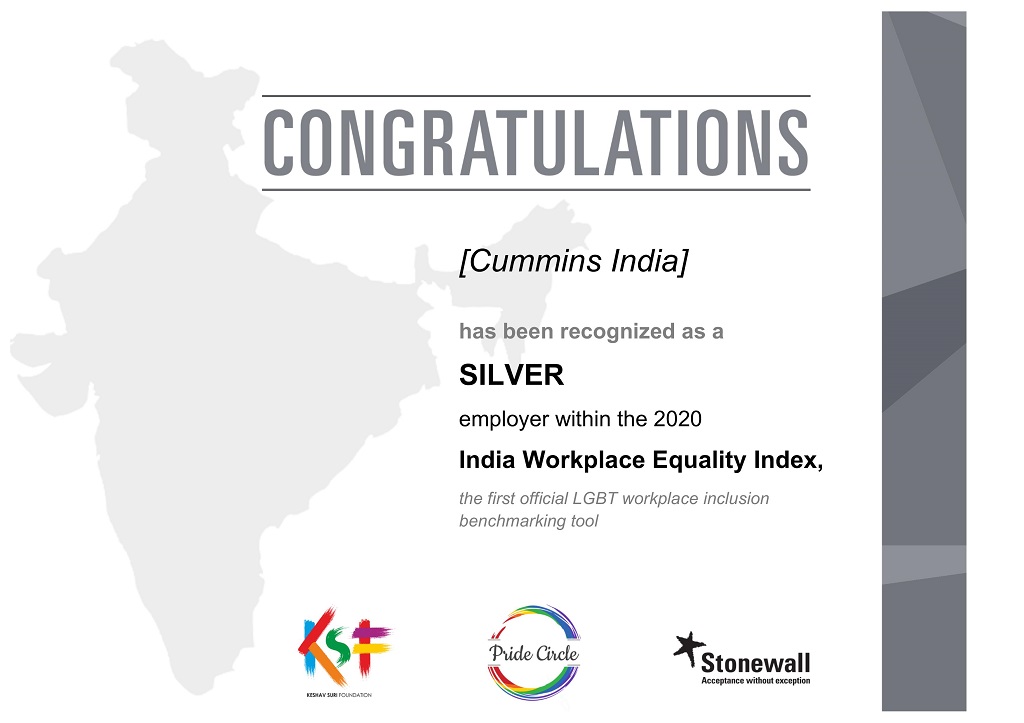 Pune, India –Cummins India has been honored as the "Silver"employer at the India Workplace Equality Index (IWEI) Top Employers 2020. The "Silver" recognition is assigned to Cummins India for their significant achievements in promoting LGBT+ inclusion at the workplace, demonstrating progress and impact over time.
Since its inception in early 2018, Cummins India Pride Employee Resource Group (ERG) has made continuous efforts to enhance the diversity, equality and inclusion of LGBTQ+ people. The India Pride ERG has worked with the relevant departments to ensure that the documents and policies are inclusive of LGBT employees. APride Handbook was also launched to serve as a fast resource and network resourceguide for LGBTQ+employees.
In addition to these various campaigns, projects and programmes such as Proclaim Thy Pronouns have been initiated to encourage all employees to write their preferred pronouns in their email signatures to be inclusive towards their non-binary workforce. Photography, Painting and Story/Article writing competitions have been introduced to help people think and display their solidarity with the LGBTQ+ community.Recently theAlly Program was introduced in India to help create a vocal and visible support system for LGBTQ+ people in the form of Allies, within the organisation. In addition, regular online sessions of LGBT-101 training are held to raise awareness about the LGBTQ+ community. Numerous talks and presentations at various university and industry forums are also organised by Cummins India to spread the message across the community. The Trans-Inclusion project, an initiative to hire transgender persons in Cummins and to create an workspace inclusive of them, is also underway.
Commenting on the certification, Mr. Ashwath Ram, Managing Director, Cummins India said, "Cummins truly believes that with a diverse and inclusive workforce, we can bring the right combination of perspectives, insights and skills to solve the challenges of our stakeholders. At Cummins in India, we take special efforts to create a workplace culture that is not just diverse but also inclusive.  By building an inclusive environment devoid of any bias or prejudices, we strive to empower all our employees to achieve their full potential. Starting with our efforts in gender diversity, our efforts have expanded in the last five years to include diversity in religion, sexual orientation, different regions and cultures across India, the differently-abled as well as varying age-groups/ generations.  I am pleased that our efforts have been recognized. Going forward, we know we still have a good deal of work to do to create a safe and inclusive workplace for our people."
India Workplace Equality Index (IWEI) is a benchmarking tool for employers to measure progress on LGBT (Lesbian, Gay, Bisexual, Transgender) equality and inclusion in the workplace. This tool is built on more than a decade of experience from the Stonewall Workplace Equality Index, which was introduced in the UK in 2005. In 2020, IWEI was introduced in India by diversity and inclusion organizations such as Pride Circle, Keshav Suri Foundation and Stonewall (UK).
About Cummins Inc. –
Cummins Inc., a global power leader, is a corporation of complementary business segments that design, manufacture, distribute and service a broad portfolio of power solutions. The company's products range from diesel, natural gas, electric and hybrid powertrains and powertrain-related components including filtration, aftertreatment, turbochargers, fuel systems, controls systems, air handling systems, automated transmissions, electric power generation systems, batteries, electrified power systems, hydrogen generation and fuel cell products. Headquartered in Columbus, Indiana (U.S.), since its founding in 1919, Cummins employs approximately 61,600 people committed to powering a more prosperous world through three global corporate responsibility priorities critical to healthy communities: education, environment and equality of opportunity. Cummins serves its customers online, through a network of company-owned and independent distributor locations, and through thousands of dealer locations worldwide and earned about $2.3 billion on sales of $23.6 billion in 2019.
About Cummins India Limited
Cummins India designs, manufactures, distributes, and services engines and related technologies in India. The company operates through four business units: Engine Business, Components Business, Power Systems Business, and Distribution Business. The Engine Business manufactures and markets diesel and natural gas engines ranging from 65 HP to 400 HP for the low, medium, and heavy-duty on-highway commercial vehicle markets, as well as the off-highway commercial equipment industry comprising construction and compressor. The Power Systems Business provides power generation systems in standby power and distributed power generation for individual and institutional customers in various segments, such as infrastructure, IT/ITES, data centers, realty, healthcare, and hospitality; and high horsepower engines for mining, marine, railways, oil and gas, and defense applications, as well as manufactures and exports open and enclosed low kilowatt generator sets. The Distribution Business offers products, services, and solutions for equipment and engines; and provides after-market support services to customers in India, Nepal, and Bhutan.
The company also exports its products to the United States, the United Kingdom, Mexico, Singapore, and China. Cummins India Limited was founded in 1962 and is based in Pune, India. Cummins India Limited is a subsidiary of Cummins Inc.