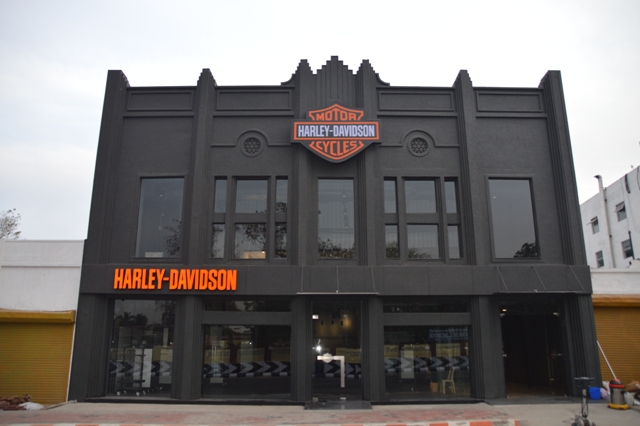 Harley-Davidson India expands its footprint in South India with its 7th dealership facility in the region
Coimbatore, February 15th, 2016: Harley-Davidson India today announced the opening of its 21st dealership facility, The Western Ghats Harley-Davidson in Coimbatore. It is the second Harley-Davidson dealership in the state of Tamil Nadu, with the first being Coromandel Harley-Davidson in Chennai. The latest facility, which is located at 1018, Avinashi Road, Coimbatore – 641018, is spread across 8000 sq. ft. and is a 3S facility.
Commenting on the launch, Vikram Pawah, Managing Director, Harley-Davidson India said, "The passion, enthusiasm and respect Harley-Davidson brand has received from customers and enthusiasts in the Southern region continues to inspire our growth plans. The Western Ghats Harley-Davidson in Coimbatore is part of our natural progression to reach out to more brand enthusiasts and cultivate the sport of leisure motorcycling in the region. We look forward to solidifying our presence in India by growing through a trusted network of independently owned dealerships."
The launch of dealerships in Chennai, Kochi, Bangalore, Hyderabad, Goa, Calicut and now Coimbatore, stands testimony to the strategic expansion plans undertaken by Harley-Davidson in South India. With growth of improved road networks across the South Indian peninsula, the region has witnessed a gradual upsurge in leisure motorcycling. Destinations like Hampi, Mahaballipuram, Kochi and Hyderabad, have been proud hosts of the zonal H.O.G. (Harley Owners Group) rallies in the past. Tamil Nadu, particularly with the picturesque Eastern Ghats and the stellar East Coast highway, has emerged as a major attraction amongst motorcycle enthusiasts for the exhilarating and unique riding experience it has to offer. 
Commenting on the opening of the dealership, Mr. Anandakrishnan C R Dealer Principal, The Western Ghats Harley-Davidson added, "We are delighted to bring the iconic Harley-Davidson brand to Coimbatore. The dealership will prove to be the one-stop destination for all motorcycle and brand enthusiasts who wish to experience the Harley-Davidson lifestyle and culture."
The newest dealership will offer all the 13 motorcycles by Harley-Davidson India, including the recently launched Sportster® 1200 Custom. Brand enthusiasts will also be able to choose from a wide selection of parts and accessories to customize their bikes, and authentic Harley-Davidson merchandise. For more information, visit the Harley-Davidson India website at www.harley-davidson.in.